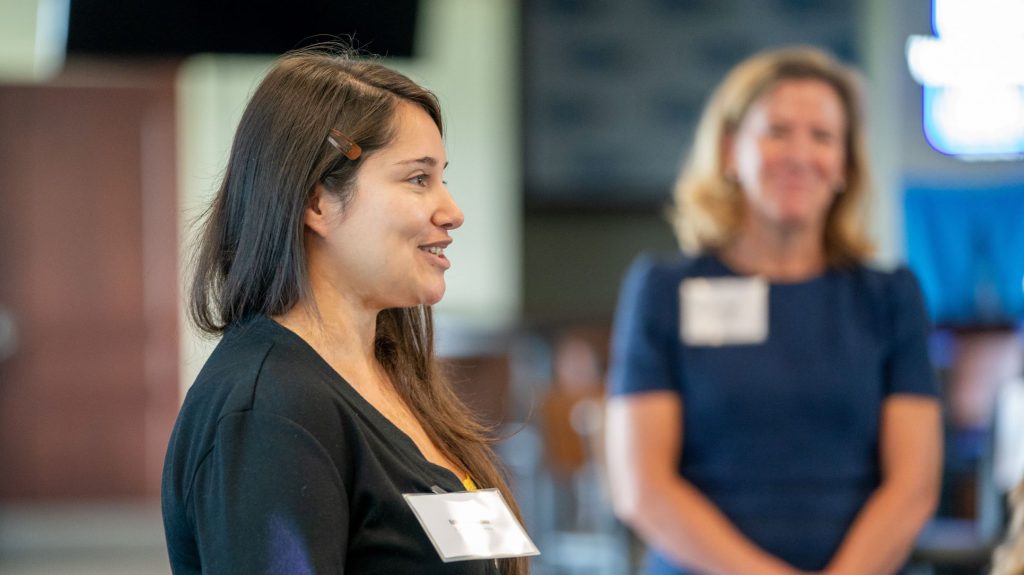 "The Citadel produces special students, and we're grateful to the Career Center and Boeing for providing this opportunity for students."
For the first time ever, The Citadel Career Center was awarded a grant to help more cadets and students achieve their professional goals. The $30,000 grant – provided by Boeing – went a long way for eight cadets and students who interned at various organizations in Charleston over the summer and fall. Grant money also went to several faculty partners to support student projects, such as the Supply Chain Management and Port Club and Citadel STEM project. The Career Center held a Boeing Grant Award Recognition Appreciation luncheon to show their gratitude for Boeing's investment as well as to highlight results from each internship.
At the event, each individual discussed their internship and shared what they learned, what skills they developed and the overall experience they had. A representative from each site also spoke about how their intern preformed, what they contributed, the assigned projects and the difference between an intern from The Citadel versus past interns from other colleges.
Based on the grant's stipulations, students were to benefit from learning transferable skills which apply in business and engineering. Internship sites varied from national political offices, local engineering companies, local financial investment companies, police departments and more.
Read about each student's experience below:
Summer 2022 awardees
Cadet Thomas Pipkins is a Political Science major. His internship was with the U.S. Senate and House of Representatives, specifically working with the offices of Rep. Nancy Mace, Sen. Tim Scott and Rep. Tom Rice. These internships are typically unpaid, so this grant helped Pipkins with the cost of transportation, room and board.
"This experience was a life-changing opportunity," said Pipkins. "I am truly grateful to Boeing for helping me take part in this amazing milestone and allowing me to be able to do something I've only dreamed about."
Cadet Tiziana Ortega is a Supply Chain Management major. This summer, Ortega interned at Gnosis Freight to further her knowledge in this field, as well as gain valuable insights and certifications. She also serves as the president for The Citadel's Supply Chain Management and Port Club, which also received part of the grant money.
Cadet Mason Bailey is majoring in Business Administration with a minor in Fine Arts. This summer, he interned at Integrity Express Logistics and was responsible for over $100,000 in revenue through a broker's account. Bailey credits his time at The Citadel for his preparedness on the job site and plans to return after graduation to work full-time.
Dani Kinzer, Sales Engagement Manager at Integrity Express Logistics, said, "Citadel cadets are built differently. They are always professional, organized and overall have a completely different mindset than other young people."
John Clayton is a veteran student majoring in Business Administration who interned with Coastal Financial Planning Group. Through this internship, he learned more about investing and financial planning. He plans to work full time with CFPG after his graduation in December 2022.
Fall 2022 awardees
A veteran undergraduate student majoring in Electrical Engineering, Erika Hernandez always kept education as a top priority. She enlisted knowing the end goal would always be higher education, which she found through The Citadel. Her internship was with a familiar place, the Department of Electrical and Computer Engineering here on campus, but it still pushed Hernandez out of her comfort zone through new learning experiences and networking.
Tromaine Cobbs is a Civil Engineering major with a minor in Construction Engineering. His goal is to eventually take the necessary exams to become a professional land surveyor — his internship at HLA Inc. helped him prepare for that goal. At his internship, Cobbs assisted and took on his own projects, as week as delivered plats to different local government buildings.
Cadet Khang Hoang, an Intelligence and Security Studies major, interned with the Mount Pleasant Police Department. Through this internship, he increased his skills in thinking and analytics and coordinated special projects within the police department.
"This experience was rewarding because it gave me the opportunity to better myself in the skills I need to be successful in this field," said Hoang. "Coming from an immigrant family, this grant took a lot of financial weight off my parents."
As an evening graduate student and parent, Hollie Lacey knew she needed the perfect fit for her internship. She eventually did find the "one" through MUSC Children's/Women's Health Marketing and Communications office. At her internship, Lacey created social media content and newsletters, conducted research and data analytics and executed marketing plans. She was grateful for the real-world experience she gained, and her site preceptor was equally grateful to have her there.
"Hollie expressed eagerness to learn and had a drive that set her up for success," said Molly Leff, Senior Campaign Manager at MUSC Children's and Women's Health. "The Citadel produces special students, and we're grateful to the Career Center and Boeing for providing this opportunity for students."
Page Tisdale, Director of The Citadel Career Center stated, "We were excited to apply for and receive this investment from Boeing. We value their commitment to life-long learning. The impact of $30,000 was significant. It reached our cadets, evening undergraduate and veteran students. Relieving some of the students' financial burdens allowed them to focus on the goal — gaining real, transferrable skills. This supports strong graduation outcomes for The Citadel and it has significant and real implications for us retaining a strong workforce in Charleston and the state."
Part of the grant also went towards The Citadel STEM Project, ran by English professor Alyson Eggleston, Ph.D.. This project is a hands-on technical communication project for STEM majors, in partnership with iFixit, a repair guide website for consumer electronics. Focused on user experience, students created component replacement technical guides for an international audience. Two student teams were evaluated by iFixit for meeting standards. The Citadel's Supply Chain Management and Port Club received part of the grant money as well and used the funds to improve the overall experience for cadets and allowed a few of the members to attend networking events like The State of The Port Luncheon and World Affairs Council Luncheon.
"I have tremendous gratitude to Boeing for their interest and committed investment as a community partner in our Citadel student talent," said Susan Pope, internship coordinator for the Career Center. "This initiative demonstrates effectiveness through the return on their investment in our local workforce and beyond. Our students will be better prepared with the readiness skills necessary to enter, contribute and be successful in their fields through professional development opportunities."