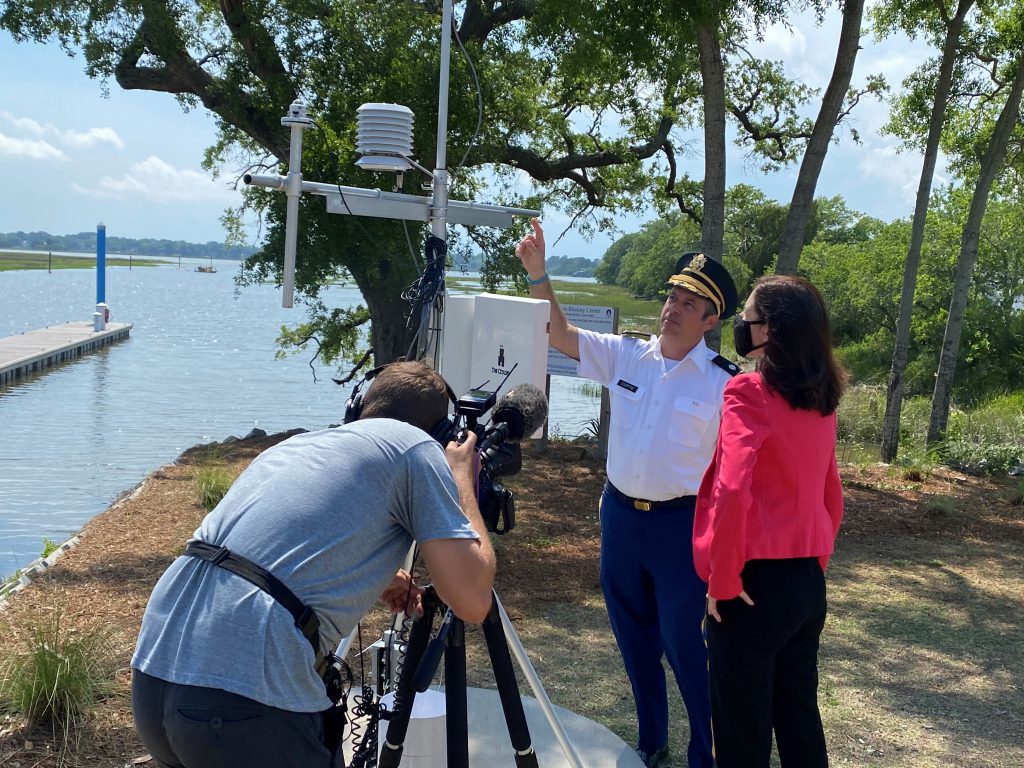 Photo above: National news correspondent Maya Rodriguez listens to Citadel professor Dr. Scott Curtis discuss the Near Center for Climate Studies new weather station on campus in May 2021.
The 2020-21 academic year was the inaugural year of the Lt. Col. James B. Near Jr., USAF, '77 Center for Climate Studies (NCCS) at The Citadel.
The NCCS serves the cadets, students and faculty of The Citadel, and citizens of South Carolina, by enhancing understanding of climate and its variability, change, and risks through education, research, outreach, and the development of public-private partnerships.
"NCCS will raise awareness from a super-respected institution in the state that climate science is real and the climate threat is real."

Mark Wilbert, Chief Resilience Officer, City of Charleston
The founding of the NCCS is a primary objective in the Our Mighty Citadel 2026 long range plan, and the first year exceeded expectations.
"It was a successful year for climate research at The Citadel," said Scott Curtis, Ph.D., director for the NCCS. "More than $200,000 in grants were funded for research projects by faculty, cadets and students with some of the topics including bacterial pathogens in nuisance flooding impacting humans, encroaching tides and extreme flooding, and tire wear particles from coastal floodwaters and their impacts."
Some additional accomplishments included forming and activating an advisory board, indoctrinating Climate Fellows among the college's faculty, and installing an AutoMet580 Meteorological Monitoring System on campus,
Current short term goals for the center include refurbishing an auditorium style classroom into a new physical home for the Center, establishing a climate field station on Lining Island, and building on early successes in climate curriculum development, research productivity, and public-private partnerships.