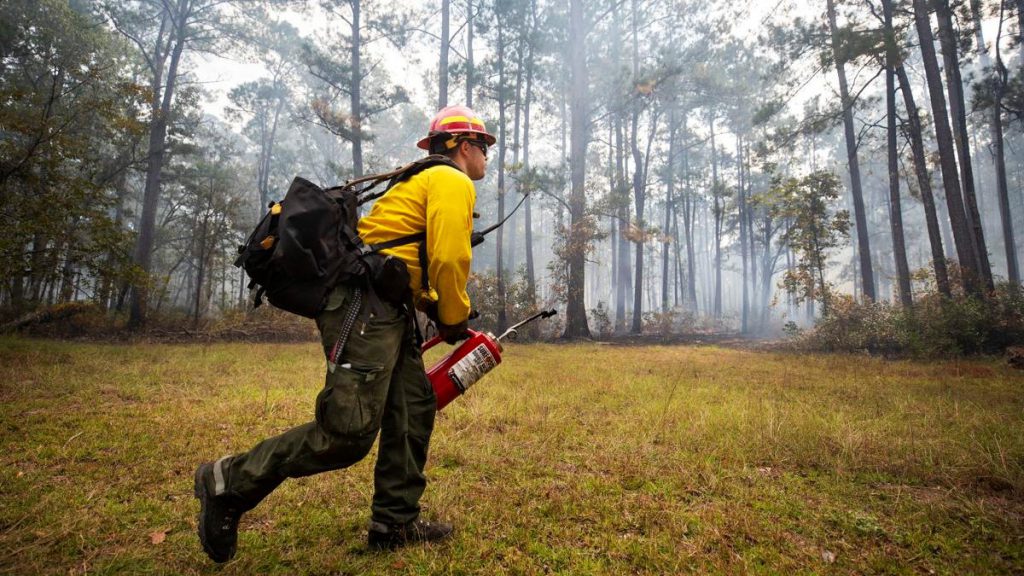 Photo above: David Baldwin with the U.S. Forest Service carries a drip torch as he works on a prescribed burn in a section of Francis Marion National Forest on Oct 25, 2019. Funding made possible by the REPLANT Act will support reforestation after disturbances and harvests. (Courtesy of The Post and Courier)
Note: Dr. Scott Curtis ,Dr. John Lining Professor of Physics and director for The Citadel's Near Center for Climate Studies, contributed to this report.
The $1 trillion Infrastructure Investment and Jobs Act passed by Congress in November could benefit South Carolina in countless ways, from repairing roads and bridges to ensuring drinking water in all communities is clean and safe.
But this infrastructure package also stands to benefit forests in the state and hot cities like Charleston and Columbia that may be cooled by improved canopy cover.
REPLANT Act
In South Carolina, more than 600,000 acres of land are covered by national forests. The Francis Marion National Forest in the Lowcountry spans nearly 259,000 acres. And the Sumter National Forest in the Upstate sits on about 371,000 acres.
Hurricane Hugo in 1989 knocked down nearly a billion board-feet of timber in the Francis Marion, and more than a third of the forest was leveled by the storm's winds. Since that time, the Forest Service said this special area — filled with pine stands, swamps and marshes — has been working to recreate itself.
The infrastructure package includes the REPLANT Act, which will remove the cap placed on a reforestation trust fund instituted in 1980 and provide money to restore areas after severe disturbances like wildfires and windstorms.
The Forest Service said after Hugo, there was a resurgence of young trees and understory shrubs which caused an increased threat for catastrophic fire in the Francis Marion National Forest.
So far this year, the state has experienced 1,220 wildfires across 7,487 acres, according to the S.C. Forestry Commission. There have been more than 19,000 wildfires in the state since 2010.
A notice from Columbia Democratic U.S. Rep. Jim Clyburn's office said under the infrastructure package, South Carolina can expect to receive $15 million over five years for wildfire protection.
National nonprofit organization American Forests has worked for years to see money designated for reforestation in the United States. Eric Sprague, the organization's vice president of forest restoration, said the reforestation trust fund was initially capped at $30 million and remained that way until the REPLANT Act was passed last month. Money for the fund was collected from wood imports.
"In 1980, $30 million may or may not been enough money to meet the needs, but certainly it is not now," Sprague said.
But by lifting the cap, the REPLANT Act will essentially allow all of the money to be pulled in from funding generated by tariffs on imported wood products.
There is currently a 4.2 million acre backlog across the United States for reforestation. In the West, too much fire has proven to be a bad thing. And in the East, too little fire has caused problems.
Massive wildfires burn so hot and large in western states like California that oftentimes, the forests don't regrow afterwards. In a large part of the eastern United States, oak and longleaf pine forests — important for the economy, water and wildlife — are being overtaken by other species like maples that thrive better with a lack of natural fire.
Funding made possible by the REPLANT Act will support reforestation after disturbances and harvests. It can fund management actions like cutting down maple trees that are shading out oaks, and planting additional trees. In places like South Carolina, this could mean the creation of new longleaf pine forests.
"So the REPLANT Act is a really important tool to help create the conditions where tools like fire can be useful again to us," Sprague said.
Healthy Streets Program
Money for reforestation isn't the only way the infrastructure package will benefit the environment. Written into the act is a new Healthy Streets Program that will provide grants to certain entities to install cool and porous pavements and expand tree cover. States, local governments and select organizations will be eligible to apply for the grants.
This new program is intended to mitigate urban heat islands, improve air quality and reduce flood risks and heat impacts to infrastructure, among other things. Specifically, the money can be used to identify heat islands, plant more trees in urban areas and deploy cool surfaces, among other things.
The U.S. Environmental Protection Agency said more than 11,000 Americans have died from heat-related causes since 1979. And certain population groups like adults over 65, children and people in lower income neighborhoods face greater risks of heat-related deaths.
In July, volunteers and researchers fanned out across parts of Charleston on one of the hottest days of the year to record temperatures, humidity, time and location using special sensors mounted to cars and cellphone cameras. The recorded data was used as part of the national Heat Watch program to learn where action is needed to protect vulnerable populations now and in the future.
Results from the study were released earlier in December. They showed dense industrial and commercial areas, with a significant amount of impervious surfaces, can absorb and retain heat at all times of the day. In areas with lower tree canopy, residents are at a higher health risk because the heat can concentrate throughout the day. And conserved forests tended to help reduce heat concentration in single-family residential neighborhoods.
Certain areas, especially parts of North Charleston, tended to be really hot on the day the heat-mapping project was conducted, according to Scott Curtis, who leads the Lt. Col. James B. Near Jr. Center for Climate Studies at The Citadel. He was one of several researchers to travel the area and record heat on July 31. The National Weather Service said the observed high temperature that day was 95 degrees at Charleston International Airport.
Curtis said areas in East Cooper and West Ashley tended to be a bit cooler than parts of the peninsula.
"The density of structures is not as great there," Curtis said. "So there's probably more tracks of natural vegetation and trees as compared to, you know, downtown."
Breezes from the water in downtown Charleston tended to not affect the heat much.
Joel Pannell, the vice president of urban forest policy for American Forests, said the federal government is working to combat extreme heat, and tree cover is "nature's best air conditioner" and air filter.
A piece of proposed federal legislation called the Build Back Better bill is being considered by Congress, and if passed, it will also help fund the work cities are already doing to invest in the short and long-term health of urban canopy.
In some places, that will look like planting a lot of trees, and in other cases, that could involve moving hazardous trees that are detrimental to the health of the urban community forest, Pannell said.
He said more than 500 million trees need to be planted across the United States to achieve tree equity.
"But it's much more than just planting trees, Pannell said. "It's the protection of your existing tree canopy. It's the removal of invasive species and other threats to the canopy, and it's also about, you know, really the human connection."
Curtis said one concern in the Charleston area is finding the open areas to add more green space and plant trees. Potential areas could include abandoned shopping centers or parking lots that no one uses.
"So I know it may be a cost involved, but you could just demolish all of that, remove all the rubble away, and then that would be an open area that you could potentially encourage tree growth and things like that," Curtis said.
Cities are on the frontlines of climate change, and Pannell said it will take partnerships between government, nonprofits and private entities to plan, protect and maintain community trees or forests.