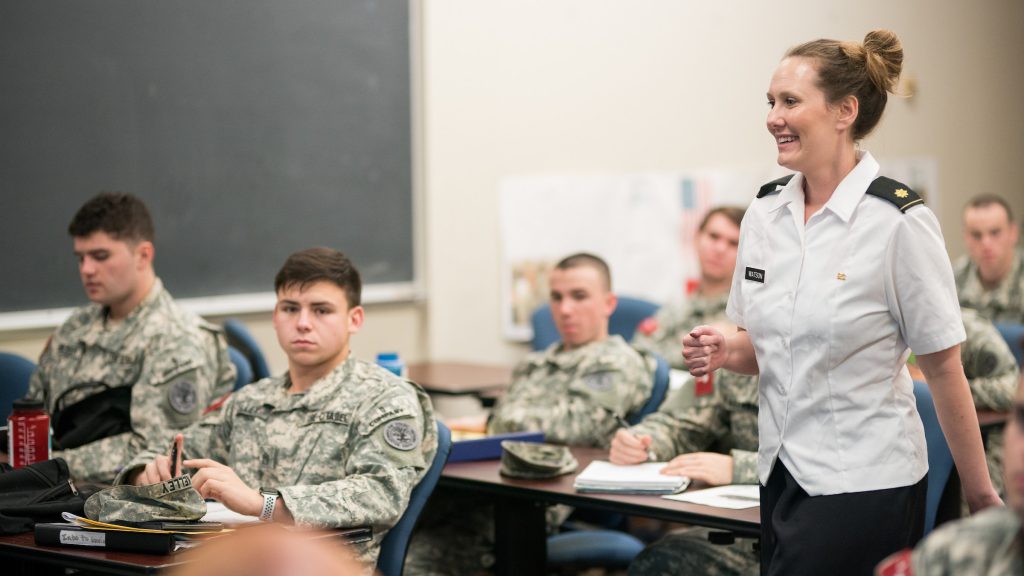 Photo: Mary Katherine Watson, Ph.D., whose upcoming sabbatical was announced at the general faculty meeting, teaching cadets in 2019.
After a year of overcoming unique challenges — both academic and across the board — The Citadel is recognizing some of its outstanding faculty members.
At a general faculty meeting held via Zoom on Wednesday, April 28, Provost and Dean of the College Sally Selden, Ph.D., along with members of her team, expressed their deep gratitude to the entire, outstanding faculty that persevered through the immense challenges of the academic year.
Also at that meeting, they recognized the following professors at a general faculty meeting held via Zoom on Wednesday, April 28.
This year's awards, promotions and recognitions include:
Faculty Excellence Awards
New Faculty Excellence Award – Kweku Brown, Ph.D.
Kweku Brown, Ph.D., is an assistant professor of Civil and Environmental Engineering.
Brown has amassed an outstanding record of achievement in teaching and service. He exemplifies how professors and engineers can work together to strive for the highest standards of excellence.
He is a recipient of numerous awards including the American Society of Civil Engineers Educator of the Year Award.
Brown has authored numerous journal articles, research publications, and national conference proceedings, and is involved in multiple service initiatives that are supporting student enrichment and furthering the academic reputation of The Citadel, including Educational Liaison to South Carolina Society of Professional Land Surveyors and Faculty Advisor to The Citadel Surveying Competition Team, which recently placed 2nd in a regional competition.
Excellence in Research Award – Scott Yost, Ph.D.
Scott Yost, Ph.D., is a professor of Physics. 
Yost has made important contributions to particle physics and string theory.
Since 2016, his work calculating processes at the Large Hadron Collider (LHC) at CERN, the world's largest and most powerful particle accelerator, has resulted in a significant level of scholarship including journal articles, conference proceedings articles, and talks at major international conferences.
In 2016, he spent a nine-month sabbatical at the Institute of Nuclear Physics of the Polish Academy of Science. In addition to his work in particle physics, he co-authored several seminal papers in string theory, some of which were based on his dissertation at Princeton University.
Collectively, these papers have over 3,000 citations, in part because some of them played a foundational role in subsequent, emerging theoretical models.
Excellence in Service Award – Dimitra Michalaka, Ph.D.
Dimitra Michalaka, Ph.D., is an associate professor of Civil and Environmental Engineering.
Michalaka serves as a mentor and faculty leader through far-reaching service initiatives to support others, advance transportation engineering and strengthen the engineering community.
She has been recognized through previous awards, including the New Faculty Excellence Award and the South Carolina American Society of Civil Engineers, Young Civil Engineer of The Year Award.
She also serves as faculty advisor to The Citadel's Society of Women Engineering.
Michalaka's service includes her role on several institution-level committees, as well as coordinating events for Women in Industry Day at The Citadel.
She leads engineering students, faculty and professionals in "Introduce a Girl Scout to Engineering," an annual event for 80-120 Girl Scouts, who learn about the principles of engineering through an engaging three-hour program.
She successfully led student workshops at the South Carolina Governor's School for Science and Mathematics in Hartsville, SC, engaging students in math, science, and engineering curriculum focused on analytical problem-solving skills.
Excellence in Teaching Award – Kevin Skenes, Ph.D.
Kevin Skenes, Ph.D., is an associate professor of Mechanical Engineering.
Skenes has produced an impressive record of teaching and course development. Since January 2016, he has taught 17 different courses at The Citadel including graduate, engineering and general education courses.
He utilizes new resources such as the Daniel Library Makerspace and the Engineering Fabrication Shop and is genuinely open to students' opinions and eager to grow and learn with them.
Skenes engages student discussions of moral and ethical concerns as well as practical engineering applications, using real-life scenarios so that students can see themselves solving similar problems in their careers.  
He serves cadets and students as an excellent instructor, mentor and advisor. He has maintained one of the highest student evaluation ratings. He is a favorite among students who give him top marks while simultaneously noting how hard they have to work in his classes and labs.
The Medbery Award – Stephanie Laughton, Ph.D.
The C.A. Medbery Excellence in Teaching Award was established by the Medbery family in honor of the late Professor Clint Medbery.  The award is presented each year to a faculty member in Biology, Chemistry, Computer Science, Mathematics, Physics, and Civil, Electrical, or Mechanical Engineering who makes a strong impact in freshman-level programs.
The year's recipient is Assistant Professor Stephanie Laughton, Ph.D., from the Department of Civil and Environmental Engineering.
Laughton's department head, Jeff Davis, Ph.D., states: "Through her dedication as an enthusiastic educator, well-founded pedagogical methods, skills as a fantastic faculty collaborator, expansive knowledge of curricular content and enthusiasm for civil engineering, she has effectively dedicated her passion and energy towards creating an outstanding foundation for student success, the benefits of which are immeasurable."
Laughton's impact on students is reflected in the following quote from one of her freshmen students: "Dr. Laughton is a great teacher. She is extremely understanding and knowledgeable. Along with that, she has an extraordinary amount of patience. The Citadel is lucky to have her and she is a great asset to the Civil Engineering Program."
Provost's Team of the Year
The Citadel Provost, Sally Selden, Ph.D., selected the Center for Excellence and Innovation in Teaching, Learning and Distance Education as the Provost's Team of the Year. 
As The Citadel moved to the highly unanticipated need for fully online instruction in March of 2020, this team provided crucial support to faculty and students.
The team trained more than 400 faculty and students last fall alone, and continues to remain flexible and focused as new challenges arise or additional coaching is needed.
Faculty Mentoring Undergraduate Award – Danny Gustafson, Ph.D.
The inaugural Excellence in Faculty Mentoring Undergraduate Research Award goes to Biology professor Danny Gustafson, Ph.D.
Gustafson has an impressive record of mentoring students for the past 18 years at The Citadel. Students and colleagues are better positioned for success with his support.
He has built a record of working with students who might normally shy away from undergraduate research, such as athletes and military veterans.  His enthusiasm for research and learning is infectious and admired.
Other recognitions
Emeritus status
David Allen, Ph.D., professor of English; associate provost for Academic Affairs
Juan Bahk, Ph.D., professor of Modern Languages, Literatures and Cultures
Jim Hutchisson, Ph.D., professor of English
David Trautman, Ph.D., professor of Mathematical Sciences
Elise Wallace, associate professor of Library Science
Bill Woolsey, Ph.D., associate professor of Management and Entrepreneurship
Sabbaticals
Claudia Rocha, Ph.D., Department of Biology
Guy Toubiana, Ph.D., Department of Modern Languages, Literatures and Cultures
Mary Katherine Watson, Ph.D., Department of Civil and Environmental Engineering
Col. Ron Welch, Ph.D., USA (Ret.), dean, School of Engineering
John Weinstein, Ph.D., Department of Biology
The following faculty members will receive a one-semester sabbatical:
Nancy Aguirre, Ph.D., Department of History
Robert Barsanti, Ph.D., Department of Electrical and Computer Engineering
Michael Verdicchio, Ph.D., Department of Cyber and Computer Science
Tenure and Promotion
Monika Bubacz, Ph.D., Department of Mechanical Engineering
Promotion to professor
William Money, Ph.D, Department of Marketing, Supply Chain Management & Economics
Promotion to professor
Audrey Parrish, Ph.D., Department of Psychology
Promotion to associate professor and tenure
Chris Sole, Ph.D., CSCS,*D, Department of Health and Human Performance
Promotion to associate professor and tenure
Jennifer Albert, Ph.D., Zucker Family School of Education
Promotion to associate professor and tenure
Kewku Brown, Ph.D., Department of Civil and Environmental Engineering
Promotion to associate professor and tenure
Melanie Maddox, Ph.D., Department of History
Promotion to associate professor and tenure
Richard Robinson, Ph.D., Department of Mathematical Sciences
Promotion to associate professor and tenure
Roy Fenoff, Ph.D., Department of Criminal Justice
Promotion to associate professor and tenure
Sarah Imam, M.D., Department of Health and Human Performance
Promotion to associate professor and tenure
Timothy Wood, Ph.D., Department of Civil and Environmental Engineering
Promotion to Associate Professor and Tenure
Jeffrey Lyons, Ph.D., Department of Mathematical Sciences
Promotion to associate professor
Jan Goldman, Ed.D., Department of Intelligence and Security Studies
Tenure
Andrea Gramling, Department of Biology
Promoted to senior instructor
Service Pins
20 Years
Frances Frame, Ph.D., Department of English, Fine Arts, Communications
Licia Hendriks, Ph.D., Department of English, Fine Arts, Communications
John Weinstein, Ph.D., Department of Biology
10 Years
Dan Bornstein, Ph.D., Department of Health and Human Performance
Rene Hurka, Department of Physics
Antara Mukherjee, Ph.D., Department of Mathematical Science
Tiffany Silverman, Department of English, Fine Arts, Communications