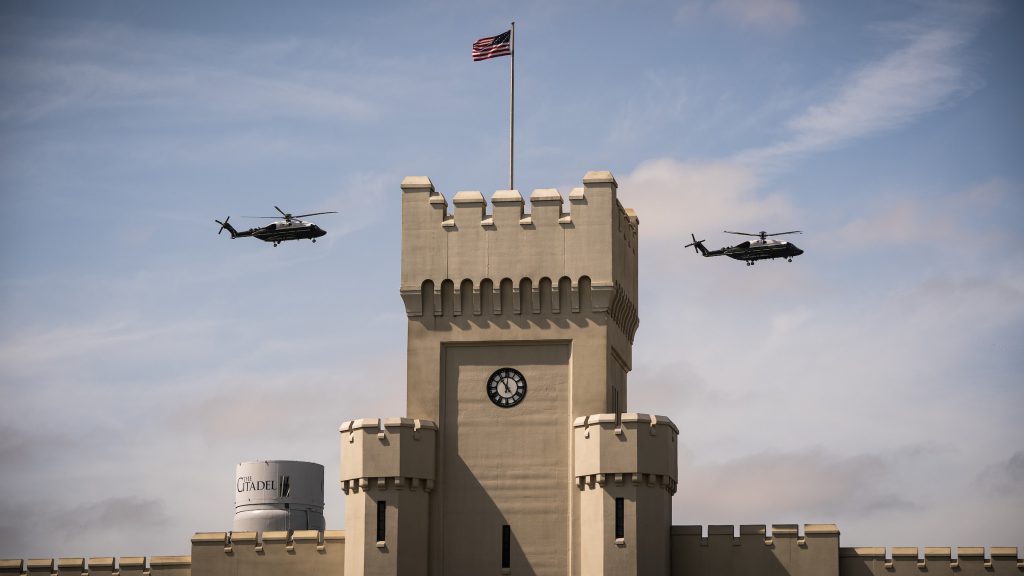 Two VH-92A helicopters — the model of aircraft that will soon serve as Marine One, transporting the President of the Unites States — performed a test landing on Summerall Field on March 24.
Not only did Citadel cadets, students, faculty and staff get to see the helicopters in action — some were even able to walk through and tour the inside of the helicopter.
"This is the newest helicopter in the Marine Corps inventory and it's used on the Presidential Lift mission," said The Citadel President Gen. Glenn Walters, USMC (Ret.), '79. "I think it's a wonderful thing that our cadets, faculty and staff get to take a look at these magnificent machines on a beautiful day in Charleston."
The helicopter is only considered to be Marine One when it's carrying the president.
"It's a phenomenal day for The Citadel, to have the presidential helicopters land and to showcase what the Marine Corps is doing, not only for national security, but to take care of the president," said Chairman of The Citadel Board of Visitors Col. Myron Harrington Jr., USMC (Ret.), '60. "Professionalism just exudes from these guys, and I think they're a good role model for our cadets to see what you can become in all the services, but especially the Marine Corps. I think this is a great day for The Citadel, a good day for the Corps and I'm just blessed to be here and be part of it."
Both helicopters also participated in a touch-and-go practice the day before.
Before the Marine flight team departed The Citadel, they presented Walters with a commemorative photo.
Public Affairs Statement about test landing at The Citadel
Marine Helicopter Squadron One, in coordination with the White House Military Office, deployed a detachment of VH-92As® and MV-22Bs to Joint Base Charleston in Charleston, South Carolina to conduct Operational Testing of the Presidential Replacement Helicopter. This testing continues the evaluation of the squadron's ability to deploy the new aircraft using USAF Strategic Lift and USMC organic assets to conduct the Presidential Lift mission. The squadron will conduct multiple test flights while in Charleston, with practice landings planned to The Citadel. The White House Military Office will determine specific timing for the VH-92A to begin performing the executive transport mission.
Headquarters, Marine Corps; The White House Military Office; and the Program Executive Office, Air ASW, Assault and Special Missions Program