Forty-three years ago, Gen. Glenn M. Walters, '79, reported for matriculation. At 18, he had already traveled the world—Pakistan, Cyprus, Greece, India, Japan—yet it was at the Military College of South Carolina that he put down roots and began the transformation from a boy who dreamed of becoming a military officer to a young Marine destined for success. Now a four-star general with a storied career, Walters has returned to the place he calls home to serve as the 20th president of The Citadel and to oversee the transformation of the next generation of leaders.
---
Glenn M. Walters was reunited with his boyhood friend Robert Creedon III when they discovered they were both going to The Citadel.
Along with his letter of acceptance had been a list of other matriculating cadets from the same geographical region. In the 1960s, when they were in fourth grade, the boys had been good friends at school in New Delhi, India. Creedon's father was the senior Marine at the U.S. Embassy. By August 1975, he was a sergeant major tasked with taking the two young men to Charleston to begin their freshman year. The sergeant major had combat experience in Vietnam, and Walters was sure that he would offer sage counsel before dropping them off. As the car pulled up in front of the First Battalion sally port, Sgt. Maj. Creedon looked at Walters and barked, "This is your stop. Get out."
Walters' own father, William, had grown up on a farm in Kansas during the Great Depression. He was drafted to serve in the Navy in World War II. After the war was over, he went back home to work for a new organization whose identity was so covert that it would be a year before he learned he was actually working for the Central Intelligence Agency. It was the beginning of a 39-year career. In the early 1950s, the agency sent him to England, where he met and married Barbara Hunt. The couple had two children, Glenn and, two years later, Sharon. Over the years, the CIA took the family around the globe and then back to the United States to Vienna, Virginia, where young Walters completed his last three years of high school.
The Transformation
As a boy, Walters was inspired by the stories of the heroes who had bravely served the nation, and when it came time to go to college, he decided to pursue a military education. He visited Virginia Military Institute on a gloomy, overcast day, and The Citadel on a bright and beautiful Corps Day. He chose The Citadel. Later, when the Naval Academy came through with an appointment offer, Walters turned it down—he had already committed to The Citadel.
"It's amazing how the decisions you make when you're a young person can affect your life—I would not have become a Marine if I had gone to the Naval Academy," said Walters.
Two months after they arrived at The Citadel, Walters ran into Creedon in the canteen. A grilled cheese sandwich was 40 cents, and Walters could eat two of them when he had a few minutes between classes. "What did your dad say to you when he dropped you off?" Walters asked.
"The same thing he said to you," said Creedon.
The blunt goodbye resounded with Walters. "That was Sgt. Maj. Creedon cutting the strings," said Walters. "And probably the best thing he could do."
Life at The Citadel was regimented, and as Walters and his classmates navigated the fourth-class system, they learned to work hard and be resilient. On Sundays, the cadets went downtown to an antebellum house where a Charleston matron served lunch and supper for $1.25. There were no air conditioners or telephones in the barracks in those years, but there were plenty of jokes and pranks and a growing feeling of camaraderie among the members of the Class of 1979.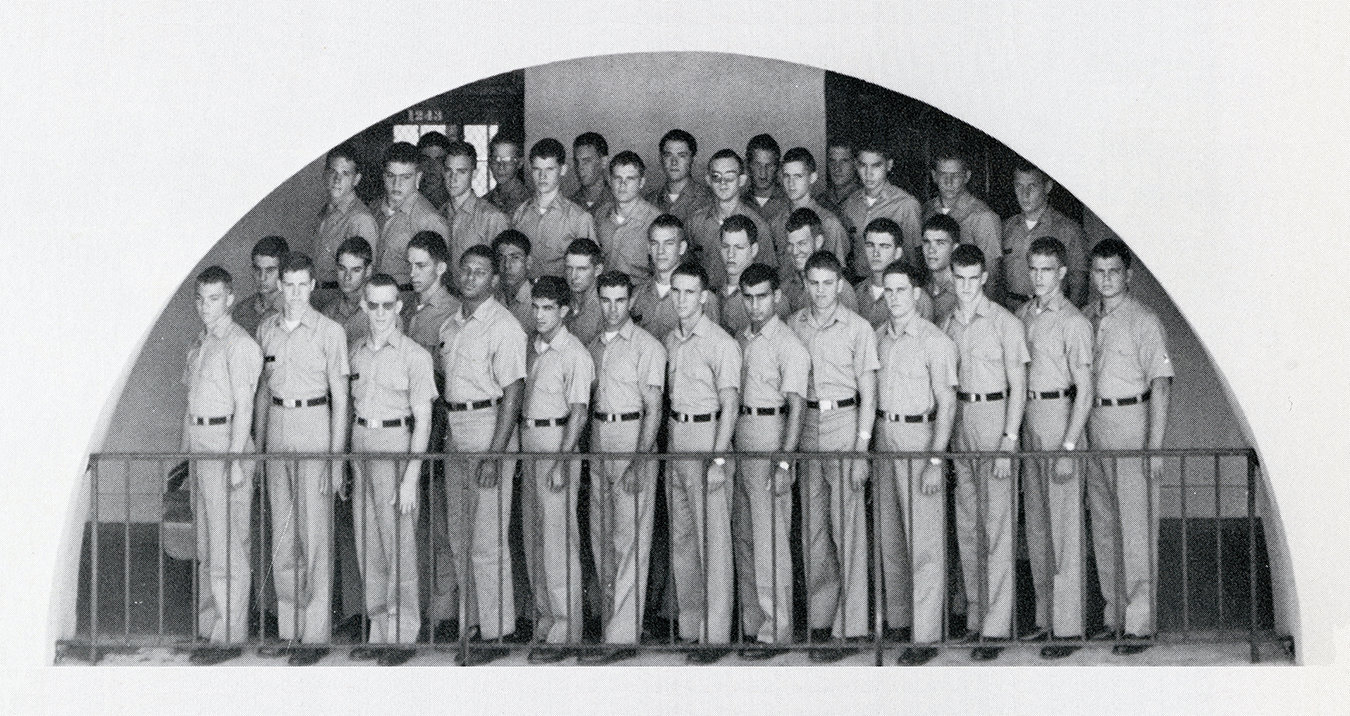 "Our class came together quickly, which I believe is what got us through the year and set us all up for success after graduation," Walters said.
The curriculum for electrical engineering was intense, and Walters invested many evenings in his books. At the time, the program often took five years to complete, but as an NROTC scholarship holder, Walters had to complete it in four years. In his junior year, he carried 35 hours in one semester. "I spent a lot of time in the library and a lot of time in the barracks trying to master the theories of electromagnetic wave theory and currents and calculus."
When Walters asked his father about changing majors, his father encouraged him to stay the course.
"I probably wouldn't be in the position I am now if I didn't have this degree. I never would have had the requirements to apply to the Naval Test Pilot School to become an experimental test pilot if I had not followed his advice."
Beyond Walters' father, there were many mentors in his life, most of them Marines. Gunnery Sgt. Gary Lee, who served as the senior enlisted Marine at The Citadel, arrived at the same time as the Class of 1979. Lee subsequently became the sergeant major of the Marine Corps, the most senior enlisted position in the Corps. There was also Lt. Col. B. Larkin Spivey, '61, executive officer of the Naval ROTC unit, who, like Rob Creedon, had a former connection to Walters. Spivey, a second lieutenant in 1963, was a member of the Marine unit that evacuated the 6-year-old Walters and his family from Nicosia, Cyprus, to Beirut, Lebanon, because of the Greek-Turkish conflict.
While Walters was pursuing his education at The Citadel, his parents were far away in the Philippines, so Charlie Company and the third division alcove became his home. He spent a couple of summers at Folly Beach, working on the docks in hot warehouses moving dunnage around. An alumnus had gotten him the less-than-glamorous job where, among other things, Walters learned how to heat up his lunch on the engine of a forklift.
During the summer after his junior year, Walters attended Marine Officer Candidate School. Thanks to his time at The Citadel, he and his classmates were prepared.
"Physically we were in pretty good shape, but we'd been under stress at this institution during the fourth-class system. We had mastered the 1,000-yard stare and learned not to be derailed by distractions when you're supposed to be concentrating on a task, even if that task is as simple as staying at attention with your eyes straight forward. We could do that. And I just remember being surprised that these kids from other schools couldn't do that."

The Road to Four Stars
The spring of 1979 marked a transition for Walters—his commissioning ceremony and graduation opened a new chapter in his life. Brig. Gen. Roy E. Moss presided over the Marine Corps commissioning ceremony in Summerall Chapel. "Gen. Moss issued our oath, and he did it standing in front of, not behind, the podium. He did it from memory, and he did it with a great booming voice and said, 'All right, Marine officers, now sit down.' And that just impressed me."
After The Basic School in Quantico, Virginia, Walters volunteered to be an infantry platoon commander with the 3rd Battalion, 2nd Marine Division. At flight school, Walters completed his training in 11 months instead of the typical two years. He spent time in California at the Marine Corps Base in Camp Pendleton as a Cobra pilot before being accepted to the Naval Test Pilot School. At Naval Air Station Patuxent River in St. Mary's County, Maryland, he served as an experimental test pilot, where he was named the Military Test Pilot of the Year, but the up-and-coming Marine superstar had an even greater honor in store for him.
"After that, I went back to MAG-39 [Marine Aircraft Group 39, Camp Pendleton, California], where I was a major. I introduced the night targeting system for the Cobra out there, but the most significant portion of that assignment was that I met and fell in love with Gail. And from then on, we were a team of two."
They were introduced by friends at a place called Sharky's Lounge. Amid a sea of Marines in their olive flight suits, Gail Hannah, the vice president of marketing for Hang Ten, stood out with her long blond hair and pink miniskirt. It was 1994. They married a year later.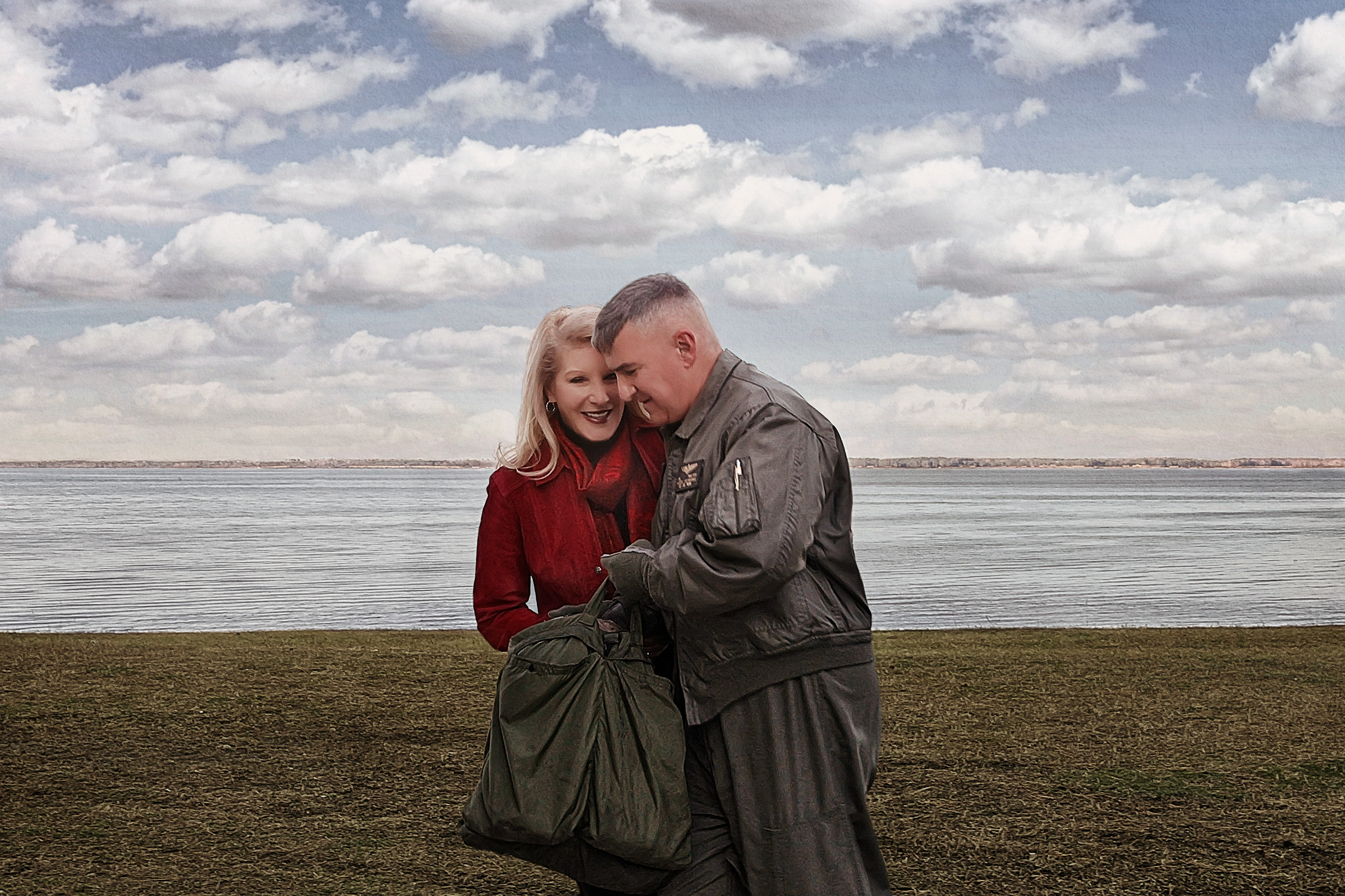 A Team of Two
From Camp Pendleton to the Pentagon and twice to North Carolina, Team Walters was on fire. At New River Air Station outside Jacksonville, North Carolina, Walters became the commanding officer of the Marine Corps' first new operational test squadron in more than 40 years. The charge: to operationally test the Bell Boeing V-22 Osprey and secure congressional funding. The V-22 is a state-of-the-art combat aircraft that uses tiltrotor technology to blend the vertical capacity of a helicopter with the velocity and scope of a fixed-wing aircraft.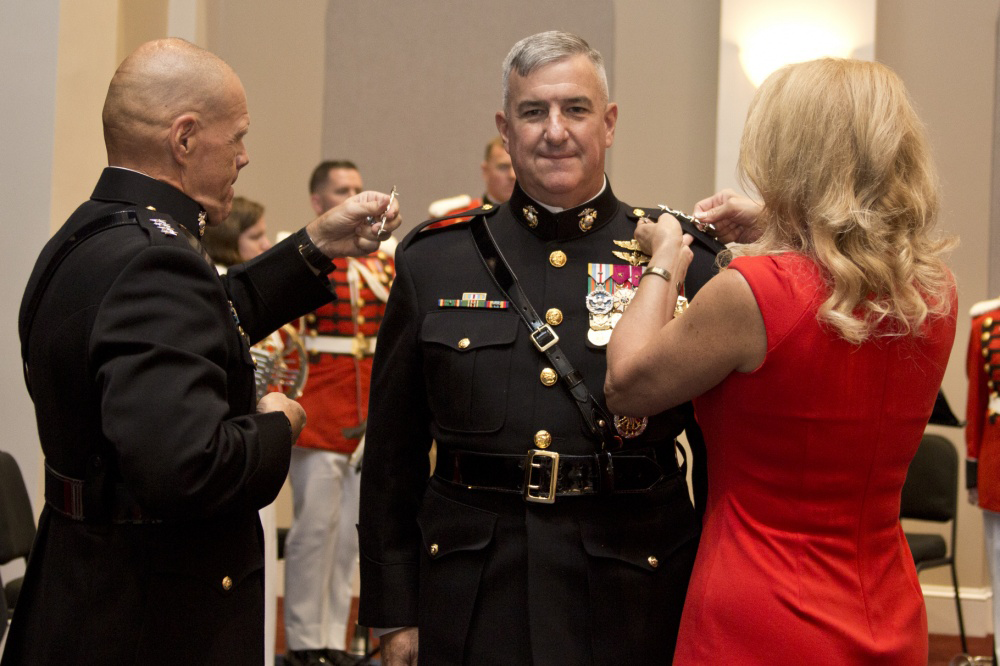 After testing the V-22, it was back to the Pentagon, where Walters was promoted to brigadier general and assigned to the Joint Chiefs of Staff. In Helmand Province, Afghanistan, Walters served as the commanding general of the Second Marine Aircraft Wing, flying the V-22 in combat, the very same aircraft that he had tested five years earlier. With his third star, Walters became the deputy commandant for programs and resources. On August 2, 2016, Walters received his fourth star and became the 34th assistant commandant of the Marine Corps, the second-highest-ranking officer in the Marine Corps and the final assignment in his 39-year military career.
On the Side
The New First Lady
Gail Walters is used to a pretty fast pace. The Seattle native attended Stanford University in Palo Alto, California, on an academic scholarship. She completed her Bachelor of Arts degree in Editorial Journalism with a minor in Marketing at the University of Washington in Seattle. She also holds an MBA from the University of North Carolina at Wilmington. Not surprisingly, she graduated with honors. She climbed to the top of the marketing and communications profession, working for big names from Fortune 500 firms to major federal agencies and health care organizations, but now she looks forward to her new role as first lady.
"Lots of people have asked me why I wanted to come to The Citadel," she said. "Besides the fact that I love being married to Glenn and would like to continue that tradition, I spent 35 years in advertising, marketing and PR for some of the biggest brands in the world. One day I realized that the better I was at my trade, the more money I was making for a bunch of big corporations and their shareholders. And I did not want that to be the legacy of my life. So I am thrilled, yes, but honored and humbled to have an opportunity now to make a difference in a way that I think really matters. And that is by supporting the cadets, families and communities of The Citadel in any way I can."
Together, Gail and her husband love to travel, go to baseball games and have dinner with friends. They both work out and run—Gail is a former 400-yard dash sprinter and downhill skiing instructor. Gen. Walters plays golf; she enjoys the sport but says her game is horrible. A modern woman, Gail is content to let her husband cook Italian for her, enjoying Pavarotti's booming tenor in the background while two rescued kitties and a 16-year-old cat lounge idly, remarkably unaware of how lucky they are.
Service Before Self
While Walters was climbing the Marine Corps ranks, Gail continued to work in marketing and advertising with big-name accounts like Apple, Nike and Coca-Cola. Part of her job was to train clients to speak to large audiences without a teleprompter or a script. As her husband's roles in the Marine Corps escalated, she donned her media training hat to help him prepare for the communications side of being an officer. She beams with pride when she talks about his ability to connect to his fellow Marines.
"I've watched him grow, and he's really very good. But he's at his best when he speaks from the heart, not off a script. You can give him bullet points, but when he just tells you how he feels or what he believes, especially when he addresses Marines and retired Marines and tells them what's going on in the world and why their sacrifices continue to matter, you can actually just feel the temperature in the room change."
Like those mentors at The Citadel who once took a personal interest in him, Walters is keenly interested in the welfare of those he leads.
'Setting the stage for the next generation and paying it forward—which means mentoring, education, engaged empathetic leadership—is going to set us up for success in perpetuity in this country.'
Click To Tweet
"Setting the stage for the next generation and paying it forward—which means mentoring, education, engaged empathetic leadership—is going to set us up for success in perpetuity in this country. That's what I believe…. You have to be more interested in the people you lead than they are in you. And, if you are, I think you'll get along just fine because people know when you're not completely honest."
Back Home
The Marine Corps is the smallest service in the Department of Defense, and interestingly, there were 20 members of the Class of 1979 who earned Marine Corps commissions. Even more interesting, four of those 20 graduates made general officer, and that's just within the Marine Corps. It's a point that brings Walters great pride.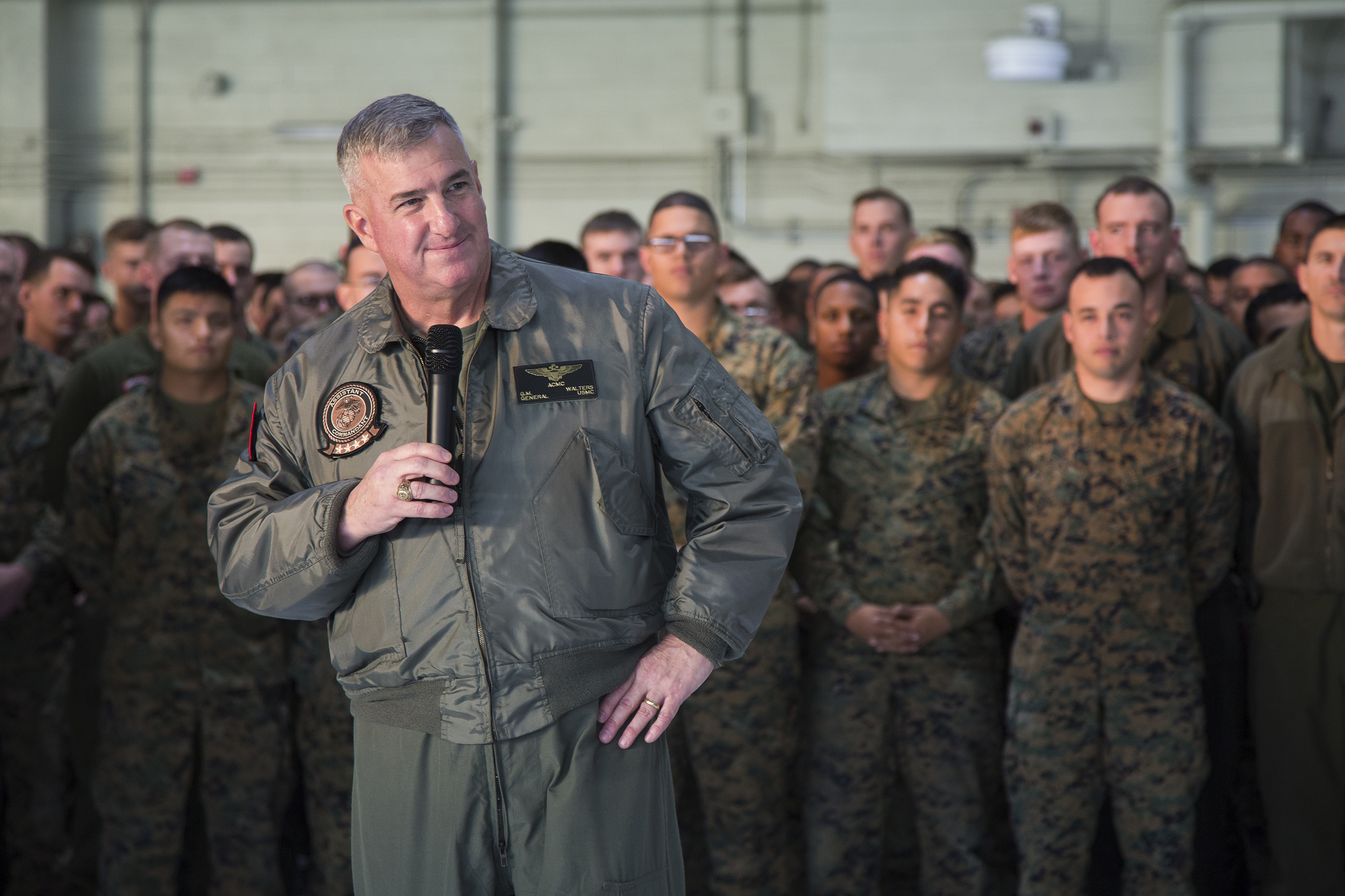 "The fact that we produced those folks in this school is telling of what it does. I think our alumni are closer and more enthusiastic about their alma mater than most college graduates are. All that's the fabric of campus life, and being a member of The Citadel family really kind of brings a smile to your face."
To Walters, being a member of The Citadel family is a commitment, and he is passionate about what the college does.
"I think the system puts challenges in front of you and gets you to understand that this is not going to stop you. It puts that grit into your belly. It teaches you to say, 'I don't care what you do—the system is not going to get me down.' But really it's teaching you that you can overcome challenges. You will get more resilient, and then you will realize that you can accomplish more than you ever thought you could. I believe that. I was a 128-pound skinny little thing when I got down here. When I graduated, I was 170 pounds. I was playing lacrosse, something I had never done. I was commissioned into the Marine Corps, and I had a degree in electrical engineering."
For Walters, The Citadel is at the heart of his military career, his success, the principled leader he has become. He bleeds Citadel blue.
Last April, the Board of Visitors announced that Walters had been named the 20th president of his alma mater. As president, Walters joins a distinguished lineage of flag officers who have led the college since the first cadets arrived in the spring of 1843. And like his predecessors, Walters returns to The Citadel with an impressive leadership résumé, a passion to make a difference in the lives of cadets and students, and a drive to continue the legacy of servant leadership that has defined his military career.