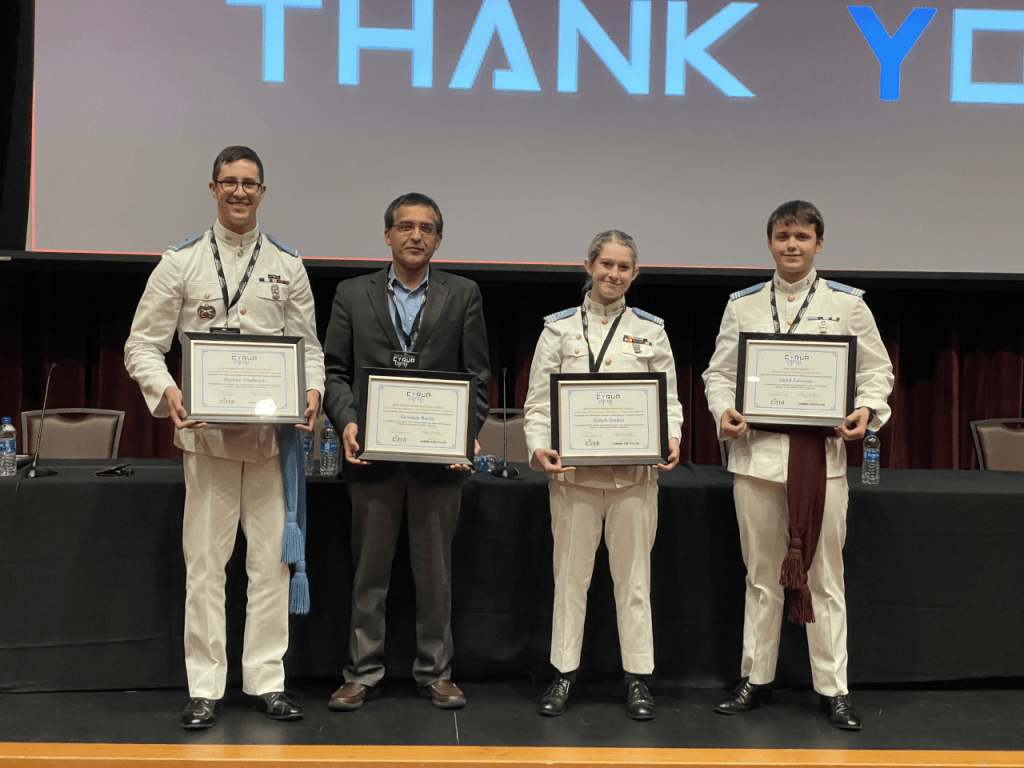 And Citadel team places second out of ten colleges in NWIC (Atlantic) cyber defense competition
Photo above, left to right: Cadet Slaltean Frederick, Dr. Shankar Banik, and Cadets Shiloh Smiles and Jared Johnson posing with their awards at the inaugural conference on Cybersecurity Research in Undergraduate Programs held at Norwich University.
Just as The Citadel cybersecurity programs and initiatives continued to grow this academic year, cadets in the program expanded their skills and experiences through cyber defense competitions, their work with The Citadel Department of Defense Cyber Institute, the college's CyberCorps Scholarships for Service program and, for the seniors, planning for the next stage of their careers by accepting positions as cyber defense professionals.
A highlight of the spring semester was the first gathering of cadets from America's six Senior Military Colleges who are participating in their school's Department of Defense Cyber Institute. It was hosted by Norwich University in early April.

The inaugural conference on Cybersecurity Research in Undergraduate Programs (CyRUP) was a collaborative effort between the military colleges who are jointly dedicated to advancing cybersecurity research and to developing research opportunities for undergraduate students. Cadets from The Citadel, the University of North Georgia, Texas A&M, Virginia Military Institute, Virginia Tech and Norwich University, as well as professionals from U.S. Cyber Forces, gathered to learn more about current research interests and what is coming next in cybersecurity.
The Citadel earned two of the three awards presented at the conference. The Best Paper Award went to cadets Jared Johnson, Eric Lilling and their faculty mentors, Drs. Shankar Banik and Deepti Joshi, for "Efficient Phishing Detection using Email DNA."
The Best Presentation Award was earned by cadets Slateon Frederick, Jessica Roginski, Shiloh Smiles, Noah Wells and Banik, their faculty mentor. The presentation title: "Context Aware Access Control for Internet of Things (IoT) Network."
Other cybersecurity news from The Citadel: cadet team takes 2nd place in college division at NIWC cyber defense competition
The Naval Information Warfare Center (NIWC) Atlantic hosted the 2022 Palmetto Cyber Defense Competition this spring. The three day event included a competition between 10 colleges. The Citadel team earned second place, just behind Clemson. The cadet participants were: Jared Johnson, Ben Race, Robert Roser, Shiloh Smiles, Trey Stevens and Noah Wells.
Additionally, The Citadel's cybersecurity programs director, Shankar Banik, Ph.D., provided a keynote address during the three day event.
This kind of experience will give you an edge and a platform to apply your skillsets to a real-world situation. A degree is one thing, a certification is one thing, but learning in this way — how to do the critical work of hardening systems and testing your skills — is invaluable.

Cyberspace is a battlefield and the adversary is always out there. Students like you give us hope and we need you defending our country in the cyber environment.

Dr. Shankar Banik, professor and Graduate Program director of Computer Science, co-director for the Center for Cyber, Intelligence and Security Studies at The Citadel
Read more about the event here.