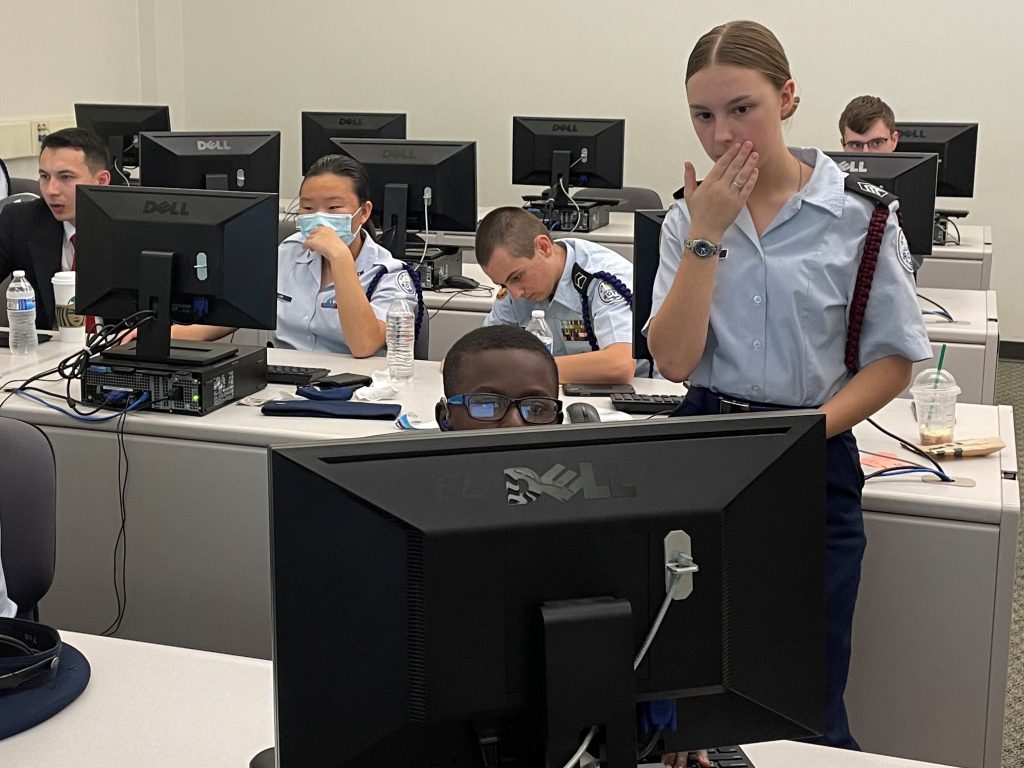 Photo above: Citadel Cadet Trey Stevens (far left), with members of the Ashley Ridge High School Air Force JROTC cybersecurity competition team training in the high school's lab.
Ashley Ridge High School's JROTC Cybersecurity team competing in Maryland
A senior cadet who is a quadruple major heard about a need and stepped up to meet the challenge. Cadet Trey Stevens is majoring in Computer Science, Cybersecurity Operations, Intelligence and Security Studies, and Criminal Justice. He is studying as part of the first group of cadets with The Citadel Department of Defense Cyber Institute, and will be working with the Department of Defense after graduating in May.
Stevens learned that Ashley Ridge High School's Air Force JROTC (AFJROTC) wanted to start a cybersecurity team to help expand interest in the field as the country's need for cyber defenders continues to escalate. He met with the head of the unit there and set up weekly training sessions for the students.
About eight months later, the high school's Swampfox AFJROTC Cyber Team — that Stevens helped develop and mentors — is surpassing all expectations. The Dorchester County high schoolers earned their way to the top in South Carolina, placing first in the state's Platinum Tier overall in the All-Service Division. Now they are competing in CyberPatriot XIV—the fourteenth season of the Air Force Association's National Youth Cyber Defense Competition, held March 17 – 21 in Bethesda, Maryland.
"The Swampfox team could hardly believe it when they realized they qualified for the nationals," Stevens said after receiving the brackets for the final competitors.
Stevens, along with two other Citadel cadets who will take over as mentors next year, some of the Ashley Ridge cyber team and their AFJROTC unit leader, Major Bill Clark III, a Senior Aerospace Science Instructor, are in Maryland for the event after fall competitions narrowed the field from several hundred down to 28 finalists. The team's travel expenses are all being covered by the competition.
"The students worked incredibly hard to make getting to a national competition a reality," said Stevens. "Not all of the team member could travel to Maryland, but most will be able to take part in the next competition for the Ashley Ridge Swampfox JROTC Cyber Team which is the Palmetto Cyber Defense Competition on April 4 in North Charleston, much closer to home."
The students on the Ashley Ridge Swampfox JROTC Cyber Team include:
Russell Brady – Unit Commander
Caleb Huckabee – Unit Commander
Emma Huckabee
Jade Benesh
Mikayla Benesh
Jean Lim
Jacob Kramer
Lindsay Shuford
J'Metrius Stanley
The Ashley Ridge cyber team visited The Citadel over their holiday break, practicing inside a lab on campus to get experience in a different venue.
The two cadets besides Stevens accompanying the Foxswamp team in Maryland, Dalton Hazelwood and George Poleski, will be taking over as mentors for the incoming students who will begin training with the Ashley Ridge AFJROTC cyber team in the fall.
"It's really been great to have the leadership of Cadet Stevens, and now the other Citadel cadets who are engaging to help the Ashley Ridge High School cyber team continue to grow and thrive," said Major Clark. "Our high school AFJOTC cadets look up to The Citadel cadets and see a possible path for their futures."