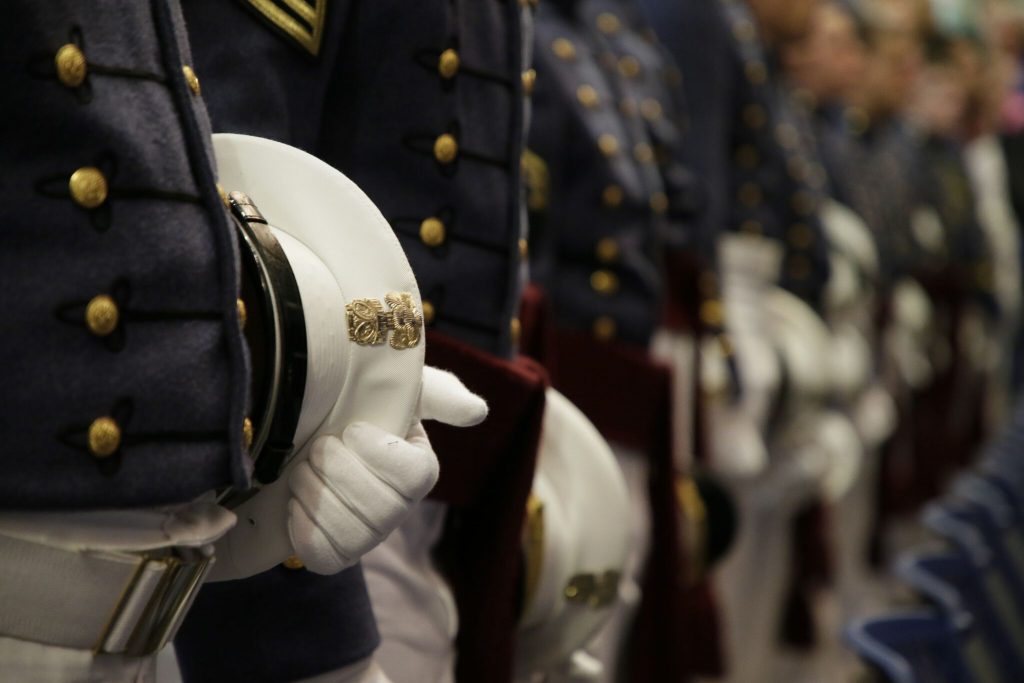 The Citadel's South Carolina Corps of Cadets received degrees on Saturday, May 6, 2017 in McAlister Field House.
The following is the roll of the graduating class:
Bachelor of Science in Business Administration
Scott Dennis Adams, Jr.
Charles Hugh Alexander III
Forrest Dale Alexander
Strom Wesley Altman, Jr.
Harrison Sparkman Ambrose
Daniel Clark Bass
Drew Kenneth Bastian
Alex Carlton Bear
Miles Hollady Bebout
Andrew William Bedenbaugh
Benjamin Paul Bedenbaugh
Ryan Robert Bednar
Richard Gordon Bertrand
Trenton Joshua Billings
John Marshall Bingham
James Adam Blocker III
James Gerald-Edward Booth
James Logan Bresette
Boeing Wesson Brown
Harrison Buck Brown
Jacob Barrett Brumble
John William Brunson
Andrew Grant Buchanan
William Calmes Buck III
Brett William Burnett
Benjamin Kelly Burris
Christopher Edward Byrd
Jonathan Camilo Cabeza-Arias
Marlan James Campbell
Boyce Lightsey Campsen
Robert Alexander Cannon
Anthong Vilmo Caroso
Stephen Matthew Carr, Jr.
Tyus D. Carter
Matthew Thomas Chalfant
Collin Michael Charles
Barrett Jackson Charpia
Jacob Browning Clements
Evan Patrick Collins
Alexander Nathaniel Colonna
Samuel Joseph Colt
Ethan Stone Courville
Gregory James Daly
Evan Lawrence Darwin
Conner Shawn Dawson
Paul Daniel Deloach, Jr.
DeVonta Marcus Delaney
David Michael DiDonato
Dallas Allan Dial
Matthew Thomas Dillard
Tyler Olon Dillinger
Jonathan McLean Ellis
H G Wilson Isaac Emel
Daniel Escobar
Frank Hunter Farmer III
Brogan Chandler Ferry
Tevin Lamar Floyd
John Michael Forrest, Jr.
Edward Frasier IV
Andrew Steven Furmanchik IV
Mason Young Garrett III
Tyler Day Garvin
Christopher Patrick Gibson
Paul Andrew Glasser
Connor John Grady
James Marion Gray III
Ilana Victoria Green
Seth Mackinze Greer
Strachan Small Hagood
Chandler James Hammond
Andrew Mills Harrill
Zachary Harrison
Adam Higgins
Michael Foster High
Landon Nicholas Holley
Darren Philip Hombirg
William Dallas Hooker III
Benjamin David Howle
John Hampton Hudgens IV
Brendan Cameron Jackson
Christopher Robert Jacobik
Benjamin Pierce Janse
Robert Grant Jarratt
Pete Zachary Anthony Jarvis
Carter Matthew Jenkins
Kyle Jovin Jones
Christopher Patrick Kellahan, Jr.
Andrew Bellingham Kot
Martin Christopher Krawczak
Cameron James Krese
Kyle Gregory Krohn
Gregory Arthur Krueger
Hunter Alexander Kuykendall
Emani Naray Little
Jeremy Justin Longshore
Michael Robert Longueville
Samuel Kenneth Lowry IV
Kevin Michael MacDonald
Bryce Durrett Malcolm
Rupinder Singh Manhiani
George Frederick Mappus III
Kevin Michael Martin
Matthew Angelo Mazzuchelli
Jared Joseph McDonnell
William Early McElveen
Douglas Hugh McFaddin
Christopher Blaylock McGee
Christopher Ryan McGuiness
Mark Augustus McKnight
Tate William Mendez
Christopher Collins Moe
Millard Gregory Moody, Jr.
Brandon Taylor Murphy
Ragan McKinney Newell, Jr.
Andrew Christopher Niemeyer
Austin Edward Nuttall
Cody Dennis Owens
Marvin Leo Latigar Pagayonan
Gregory Paul Pappas
Harris Spencer Pass
Lawrence Thomas Patchell
Conner David Perley
Patrick Neil Peterson
Garrett Steele Pinckney
Trey Matthew Poole
Joseph Cole Porter
Walter Gassaway Powell III
Christopher Lawrence Proveaux
John Huguley Putnam
Brian William Raynal
Jesse Hunter Reeves
Gerald Hunter Rickenbaker
Caleb Andrew Roberson
Benjamin Turner Roberts
Kyle Christian Roberts
Zachary David Rutherford
Samuel David Santa Rita III
Daniel James Santorum
Logan Alexander Schmitt
DeAndre Jermiah Schoultz
Michael Grant Smith
Bryan Keith Spade
Harry Roberts Stephenson II
James McMillian Stevenson
Renata Sucha
Grant Richard Suter
Benjamin Arthur-Scott Taylor
Devin Matthew Taylor
William Stewart Thies II
George Patrick Tolbert
Collin Traver Trenery
Cheng-Kuei Tasai
Whitson Owens Verdin
Devan Keanu Washington
Russell Hayes Watkins
Kendrick Emerson Webb, Jr.
David Wesley Whitenack
Wilson Guy Wicker
William Kenneth Williams III
Alexander Arthur Wilson
Andrew Moore Wilson, Jr.
William Robert Winston
Joseph Daniel Winterstein
Cade Holland Woods
Howard Hampton Wright III
Jordan William Yaeger
Everett Marcus Yates
Zachary Christian Yordy
William Rockwell Young
Bachelor of Science in Civil Engineering
Brett Hilton Albertson
William Jacob Alexander
Bradley William Bailey
Seth Colton Bishop
Joseph Anthony Bove, Jr.
Carl Walter Burgener
Samuel Payne Burroughs
Matthew William Buyer
Alexander Ligon Cole
Taylor Keith Coleman
Timothy O'Neal Cooner, Jr.
Charles Norment Cox
Kelsie Leigh Crouch
Marclay Earl Dantzler
Michael Alan Darley
Kyle Austin Dorn
Jonathan Ross Dorogy
Samuel Sewasew Douglas
William Blake Duke
Brett Dean Forman
Roderick Torno Gacuma
Colby Randall Hendrix
John Gordon Hiles III
Zachary Michael Holman
William Tradd Hymes
Nicklaus Alan Jeffreys
Conner Steven Jewell
Christopher Alan Kegley
Taylor Alexander Kimball
Kevin Christopher Kondek
Marcus William Mander
Austin Michael Medeiros
Patrick Francis Meyer
Jeremy Quentin Miller
Davis Holmes Mixon
Michael Alton Montgomery II
Stefan Olivier Nacif
Trey Dion Nelson
Joel P Neuder, Jr.
Timothy Mitchell Nichols
Matthew Blake Paez
Luke Nance Pittman
Jonathan Lyman Reed
Thomas Malcom Riherd III
William Joseph Roddey VI
Kevin Michael Shaw
Adam Carson Smith
Joel Robert Smith
Leonard Paul Van Brunt
Xiang Rui Wang
Fallon Nicole Weaver
Darrion Thomas Whaley
Garrett Robinson Wilke
Christopher Vinson Williams
Gregory Neal Williamson
Dylan Casey Wood
Kenneth Tanner Wyndham
Bachelor of Science in Electrical Engineering
Jamie Scot Bell II
Yao-Chia Chuang
Stacy Lee Coleman
Winston Lamar Crosby
Jacob Jon Russell Dale
Tyler Van Deese
Matthew Clement Gill
Alexander Lacy Grant
Daniel Curtis Helfrich
Ryan Ellsworth Herbst
Forrest Clinton Kimbrell
Michael Joseph LaBounty
Justin Cole Mahon
Jordan Glenn Michael
William Donald Pauley III
Austin Hunter Rector
Elijah Robert Reyes
Cody Dennis Smithey
Tobiah Dustin Spurlock
Franklin Max Wright
Bachelor of Science in Mechanical Engineering
Sloan Matthew Hazel
Benjamin Randall Young
Bachelor of Arts in Criminal Justice
Austin Mitchell Bannister
Jacob Aaron Barker
Thomas Morgan Bass
James Randall Batzer
Gage Allen-Cole Bolden
Kenneth Cecil Braddock, Jr.
Joshua Donald Breeden
Charles Devon Brewton III
Aaron Schoer Bridges
James Lee Brooks
Cody Tyler Bryant
Jose Austin Bustos
Jackson Scott Butkus
Coleman Samuel Capps
Nathan Raul Chew
Joshua Brooks Clarke
John Perry Coburn
Anthony David Crosby Jr.
Antonio Cuccaro, Jr.
Austin Taylor Dickard
John Sidney Dunlap IV
Brogan Alexandra Felga
William Cody Ferguson
Jeremy William Fiedler
Scott Taylor Fletcher
Beau Atwood Gabriel
Nicolas Stephen Gasparro
Zachariah Taylor Gorman
Gabriel Tyrus Grimstad
Matthew James Hamma
John Yim Hardin
Russell Alan Henderson
Montana Vujasin Hinson
Charles Lewry Humphries
Avery Spencer Hyatt
Sarah Love Johnson
Ross Wesley Jordan
Blake Shoemaker Kalan
Michael Grayson Kirk
Michael Stuart Land
Thomas Giovanni Lang
Stephen Nillson Liljeberg
Taylor Reed Locklear
Faustino Lucio III
Nickolas Alexander Maddalena
Matthew Joseph Marino
Zachary Dale Markle
Michael James Marshall
Ethan Thomas Martens
Kenneth Andrew Martin
Reeves Edwin Matthews
Patrick Xavier McIver
Austin Kent McMath
Kaitlyn Amanda Moore
Timothy Patrick Mullane
Steven Matthew Murdaugh
Timothy Robert Newsome
Mitchell Aaron Noel
Thomas Austin Olds
Andrews Miguel Parada
Sungho J. Park
Cullen David Parrott
Isaiah Marqui Pinson
Jonathan Lee Rand
Joshua Lee Richardson
Shane Michael Ridge
Jackson Lee Riley
John Charles Roselli
Eric Wilson Scott
Glenn Heath Shaver
Laura Gurrie Simpson
Ty Sebastian Smith
Cole Dalton Snyder
Jacob Nathaniel Stewart
Christopher Austin Stinecipher
Brian Keith Strickland, Jr.
Ricardo Rafael Tavarez
Cory Nathan Taylor
Alex Lewis Trotsky
William Scott Vaughn II
Branden Michael Wade
Trent Andrew Weaver
Brian Jamal White
David Michael Wilkinson
Evan Jared Woodward
David Arthur Wynne
Brandon Merritt Yates
Bachelor of Arts in English
Taylor Lee Ahrens
Caroline AnneMarie Cashion
Griffin John Arthur Dalmaso
Callah McCoy Davis
Matthew Karlmichael Dickerson
Charles Holton Murchison Lane
Jake Nicolas Lapointe
Denzel Lisbon
Dylan Andrew Maier
Frank Joseph Resch II
Megan Louise Sowell
Benton Joseph Szejk
Bachelor of Arts in History
Preston Cole Abernathy
Ryan Edward Abts
Tjark Larson Aldeborgh
William Thomas Askins
Luke Timothy Baker
Joshua Brian Bates
Sophie-Leigh Keirby Baxter-Clark
Gregory James Copplin
Ra'Shaud Javon Graham
Colin Michael Green
Logan Wayne Higaki
Brian Gustave Hurley
Jacob Allen Lanford
Dillon Charles Luedtke
Derek Douglas-Patton Massey
William Carey Maxwell
Hugh Conor McDowell
Marc Smith Mood III
David Patrick Olive
Joshua Walter Park
Joshua James Scaife
Ronald Carl Shepard II
Daniel Joseph Trimnal
Joseph Anthony Vicci
Maureen Alice Wilkinson
Brendan James Wright
Bachelor of Arts in Modern Languages
Colin Javier Adames
Rachel Catherine Bentley
Callah McCoy Davis
Daniel Escobar
Nolan Shawn Faherty
Christian DeMarco Forbes
Bret Howard Seidler
Jacob Nathaniel Stewart
Timothy Richard Young
Bachelor of Arts in Political Science
Colin Javier Adames
Seth Baldwin Brock
Neil Timothy Bultman
Wyatt Charles Burton
Daniel Gunwoo Choi
Griffin John Arthur Dalmaso
Jonathan Brooks DeVore
Harrison Bailey Dixon
Francis Reynolds DuBose III
Benjamin Jeffrey Duly
Wendell Henry Estep
Matthew James Faile
John Joseph Fenton
Sean Louis-Aidan Fitzgerald
Brennan Vincent Fleury
Christian DeMarco Forbes
Cody Wallace Ford
Nicholas D. Gee
John David Gray III
Andrew Chandler Griles
James Adam Howard
Jose Juan Huertas IV
Daniel Joungsoo Hyun
Michael Brown James
Alexis Justiniano Lugo
Michael Joseph Kecken
Blaine Stanton Kuhn
Brinson Croft Laliberte
Robert Michael Lamond
Brian Zachary Lapchak
Kyle Hunter Larsen-Shumaker
Brandon Alexander Magee
Cameron Michael Massengale
Lenora Sue Mathis
Peyton William McCarter
Zachary Thomas McKay
Logan Mitchell Moran
Phillip Moore Nauert
Nicholas Kaelan Noga
Devin William Oliver
Nathaniel Drew Paul
Joshua David Peed
William Van Richardson, Jr.
Dominick Tomas Rivera
David Michael Salter
Joshua James Scaife
William Anthony Schreiber
Lauren Alysse Seedor
Bret Howard Seidler
Sean Michael Shanahan
Bailey Brandt Shelbourne
Inderpal Singh
Christian Scott Smith
Kevin Andrew Smith
Thomas Gabriel Spera
Tanner Wyatt Swain
John Patrick Swistak
Jackson Grave Taylor
Jacob Thomas Van Horn
Diedreich Petermann Von Lehe IV
Bachelor of Science in Psychology
Kyle Benjamin Busbee
Callah McCoy Davis
Tony Lee Ellis III
Donavan Christopher Knight
Mary Ann Diem Kehaulani Koller
Elliot Richard Long
Kaleb Riley Martin
Geoffrey Anthony Mode
Richie Alexander Parra
William Foster Perkins III
Zachary David Trent
Robert Allen Williams
Bachelor of Arts in Chemistry
Thomas Henderson Churchill IV
Daniell Elizabeth Dils
Kyle Lamar Winston
Bachelor of Science in Biology
Jordan Elizabeth Abrams
Jonathan Adam Barr
Andrew Theodore Clayton
Ryan Matthew Dolan
Andrew Michael Downs
William Joseph Gould
Mikeal Ervin Green
Brandon Christopher Hall
Ty Alexander Hall
Lucas George Hess
Mark Douglas Johnson II
Michael Durand Kennedy
Paul Grey Klosinski
Collins Temple Walker Langley
Samuel Caleb Martin
Robert Austin Muir
Zakariya-Shaith Imad Musallam
Jesse Ray Nicholas Nardone
Thomas Grady Prunty
Reese Alan Stoneburner
Julian Alexandru Teodor
Bachelor of Science in Chemistry
Connor Lance Downing
Samantha Marrin Espy
Michael Charles Garovich IV
Nicholas Toufic Haddad
Pongvisit Intravichit
Alexander William Ortiz
Hao-Ping Syu
Dominique Yvette Williams
Bachelor of Science in Computer Science
James Robert Carignan
Anthony Donato Castelli
Robert Frank De Cort, Jr.
Jose Louis Delgado II
Joshua Daniel Dvorak
Andrew Saad Fayed
John Smith Gaddy
Christopher Andrew Kreidler
William Kyle MacLagan
Newton Cantrill McCollum
Joseph Brendan Murphy
Michael David Newton
Wyatt Hayden Wilkerson
Anthony Richard Zovich
Bachelor of Science in Exercise Science
Brandon Isaiah Baugh-Cheatham
Lawrence Conner Boyce
Jason Ronald Carr II
Garrett Gabriel Graham
Joshua Abner Hamilton
Dillon Michael Kelly
Tom Koopman
Jensine Mae Molina Lamira
Dylan Myers Moore
Aaron Daniel Overton
Matthew Robert Pace
Jared Conner Poole
Charles Tyler Renew
Rion McCright Rivers
Isaac Morgan Rodgers
Jason Alexander Sanchez
Cameron Robert-Armon Scott
Johnathan Joseph Shelton
Zachary David Sidman
Dakota Wade Smith
Jacob Philip Ufkes
William Phillips Vanvick
Sara Jane Winch
Dylan Mitchell Yates
Bachelor of Science in Health, Exercise and Sport Science
Andrew Lawrence Bourckel
Olivia Mackenzie Trone
Bachelor of Science in Mathematics
Marcus Quentin Harbol
Kaige Michael Lindberg
Nathan Scott McAnally
Luke Ryan Tiscareno
Welfare Wang
Bachelor of Science in Physics
Timothy Joseph Burke, Jr.
Carly Marine Cannon
Samuel Riley Duncan
Ryan Patrick Fallon
Hayden David Fry
Leo Joseph Grucella
Angelica Lynn McNerny
Bachelor of Science in Sports Management
Robert Gregory Bradley
George Howard Brown, Jr.
Jorian Romel Jordan
Trevor Michael Painter
Warren Anthony Sledge
Bachelor of Science in Education
Joseph Lamor Bexley
Chase Richard Blackwell
Matthew Graham Harris
Robert Gasque Howe II
Stephen Riley Lanier
Jackson Donald Nosbisch
Kiel Fred Parker
Jacob Hunter Poston
Craig Kennedy Reith
Colin James Wheeler
Lawton Spencer Willis
Active Duty Students
Bachelor of Science in Business Administration
Joshua Duane Jordan
Christopher John Lowther
Bachelor of Science in Civil Engineering
Dexter Wayne Ledbetter
Bachelor of Arts in Modern Languages
Jeffrey Steven Smeriglio
Bachelor of Arts in Political Science
Eric Allen Humer
Jeffrey Steven Smeriglio
Bachelor of Art in Chemistry
Sean Michael Brennan
Veteran Students
Bachelor of Science in Business Administration
Stephen Douglas Hill
Bachelor of Science in Civil Engineering
Tres Hunter Litten
Bachelor of Science in Electrical Engineering
Louie Abo Decena, Jr.
David Lee Jorgenson
Emerson Emmanuel Tronchin
Zachary Lee Story
Bachelor of Science in Mechanical Engineering
Frederick Steele Cutlip, Jr.
Evin Michael Garza
Bachelor of Arts in Criminal Justice
Kristen Marie Albro
Bradley Allen Grace
Olivia Christine Lion
Emanuell Martinez
Christopher Lee Roaden
Bachelor of Arts in History
Elliott Ross Young
Bachelor of Arts in Psychology
Vennessa Eve Martinez Camacho
Bachelor of Science in Biology
Oliver Paul Culver IV
Richard Wesley Zealy
Bachelor of Science in Exercise Science
Lloyd Venson Powers III
Justin Dempsey Wrenn
Bachelor of Science in Health, Exercise and Sport Science
Tremaine Xavier Shivers
Bachelor of Science in Business Administration
Aaron Scott Drummer
Bachelor of Arts in Criminal Justice
Ty Michael Keefe
Bachelor of Arts in Political Science
Michael Paul Stover