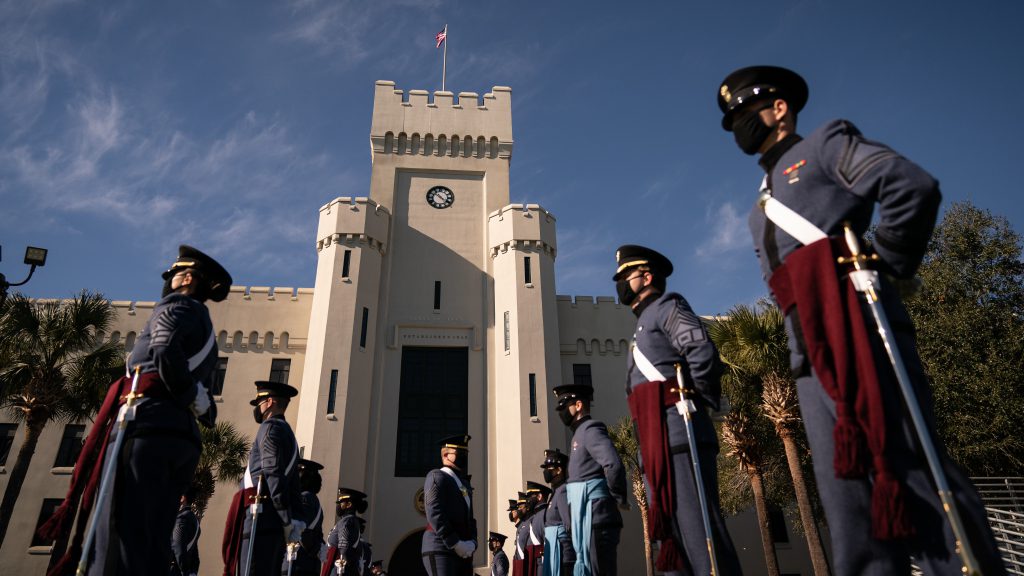 As a year like no other comes to a close, The Citadel continues one of its most important traditions — naming the cadet leadership for the next academic year.
The Office of the Commandant makes the announcement each year, around Corps Day and Recognition Day weekend.
The pandemic has affected how those traditions will look this year on campus, but has not stopped The Citadel from pursuing its mission. To educate and develop cadets into principled leaders is the driving force behind the integral military system at the college, which is in operation at all times when school is in session — 24 hours a day, seven days a week.
The top leadership positions in the South Carolina Corps of Cadets for 2021-22:
Kathryn Christmas – Regimental Commander
From Easley, SC and majoring in Mechanical Engineering
Grayson Gasque – Deputy Regimental Commander
From Anderson, SC and majoring in Biology
Alexander Clark – Regimental XO
From North Little Rock, AR and double majoring in Accounting and Intelligence and Security Studies

Rivers Benton – Honor Board Chair
From Effingham, SC and majoring in Business Administration

Eric Skinner – Regimental Academic Officer
From St. Augustine, FL and double majoring in English and Electrical Engineering
Grant Speer – 1st Battalion Commander
From Chattanooga, TN and majoring in Political Science
John Michne – 2nd Battalion Commander
From Clifton Park, NY and majoring in Criminal Justice
Garrett Graettinger – 3rd Battalion Commander
From Anderson, and majoring in Intelligence and Security Studies
Aaron Daninger– 4th Battalion Commander
From Cocoa Beach, FL and majoring in History
Angelea Lance – 5th Battalion Commander
From Lampasas, TX and majoring in Intelligence and Security Studies
Patrick Cherry – Sergeant Major
From Carmel, IN and majoring in Accounting
The regimental staff will lead approximately 80 cadet officers in the command of the Corps' five battalions and 21 companies during the next academic year, with positions ranging from battalion sergeant majors to company first sergeants. They are selected by the Office of the Commandant after Rank Board interviews and a series of performance reviews during the years leading up to becoming a first class (senior) cadet.
The names of the full regimental staff, company commanders, battalion sergeants' majors and company first sergeants will be added, below, when they are announced.
1st Battalion
Grant Speer – 1st Battalion Commander
Bennett Lucas – A Company Commander
Jeremy Walker – B Company Commander
Colin Gleco – C Company Commander
Joshua Desmore – D Company Commander
2nd Battalion
John Michne – 2nd Battalion Commander
Cody Green – E Company Commander
Katherine Jarvis – F Company Commander
David Stringer – G Company Commander
Malcolm Jackson – H Company Commander
Donovan O'Dea – BD Company Commander
3rd Battalion
Garrett Graettinger – 3rd Battalion Commander
Nicole Spohn – I Company Commander
Jackson Bridges – K Company Commander
Antonio Carbajal – L Company Commander
James Peatross – M Company Commander
4th Battalion
Aaron Daninger – 4th Battalion Commander
Lane Johnson – N Company Commander
Alicia Roberts – O Company Commander
Brian Wall – R Company Commander
Garett Summers – T Company Commander
5th Battalion
Angelea Lance – 5th Battalion Commander
Pei Hsuan Lu – P Company Commander
Grant Norman – PB Commander
Jaret Price – S Company Commander
Kyle Kretzer – V Company Commander