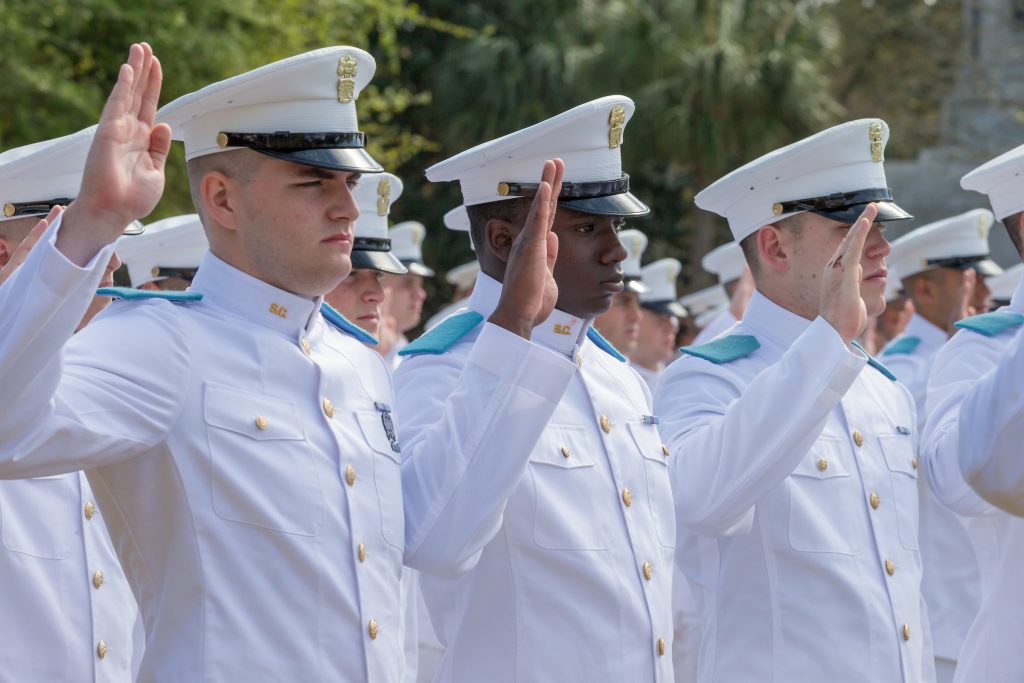 Senators Graham, Scott assisted SMCs with related defense bill amendment
America's Senior Military Colleges (SMC) worked jointly to address the escalating need for highly trained cyber operations and cybersecurity leaders. The colleges, which include The Citadel, the University of North Georgia, Norwich University, Texas A&M, Virginia Military Institute and Virginia Tech worked with their congressional leaders on an amendment authorizing the Secretary of Defense to establish cyber institutes at SMCs. The measure could accelerate the growth of the existing pipeline of disciplined, capable leaders educated by the SMCs for armed forces, Department of Defense and civilian cyber enterprises.
The goal is for the Senior Military Colleges Cyber Institute amendment to be included in the final Fiscal Year 2019 National Defense Authorization Act (FY19 NDAA).
Five of the six SMCs, including The Citadel, already offer cyber security minors and are National Security Agency and Department of Homeland Security National Centers of Academic Excellence in Cyber Defense Education.
"Future cyber leaders must be able to empower their teams to foresee and resolve complex, and often threatening, problems," said U.S. Sen. Lindsey Graham (R-South Carolina). "Our Senior Military Colleges are already deeply invested in this type of national security education. They provide the discipline, ethics training and academic rigor the next generation of cyber leaders need. They are ready for this step."
Graham and U.S. Sen. Tim Scott (R-South Carolina) both agreed to support the Senior Military Colleges Cyber Institute amendment, which was included in the Senate Armed Services Committee FY19 NDAA that is now under consideration on the Senate floor. The University of North Georgia initiated the collaboration, with the amendment sponsored by U.S. Congressman Jody Hice (R-Georgia), and signed by Georgia's full congressional delegation.
"With cyber threats affecting nearly every sector of our society, we need capable and trained professionals in our Department of Defense and other agencies who are prepared to proactively and effectively counter this dangerous trend," said U.S. Sen. Tim Scott. "We need our nation's cyber training facilities, especially our Senior Military Colleges, to train the next generation of leaders to help secure Americans' information and to further advance our overall national security. I was glad to have worked with my colleague Sen. Graham to advocate for the inclusion of the Senior Military Colleges Cyber Institute Amendment in the Senate version of the FY19 NDAA."
SMCs, must meet specific criteria such as a military structured corps of cadets, physical fitness and military training through the Reserve Officer Training Corps (ROTC), cadet codes of conduct and military uniform requirements−all in addition to offering bachelor's degrees and above. Together, the SMCs produce about 900 new U.S. military officers annually.
"The real challenge is not just finding people who understand cyber operations and network security, but developing leaders who can build teams of innovators to help shape the ever-changing cyber landscape," said the president of The Citadel, Lt. Gen. John W. Rosa. "We are thankful for the support our South Carolina Senators Lindsey Graham and Tim Scott are giving to this important national security effort."
Other examples of SMC Cyber Institute advantages:
Accelerating the expansion of America's cyber workforce for national defense
Leveraging already robust international partnerships for collaborative cyber defense
Interdisciplinary, innovative research with all participating cadets residing on SMC campuses
Annual cyber competition for SMC cadets with ROTC units and all military branches
Growth for the established cyber security minor programs at The Citadel and four other SMCs
The FY19 NDAA passed in the House on May 24. The Senate will consider it at a later date.