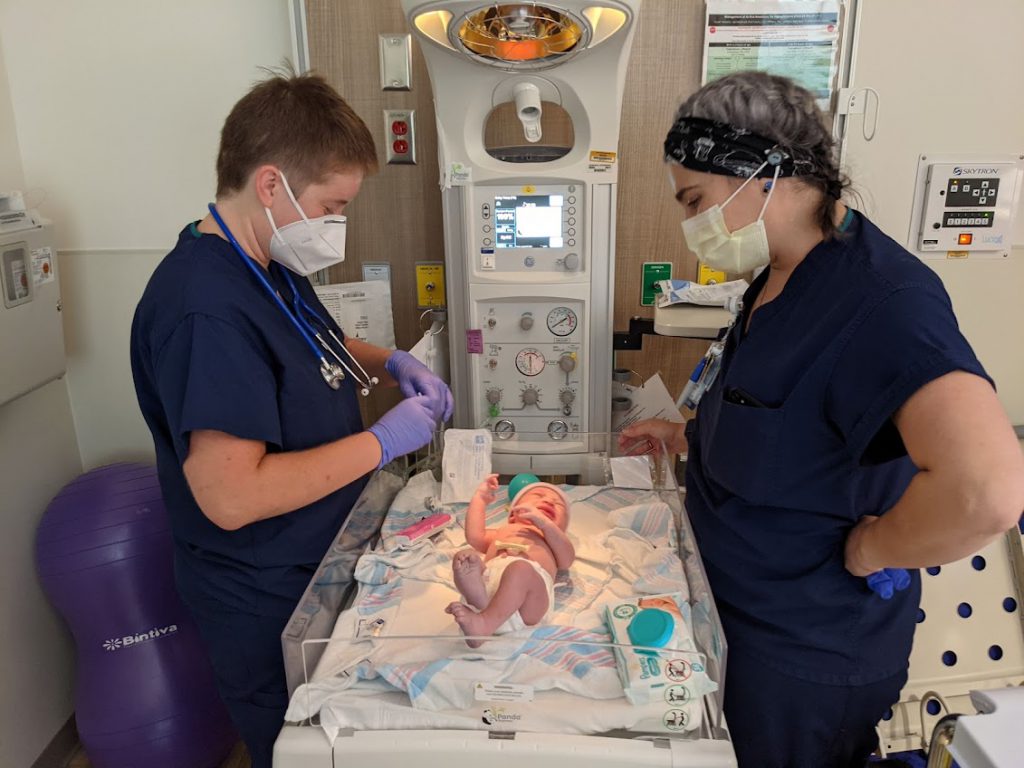 Nurses Maddy Salem and Tamar Sternfeld reflect on helping Citadel family, working as nurses since graduating amid pandemic
Michael and Jacey Verdicchio got a happy surprise when checking into the the hospital for birth of their second child, Ezra, a few months ago.
Michael is a Ph.D. computer science professor in the Department of Cyber and Computer Science at The Citadel. Jacey, his wife, is pursuing an M.A. in Clinical Counseling with the college's Department of Psychology. They are "all-in" — living, teaching and studying on The Citadel campus with Ezra, their 4-year old Betsy, and Jack, their golden retriever.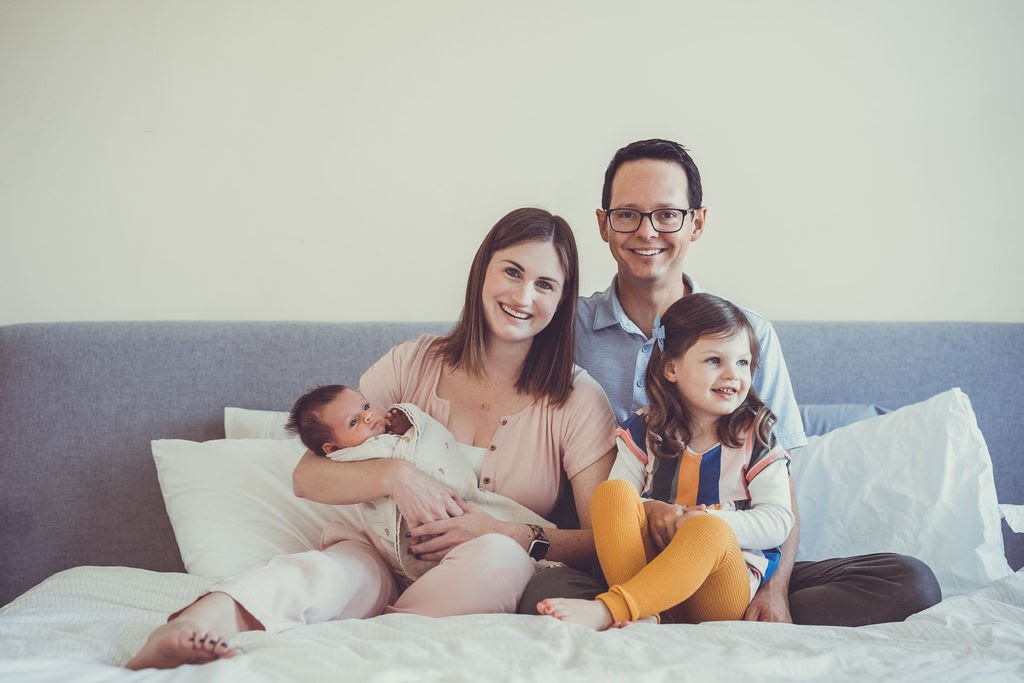 The Verdicchios never expected their two nurses at the Medical University of South Carolina (MUSC) to also be part of The Citadel family. They were thrilled to learn both women were members of the first graduating class of The Citadel's recently developed Swain Department of Nursing.
"Our labor and delivery nurse, Tamar, was in the first graduating class of our Citadel nursing program," said Michael. "When our son was finally ready to come out 30 minutes after shift change, our new nurse, Maddy, also turned out to be an alumna of our program. So, our son Ezra was delivered by two Citadel nursing alumnae (along with some boring doctors, I guess- smile). With Maggy and Tamar as our nurses, me a professor and Jacey, a graduate student – it was a very Citadel experience!"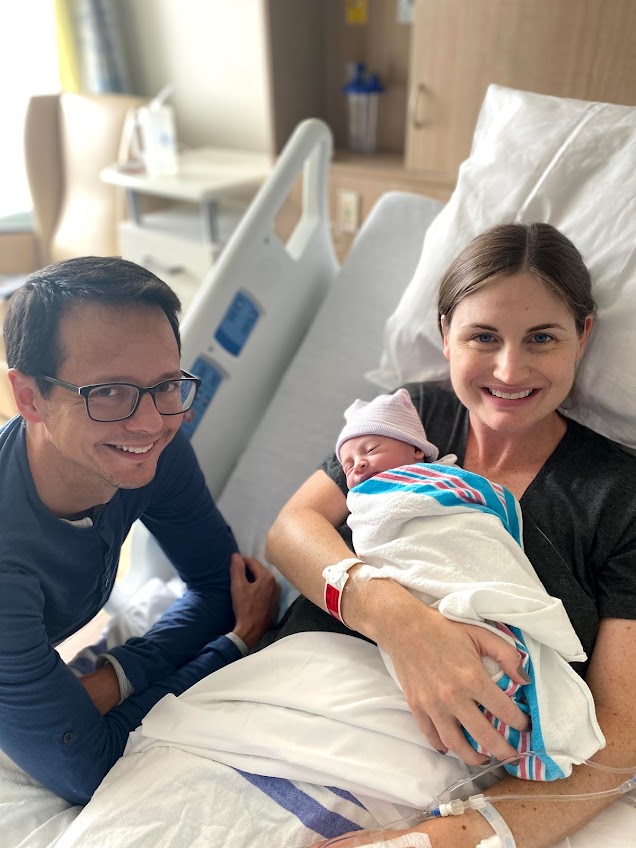 For Jacey, the shared Citadel connection was a comfort.
"Labor is a stressful time, and you are entrusting your health and the health of your baby to people you are only just meeting in the hospital. Finding the common ground of The Citadel allowed us to quickly establish rapport with our nurses and feel more at ease. Furthermore, both of The Citadel-trained nurses were incredibly skilled, had a wonderful bedside manner and helped us feel safe and cared for," Jacey said in an email after the family was back home on The Citadel campus.
The Verdicchio's biggest concern was about delivering Ezra in the hospital during a pandemic.
"Our nurses put us at ease with that too," Jacey explained. "I was nervous about having to wear a mask throughout the physically exhausting feat of labor, but luckily we were both able to take our masks off once in the delivery room since we're vaccinated."
The nurses, Maddy Salem and Tamar Sternfeld, both graduated from The Citadel Swain Family School of Mathematics and Science with Bachelor of Science in Nursing degrees in May of 2019. They went straight to work after passing their boards – just when the pandemic was dramatically escalating in South Carolina and globally.
They agreed to answer some questions reflecting on helping deliver Ezra, and on their nursing careers beginning during the continuing pandemic.
Q. What was it like helping members of The Citadel family as part of your job as a MUSC labor and delivery nurse?
Maddy: As a nurse, I find it extremely important to develop a bond with all my patients and their support people. This bond doesn't happen within the first hour or two of a shift, but an effort that spans the duration of my time with each patient. To care for the Verdicchio family was such a pleasure, in that this bond existed instantaneously and was personal, creating such a sweet environment. The Verdicchios were extremely kind which in my book goes a long way, especially as the world is enduring a crisis. The time spent with them was truly refreshing and filled my cup to overflow for my other patients. To help families, specifically the Verdicchios, bring life into this world is something I never thought I would have the opportunity to do. The Citadel gave me that chance and in turn allowed me to experience Ezra's first breaths alongside his loving parents. For this I am grateful, and to know that Dr. Verdicchio is committed to the education of others is a beautiful thing knowing he is allowing future Citadel grads to follow their dreams.
Tamar: As soon as they found out I was a Citadel alum, it was as if we had been friends for decades. It made the entire birth experience more like a family affair instead of just three strangers being together. It was made even better that Maddy was coincidentally assigned to be the day shift nurse and assume care. It was so wonderful to have both of us present for the delivery even though we work on opposite shifts and both meet Baby Ezra. I am always honored when I am able to participate in someone's delivery and I am even more honored that I was able to be a part of this one with the connections to The Citadel.
Q. What do you enjoy most about your work as a nurse?
Maddy: This question is tough. There are so many things that make nursing difficult and strenuous, but the joys that come from caring for others brings about a sense of endurance that pushes me through the hard aspects of my job. I think knowing that I get to support women during one of the most strenuous events of their lives is what I enjoy the most. Knowing that I get to carry their burdens and think analytically for them and their baby or babies while they endure the pains and joys of labor is life giving to me. To watch people become parents and hold their newborn for the first time and experience the love and joy in the room is something that words cannot begin to describe. 
Tamar:  ​I became a nurse because I enjoy helping people. I became a Labor and Delivery nurse because I enjoy working with mothers and their babies. The best part of being an Labor and Delivery nurse is the teamwork and, more than any other environment I've worked in, we have to function as a team. What I loved the most about The Citadel's nursing program is that every class incorporated teamwork and leadership, not only core elements of a Citadel education, but also core elements of quality nursing care. Every time I work with Maddy, it's evident that we shared that foundation in our nursing training and being able to work together to bring Ezra into the world brought all of those pieces together.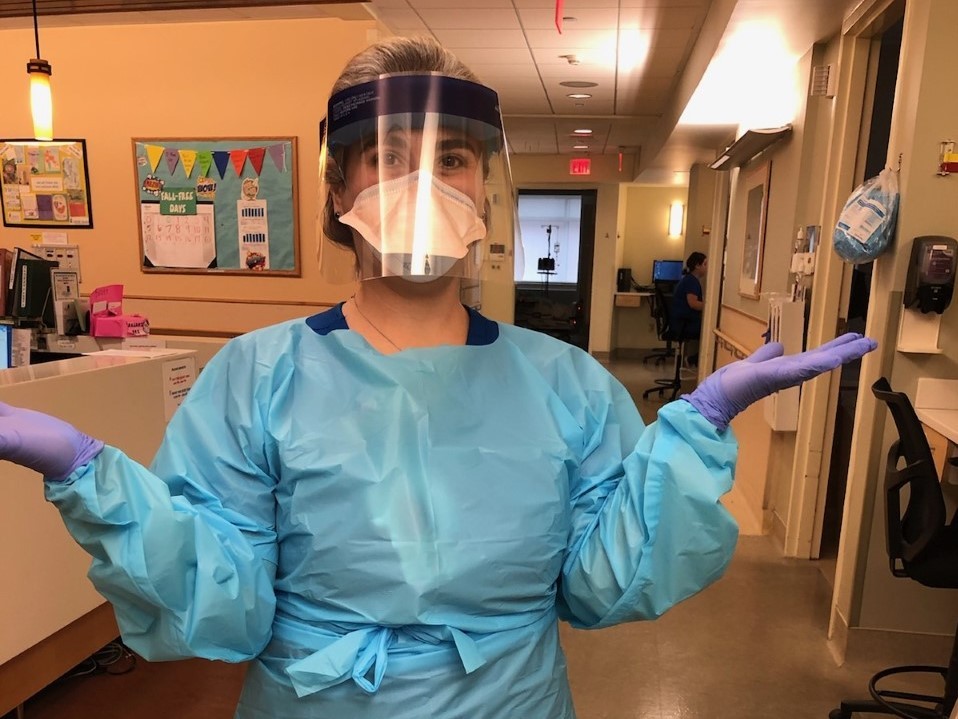 Q. What has it been like going straight into you new careers as nurses nursing during a historic pandemic?
Maddy: So, I am 24. I'm not sure about you, whether you are older or younger than me, but when I first began to understand the pandemic, I thought it was nothing and would be over in no time. I share my age because I think it contributed to how naïve I was to the severe nature of what has become an historic event. I had a trip to Thailand planned for March 17, 2020. I was packed and ready to go. Two hours prior to boarding, I realized how serious this pandemic was and chose to stay. This decision was disheartening, but it pales in comparison to what I saw while working on the COVID unit located in the main hospital of MUSC. To watch individuals leave this world without their loved ones at their side brought on a sadness that I will forever take with me. I have the opinion that this pandemic has strengthened nurses. For me, I believe that it has shaped the way I approach each patient. Understanding the reality that life can be over in the blink of an eye, and I have a responsibility to care for lives, grew my understanding of true nursing. It has not been easy. Short staffed, over worked, and, frankly, underpaid are all things I think about. What keeps me going is asking myself these questions: What if it was me in room 222 needing help? Who would be there for me? Who would help me if I couldn't help myself? Through all the hardship, knowing I get to be that person for the patient in room 222 makes the pandemic disappear. 
Tamar: When we graduated in May of 2019, we had no idea what was in store for us. The BC months of in-hospital training (Before COVID) were a great opportunity for me to get my "sea legs." I was able to find my stride and build confidence in my skills before the entire world put them to the test. I'm so very grateful for the way that things panned out.
Q. What advice do you have for nursing students who are considering which area of service to go into?
Maddy: Ask questions. Find a mentor. Befriend your staff be it other nurses, techs, secretaries, physicians, security, environmental services, etc. Treat your patient as if you are the patient. Never lose sleep over a mistake you may make. We are all human and prone to error but learn from each moment. I wanted to start with general advice, because I believe that if I didn't have these basics down, I wouldn't be successful in a specialty area. The truth is, I would recommend starting in an area that will allow you to master skills such as a surgical unit. If there is a specialty you are considering, find a way to shadow that unit within the hospital where you are working med-surg. Learn about the staff there and ask them questions about what they like and don't like about their jobs. Beyond this, when choosing an area, know you are choosing a specific population of patients. Know yourself and what you can handle. Don't be afraid to make a change. Nursing jobs will always be there, be patient and don't settle. You owe that to your patients.
Tamar: One of the best things about nursing is that you don't just have to be one thing forever. Try all of the flavors of ice cream before deciding which one you like. There are so many options out there. There is something to fit every person. Be willing to try something new and you will find the right fit.