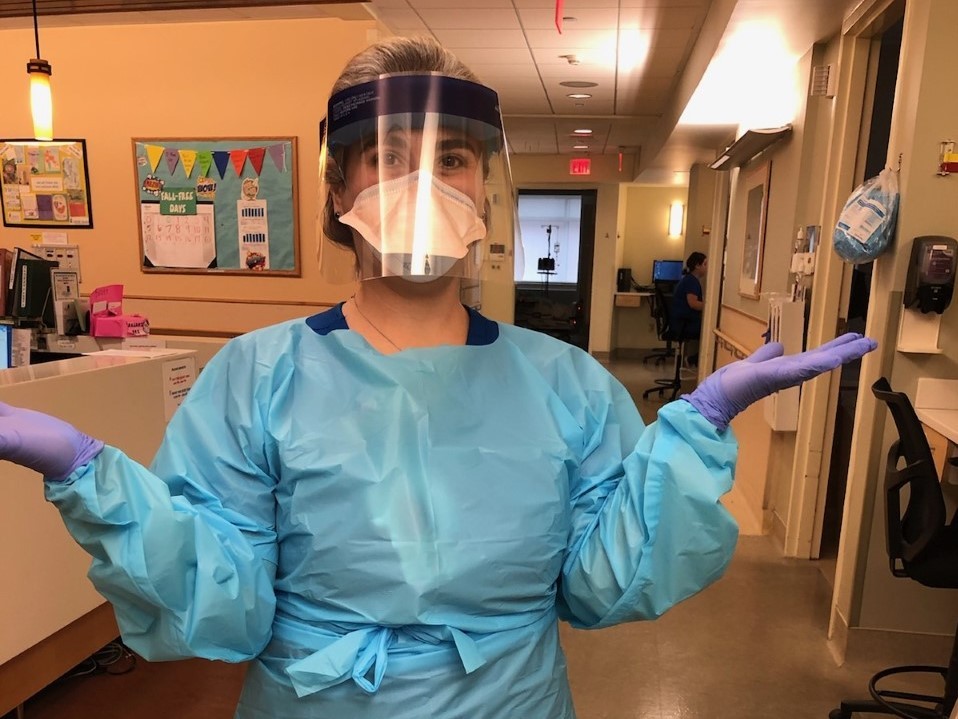 Photo above: Citadel Class of 2019 nursing alumna, Tamar Sternfeld, working in protective gear at MUSC in Charleston
The Class of 2020 includes the Swain Department of Nursing's second graduating class. There are 7 cadets and 12 evening undergraduate students expected to graduate, take their board exams and then begin working full time as nurses. They've been training in healthcare facilities, earning clinical experience. They're finishing their classes online like everyone else, to enter an entirely new dimension in healthcare unlike any other class of nurses in history.
There is an incredible maturity that I see with the senior nursing cadets and students as they prepare to serve their communities and for some, their country, as nurses during this historic pandemic.

They'll miss the traditional graduation events, including military commissioning ceremonies and their pinning ceremony. Cadets are also missing the esprit de corps that is a treasured part of the military lifestyle at The Citadel, yet I have not heard one single complaint.

The cadets, and all of the nursing students understand the uncompromising need for social distancing more than most. They are intensively focused on their next steps.

Amelia Joseph, Ph.D., nurse administrator for The Swain Department of Nursing at The Citadel
Joseph directed the founding of the college's nursing program and is in contact with numerous alumni from the first graduating class in 2019.
"Our nurses from the class of 2019 learned about pandemics, but serving patients during COVID-19, influencing and saving lives on a daily basis, is a reality for them and a learning experience like no other," Joseph said. "They seem to be doing well and meeting this crisis the way we would expect a Citadel graduate to do. They understand the critical nature of their work."
Citadel nursing alumni in the war against COVID-19
Tamar Sternfeld, BSN, RN, '19, Medical University of South Carolina (MUSC), Charleston
Tamar Sternfeld is an inpatient, bedside nurse at MUSC in the Digestive Disease Center. She is also a wife and a mother. She shared these thoughts via email.
Most of our patients have some type of problem with their liver, pancreas, Bariatric surgery or other gastrointestinal related issues.
The hardest part has been keeping up with the rapid flow of information that has been coming out as this situation has evolved so quickly. Our manager briefs us twice a day, at a minimum, sometimes even more. She has been working very hard to make sure we are kept abreast of all of the information as it comes out. Her transparency has helped to bring us together as a team.
My husband and I have a good system worked out. When I come home from work, I call him to tell him I'm on my way. When I pull into the garage, he meets me there with a towel and a brown paper bag. I take off my shoes and my scrubs before I walk in my house and go straight into the shower. My children, thankfully, are old enough to understand that the work I am doing requires that I maintain a safe distance from them. They have been very adaptable and have even jumped in with the cleaning that goes on every day in our house. My husband has been great about framing the work I'm doing as "holy work" when he talks to the kids. They are so supportive and bring a smile to my face when I come home after a hard day.
I remind my patients that no matter how scared they might be, I am there with them. I tell them that we are going to do everything in our power to protect them and keep them safe. Regardless of whether they test positive or not, we are going to treat their symptoms and do everything we can to help them get better. I try to address the fear that they are inevitably feeling and help them feel safe and secure in my care. By acknowledging their fear, it makes them more comfortable. MUSC has, as have most hospitals, restricted visitors so most of my patients are feeling very lonely and isolated. I try to check in with their loved ones, as well as make sure the patient feels like we are partners on getting them better and getting them home as soon as possible.
I'm grateful every day for my Citadel education. It taught me how to adapt, how to function as a part of a team and how to be a leader, whether from the front of the pack or the rear. I've learned that it doesn't matter if I'm the one treating the particular patient or supporting the nurse who is. We are all one team, whose goal is to make sure our patients and our care team members stay as healthy as possible throughout this crisis.
Austin Bren, BSN, RN, '19, Roper Hospital, Charleston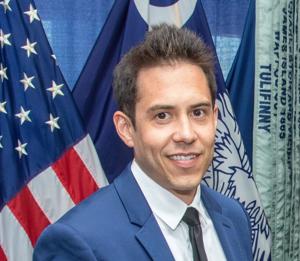 Note: Austin Bren, Citadel Class of 2019, was among other healthcare workers featured by the newspaper
Austin Bren, 33, is a registered nurse at Roper Hospital in the cardiac care unit. He has cared for COVID-19 positive patients and lives in North Charleston. June will mark his one-year anniversary as a nurse.
"I've worked in fire and EMS for 10 years, so I'm pretty used to being in the line of fire. … It's still a learning curve and everything is new."
Bren recently decided to limit his news intake to Centers for Disease Control and Prevention updates and memos from his employer. His patients have been anxious about all the news, too, so he tries to distract them, get to know them and get to know their families.
"I can definitely see them getting depressed from extreme isolation," Bren said. "There are a lot of aspects to it that people don't appreciate or aren't aware of. … My co-workers are the ones I'm worried about the most. We're taking the appropriate measures inside the hospitals. But outside the hospital, it's a whole different story."
Samantha Lisek, BSN, RN, '19, Bon Secours St. Francis Hospital, Charelston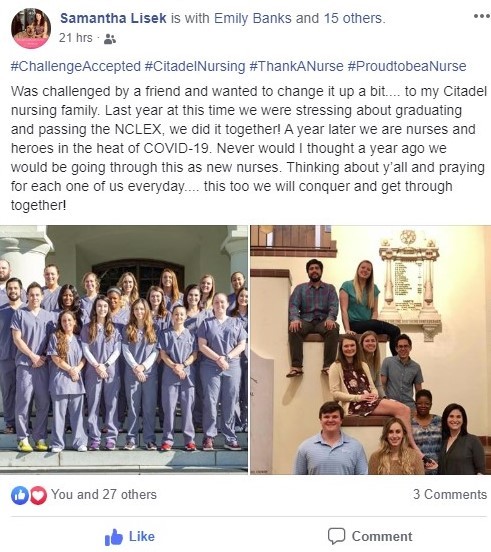 Abby Koger, BSN, RN '19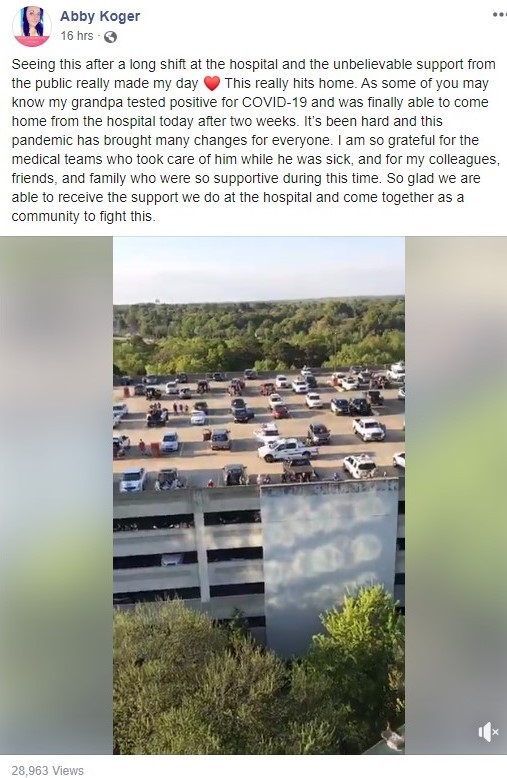 Also recognizing other 2019 nursing alumni for their leadership:
Emily Banks, BSN, RN, '19, Ralph H. Johnson VA Medical Center, Charleston
Sarah Ann Brady, BSN, RN, '19, Yale New Haven Hospital, Connecticut
Cherie' Doney, BSN, RN, '19, Saint Mary's Regional Medical Center, Arkansas
Dan Egelson, BSN,RN, '19, MUSC, Charleston
Stephanie Greene, BSN, RN, '19, East Cooper Medical Center, Charleston
Amanda S. Kassab, BSN, RN, '19, MUSC, Charleston
Kendrick Kantala, BSB, RN, '19, MUSC, Charleston
Taylor Morris, BSN, RN, '19, MUSC, Charleston
Maddy Salem, BSN, RN, '19, MUSC, Charleston
Citadel nursing alumni – we are thinking about you and would love to hear from you. Send a note to kkeelor@citadel.edu and we'll proudly recognize you.