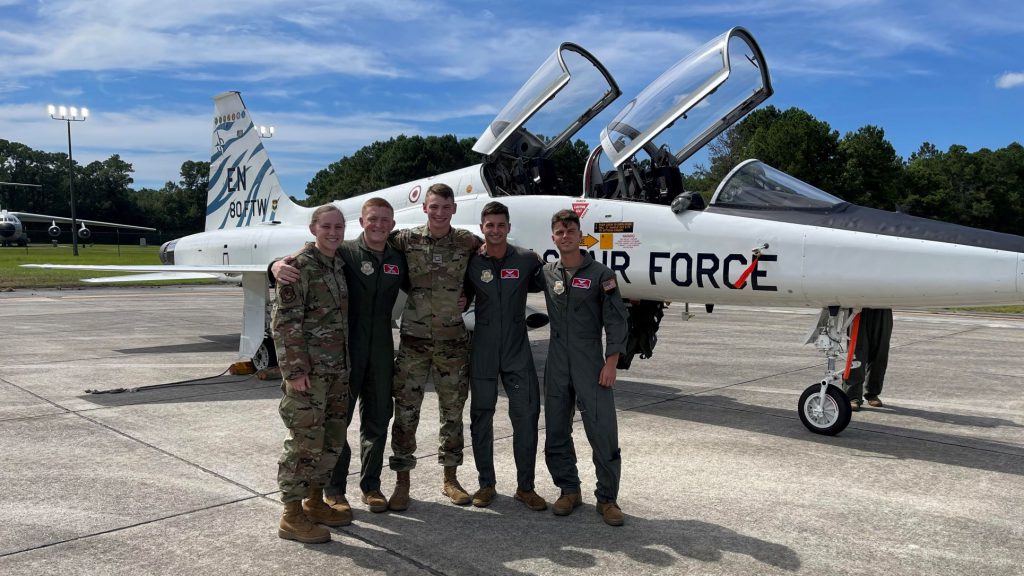 Photo: (left to right) Cadets Kathryn Christmas, Jason Beal, James Jeffcoat, Luke Eafano and Josiah Schainblatt
The Citadel has a long history of producing aviators for multiple branches of the armed services — and this year is no exception.
After four years of rigorous ROTC training at The Citadel, multiple cadets from different ROTC branches are getting ready to achieve their lifelong dreams and enter the military as aviators.
Though pilots serve in all branches of the military, it's to be expected that the Air Force is where most can be found. The 25 senior cadets in the Air Force/Space Force ROTC program at The Citadel received their career assignments in November. Among them is Cadet Luke Eafano, a Physics major from Lawrenceville, Georgia, who earned a spot with the Euro-NATO Joint Jet Pilot Training (ENJJPT) program. ENJJPT is the world's only multi-nationally manned and managed flying training program chartered to produce combat pilots for NATO.
The Citadel also contributes to future pilot careers through the cadet Flying Club, one of the college's largest clubs that allows cadets to participate in flight training.
Cadet Samantha Walton, the 2021-22 Regimental Public Affairs Officer, spoke with a few of the cadets destined for the skies to learn more about how they're getting ready for takeoff.
Ready the runway
Jason Beal
Cadet Jason Beall is a senior, majoring in Mechanical Engineering. Though he was born in Lexington Park, Maryland, he considers Fort Wayne, Indiana, to be home. At the end of this semester, he will graduate and accept a commission as a 2nd Lieutenant in the U.S. Air Force.
Fly or fall
I first visited The Citadel during Parents' Weekend in 2015. Following my visit, I applied myself physically and academically to earn a ROTC scholarship, which has allowed me to pursue my dream to fly fighter jets one day. During my knob year, my older brother was a senior. Life was not easy having an older brother on campus, but it was my chance to prove myself to him as a Citadel cadet and as a man. After completing Recognition Day, my brother's handshake made every hardship worth it.
Ready, set, go
I was able to complete Field Training and log flight hours at local airports during the summer before my junior year. Field Training taught me the values of coordination, communication and taking charge during tough situations. I graduated Field Training with the Warrior Spirit Award for my flight, and I was able to pass the Test of Basic Aviation Skills during the first semester of my junior year.
Prepare for take off
On the surface, my cadet career looks like everything went according to plan, but I experienced plenty of hardships and failures. In my opinion, the ability to learn from setbacks is the most important lesson I have learned as a cadet. Following graduation, I will commission as a 2nd Lieutenant in the United States Air Force. In June I will marry my fiancé and, within a year of graduation, I will attend Pilot Training in Columbus, Mississippi.
To the clouds and beyond
Kathryn Christmas
Kathryn Christmas is the Regimental Commander for the South Carolina Corps of Cadets, majoring in Mechanical Engineering. She has participated in multiple clubs ranging from rugby to Tau Beta Pi, the engineering honor society. Christmas was born in in Montgomery, Alabama, and raised in Easley, South Carolina. This May, she expects to accept a commission into the U.S. Air Force with a pilot slot.
Ready to soar
During high school, I was a part of the Civil Air Patrol and also witnessed the example of both of my parents, who were officers in the Air Force and who encouraged me to pursue my dream of flying. After visiting The Citadel during my senior year of high school, I knew that this was the place that would help me fulfill that dream. During my freshman year, I attended AFROTC class, leadership laboratory and immersed myself into extracurriculars such as rugby and the Flying Club.
Preflight checklist
My goal of becoming a pilot was further solidified after I got to meet Major General Jeannie Leavitt, the first female fighter pilot in the Air Force. Going to Field Training taught me how to be not only a leader, but also a follower; I ranked in the top 2% of class, graduated as a distinguished graduate and received the Warrior Spirit award from the flight. Being the Regimental Commander has taught me many things about myself and others, as well as the multiple aspects of leadership.
We're flying
As for my personal plan, my goal is to commission, along with the many friends I have gained over my four years here, into the United Stated Air Force with a pilot slot. I have yet to be given a date for training, but I will be receiving Pilot Training in Columbus, Mississippi, within a year after graduating. I hope to make my time in the Air Force a career to develop the future leaders of America and maintain the rights and freedoms of our country. Aim High!
Dreams can come true
James Jeffcoat
James Jeffcoat is the Deputy Regimental Operations Officer for the South Carolina Corps of Cadets, a Mechanical Engineering major from Irmo, South Carolina and the Cadet Wing Commander for the Air Force ROTC Detachment. He is also the president of the Pistol Team and of the Society of American Military Engineers, as well as the vice president for the Tau Beta Pi, the engineering honors society. He expects to accept a commission into the United States Air Force as a 2nd Lieutenant.
It started with a dream
When I was a child, my father would take me to airshows in the area. These airshows struck me with an indescribable sense of awe. The performances of the Blue Angels, Thunderbirds and various other demonstration teams fueled my desire to become a pilot of the United States Air Force. I was hooked; the sky was where I was meant to be. What better place to make my dreams a reality than a military college?
Reality sets in
Years ago when asked, "What do you want to do when you grow up?" my answer was always, "I want to be a fighter pilot." Reflecting on those interactions, I still feel childish telling people that I want to be a pilot; now, the only difference is that the dream I had as a child has since transformed into reality. On May 27, 2021, I received a call from Col. Matthew Morand, commander of The Citadel's AFROTC program, telling me that I had been selected for a pilot slot.
Let's fly
The next step in my journey is to commission into the United States Air Force as a 2nd Lieutenant on May 6th, 2022. After accepting my commission, graduating from The Citadel and the receiving my report date, I will report to Columbus Air Force Base to begin Undergraduate Pilot Training.
Eyes to the skies
Christopher Stuart
Christopher Stuart is a sophomore who serves as Cadet Corporal for Delta Company. Stuart, who was born in Raleigh, North Carolina and raised in Fairhope, Alabama, is a Marketing and Business Development major. He is president of the Sales Club, and expects to join the U.S. Marine Corps as an aviator upon graduation.
How it started
It started with Deane Stuart, my father, a 1984 Delta Company grad. I knew for sure that I would be attending The Citadel to fulfil my father's legacy. Early on, I knew I wanted to talk to someone about becoming a Marine Corps aviator. I was informed that a three-year sideload aviation scholarship was one of the most competitive. I would wake up with only one thing on my mind: achieving this scholarship.
So, the journey began…
After returning from winter furlough, I learned that I would be competing against 11 other cadets for the sideload scholarship. On April 26, after multiple tests and hurdles, Col. Giles Boyce, commander of The Citadel's Navy/Marine Corps ROTC program, told me that I was awarded the aviation scholarship. It was the most rewarded experience to ever happen to me.
What's next?
I am the only cadet in the sophomore class who was awarded the scholarship. My tuition is now paid for by the United States Marine Corps. More importantly, I have a slot at Officer Candidate School for the summer after my junior year and one for The Basic School after graduation. Upon graduation from The Citadel, as well as the schools listed above, I plan to attend flight school at the Naval Air Station near my hometown in Pensacola, Florida. Semper-Fi!
---
Samantha Walton, who contributed to this article, is the 2021-22 Regimental Public Affairs Officer. She is from Macon, Georgia, and attends The Citadel on an U.S. Army scholarship. Walton is majoring in Political Science and will accept a commission to become an officer upon graduating.
---
For information about joining the South Carolina Corps of Cadets, click here.
To learn more about The Citadel's ROTC programs, click here.