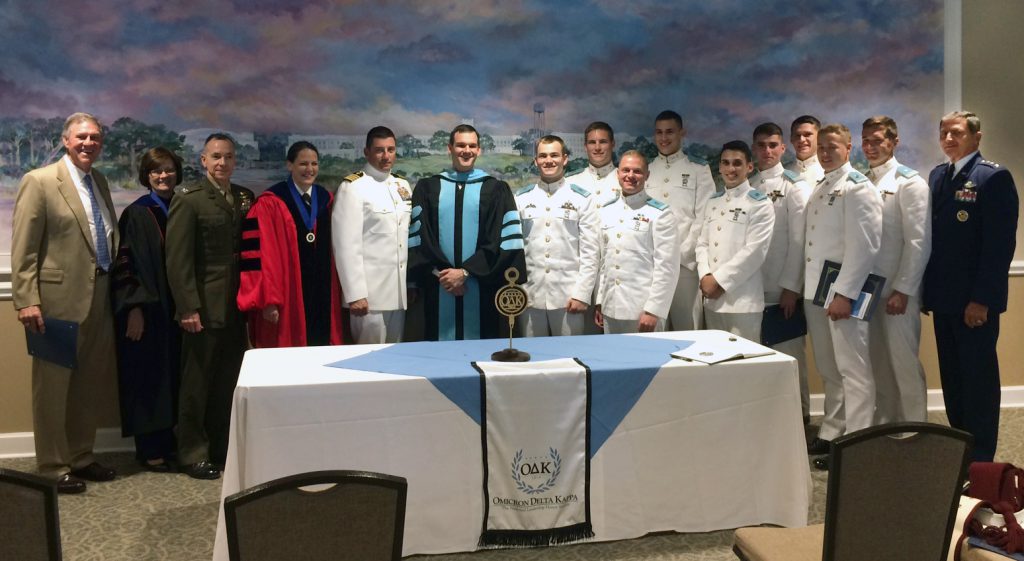 Left to right: Stephen Clifford; Anne Beddingfield, Ph.D.; Col. Thomas S. Clark III; Brig. Gen. Connie Book, Ph.D.; Capt. Eugene Paluso; Matthew Clifford, Ph.D.; Cadet Robert Wiegand; Cadet Joseph Cook; Cadet John Cordes; Cadet John Clark; Cadet Grant Miller; Cadet Kevin MacDonald; Cadet David Salter; Cadet G. Dillon Graham; Cadet Gregory Williamson and President Lt. Gen. John W. Rosa at the ΟΔΚ chartering and initiation ceremony
Omicron Delta Kappa (ΟΔΚ), the National Leadership Honor Society, is the newest honor society at The Citadel. The inaugural class, consisting of select members of the South Carolina Corps of Cadets, faculty and staff, officially founded The Citadel Circle of ΟΔΚ on May 4, 2017.
ΟΔΚ, a nationally chartered and recognized honor society, recognizes and fosters superior leadership in nearly 300 circles at colleges and universities across the country. It was brought to The Citadel by the Krause Center for Leadership and Ethics.
Membership into Omicron Delta Kappa is selective—limited to the top three percent of each class—and is invitation only. To be eligible for membership, cadets, faculty and staff must be recognized as exceptional leaders and exemplary individuals in their respective fields of arts, athletics, communications, scholarship and service.
"We are pleased to welcome The Citadel into our society," said Omicron Delta Kappa National President Matthew Clifford, Ph.D. "The Citadel's commitment to developing principled leaders is commendable, and the Krause Center for Leadership and Ethics elevates leadership throughout the institution. Students will be recognized for their leadership involvement and be eligible to participate in the society's national opportunities including scholarships, campus grants, and leadership development programs."
The Citadel ΟΔΚ Circle will embark on community service ventures in the coming academic year in collaboration with circles across the Lowcountry and the state. The chapter will also take part in coordinating a Greater Issues speaker for the coming year and providing a panel of speakers for next spring's Principled Leadership Symposium, among other initiatives.
Cadet inductees
John S. Clark
Joseph K. Cook
John D. Cordes
G. Dillon Graham
Paige L. Herbst
Kevin M. MacDonald
Grant N. Miller
David M. Salter
Robert C. Wiegand Jr.
Gregory N. Williamson
Faculty and administration inductees
Lt. Gen. John W. Rosa, '73, president of The Citadel, USAF (Ret.)
Brig. Gen. Connie Ledoux Book, Ph.D., provost and dean of the college
Capt. Eugene Paluso, '89, commandant of cadets, USN (Ret.)
Col. Thomas S. Clark III, '83, executive director of the Krause Center for Leadership & Ethics, USMC (Ret.)
Anne Beddingfield, Ph.D., director of research and assessment for leadership and ethics programs for the Krause Center
Honorary inductees
Stephen Clifford, Citadel Class of 1966
About Omicron Delta Kappa
Omicron Delta Kappa (ΟΔΚ) was founded in 1914 at Washington and Lee University and strives to honor and develop leaders through scholarships, career opportunities, leadership resources, and access to lifelong fellowship through a network of fellow ΟΔΚ alumni. O∆K's mission is to honor and develop leaders, encourage collaboration among students, faculty, staff and alumni, and promote O∆K's ideals of scholarship, service, integrity, character and fellowship on college and university campuses throughout North America.