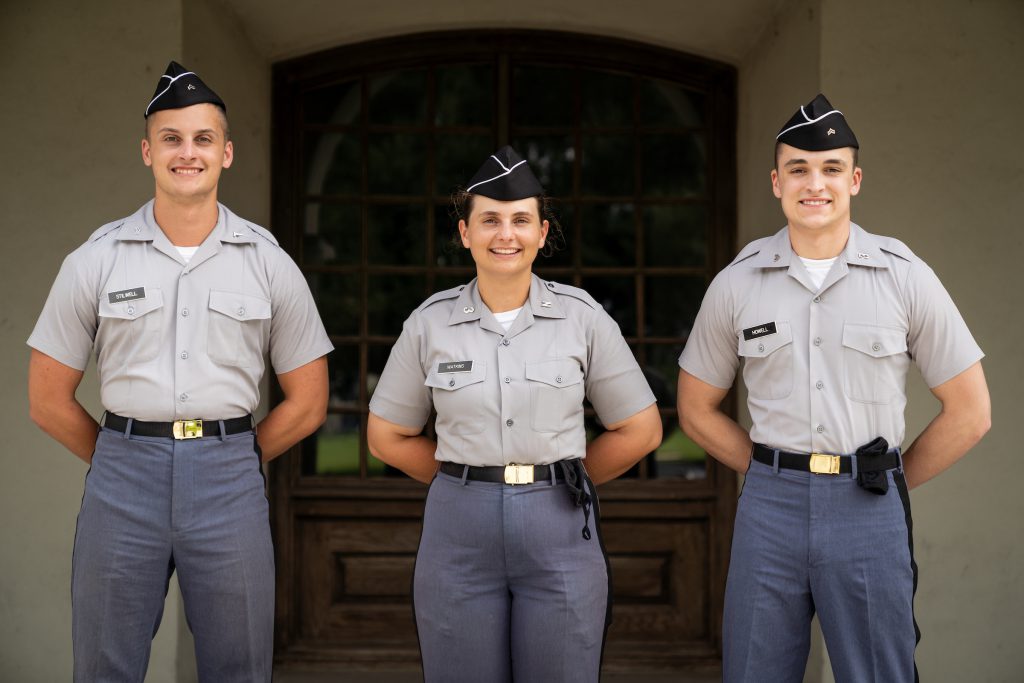 Photo above: Three new members of The Citadel Distinguished Scholars Program, Cadets Joseph Stilwell, Mary Coast Watson and Joshua Howell, pose for a portrait in front of Bond Hall on The Citadel campus.
The Citadel Distinguished Scholars Program is proud to announce its third group of cadets.
Nine additional cadets are now in the program. All but one will graduate in 2024. The eight sophomores and one junior were recently selected following their successful applications and interviews.
The new Distinguished Scholars are:
Leo Ernesto Bachir Eckhardt
Major: Intelligence and Security Studies; Social Studies Education; Criminal Justice.
Hometown: Vienna, Austria
Joshua Howell
Major: Criminal Justice
Hometown: Holly Lake Ranch, Texas
Thomas Grealy (Marine scholarship)
Major: Finance
Hometown: South Boston, Massachusetts
Richard Milling
Major: Civil Engineering
Hometown: Florence, South Carolina
Riley Neiders (Air Force scholarship, Rifle Team)
Majors: Political Science and Business Management
Hometown: Seattle, Washington
Rohan Shah (Basketball team)
Major: Finance
Hometown: Burr Ridge, Illinois
Ben Stemmet (Wrestling team)
Major: Finance
Hometown: Yorkville, Illinois
Joseph Stilwell (Army scholarship)
Major: English
Hometown: Greer, South Carolina
Mary Coastal Watkins
Major: Civil Engineering
Hometown: Sullivan's Island, South Carolina
The Citadel Distinguished Scholars Program began in 2019 to provide preparation for select cadets that should improve their chances for acceptance to elite graduate schools or selection for the highest level of scholarships.
"The Citadel Distinguished Scholars Program attracts strikingly motivated students who already have a highly developed sense of personal mission and purpose," said Earl Walker, Ph.D., a professor of management and leadership at The Citadel who created the program.
More about The Citadel Distinguished Scholars Program
There are 20 cadets in the program with the three cohorts of scholars. Four cadets from the inaugural group are preparing to graduate in May 2022.
"Our scholars are pursuing multiple majors and minors, some hold rank and added responsibility in the Corps, some are planning to commission into the armed forces, while others have a passion driving their ambition to seek greater challenges," Walker added. "All are benefiting from our training them to be leaders in their field and giving them an edge to compete for life-changing, graduate-level educational opportunities."
Walker explained that the scholars are inspired and encouraged to "up their game" and set their ambitions high. "By their senior year, they will have their sights set on applying for the most important and most highly sought after scholarships, like the Rhodes or Fulbright," he said.
The scholars sign a contract agreeing to maintain a 3.75 GPA, are assigned faculty mentors and take one-on-one tutorials. The main structural element of the program are the tutorials in classical disciplines including Economics, English and Political Science. A new fourth class focuses on self-assessment and personal development to help scholars create compelling personal narratives that will make their applications stand out. In the tutorials, scholars read leading works and meet one-on-one with professors to discuss and interpret, then write and defend, persuasive papers.
"To compete successfully, our scholars must possess spotless academic transcripts, demonstrate leadership, research and innovation in their field, civic awareness and social responsibility, and valuable skills gained through internships, service and employment experiences," said Walker. "Our scholars have full access to five professors and 20 advisory board members to help them find the intersection of their interests, their passions and their skills."
For more information about the program please email earl.walker@citadel.edu, or vperez@citadel.edu. The office phone number is (843) 953-9507.
Aim high and go big are the hallmarks of The Citadel Distinguished Scholars Program.

Dr. Earl Walker, program founder