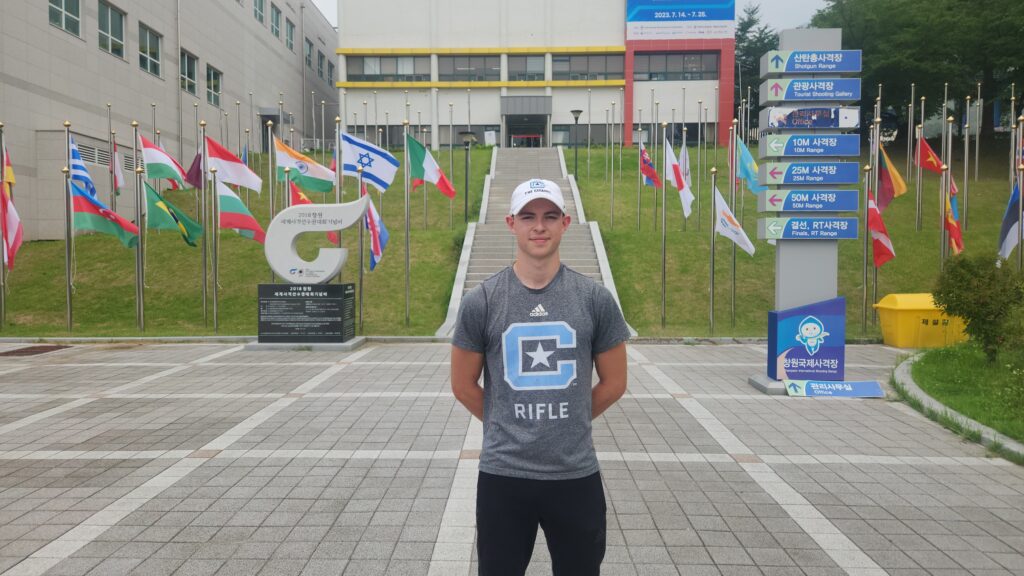 The Citadel Rifle Team is celebrating a recent accomplishment — sending one of their own to the 2023 International Shooting Sports Federation Junior World Championships. Cadet James Hart, a junior at The Citadel, journeyed to Changwon, South Korea, in July to compete in the international shooting match.
For Hart, this experience was unforgettable. After finding out in June that he would be competing, Hart set off to South Korea to represent The Citadel on a global scale. Throughout his journey, he proudly wore his Citadel gear daily and had the opportunity to speak with coaches who were familiar with the military college.
The atmosphere and the range itself were phenomenal, according to Hart. Initially facing challenges in the beginning of the competition, he had a turning point after receiving coaching from other national team coaches, leading to Hart becoming more comfortable in this new environment. This experience went beyond the sport itself — Hart emphasized how it had impacted him as a cadet.
"This was one of those eye-opening moments where I realized I'm not just here for myself but I'm here to represent who I am, and a lot of that is shaped by being a cadet here at The Citadel. I was still upholding higher standards for myself while I was there because I knew that I was there representing The Citadel and what it stands for," said Hart.
However, while some aspects of this match resembled others that Hart had previously participated in, there were also some notable exceptions.
"The range itself was different. It's a world-class range, suitable for the Olympics," Hard added. "There were television cameras everywhere and people taking photos, but as far as the structure of the match and the way it was shot, that remained the same."
As a newcomer to the Junior World Championship, Hart felt the pressure. Nevertheless, he still found time to enjoy the country itself, especially as this was his first time traveling outside of the U.S.
"The biggest thing that I took away from this experience was witnessing the extremely high level of dedication and commitment to the sport that every single person there showed. It was inspiring to be in that environment where everybody is dedicated, and their main focus is shooting. They're 100% committed and they're not letting anything distract them," said Hart.
Hart ended up placing 30th and 32nd in the two events he competed in. In addition to his placings, he gained valuable insights into gear, what it means to be part of a team and the mentality it takes to succeed in this sport. He's excited to implement these lessons he learned this year for the Rifle team, especially after witnessing them on an international level. Hart extends his gratitude to The Citadel Athletics Department, who generously funded his airfare and lodging for the trip to South Korea.