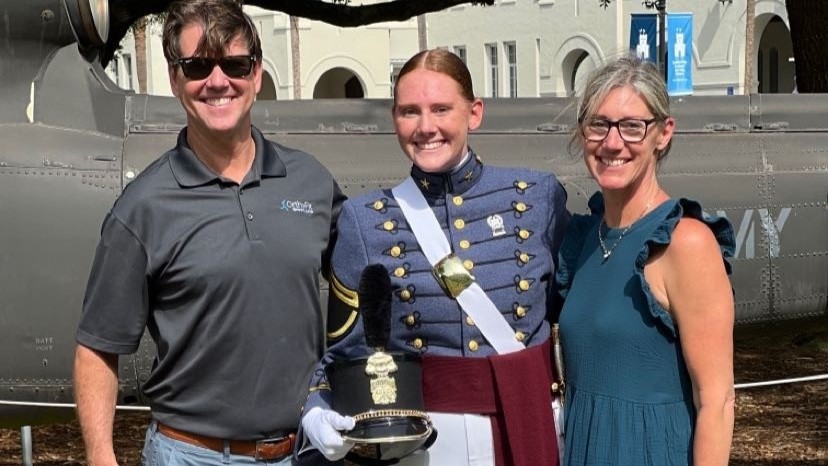 Annika Ford is majoring in biology with a chemistry minor. She is from Fort Mill, South Carolina but was born in Canberra, Australia. She is a Dean's List and Gold Stars recipient and is involved in several clubs like Alpha Epsilon Delta and the Gold Star Journal. This year, Ford serves as Palmetto Battery Company Commander.
What makes the ring special to you?
The ring is a symbol of overcoming adversity and struggle. To me, it is a constant reminder that you can achieve anything you put your mind to. It's also a way to remember the good and bad memories that molded you into who you are today. It is incredible how I have developed so many different relationships with so many people – the ring represents all of those memories as well.
What do you hope your legacy will be when you graduate?
I hope I can have a positive impact on anyone I interact with, from my senior classmates to each knob I am in charge of. You never know what someone is going through, so I want to encourage people to have more empathy. I want my legacy to encourage others to live as positively as possible in hopes that it has a ripple effect on other people. It all starts with one person and then it becomes two or three people and later it's 20 people.
How has The Citadel impacted your character development?
The Citadel has allowed me to mature as a person both professionally and personally. Professionally, there are challenges every day that test your abilities on how well you handle adversity. I can say confidently that I can handle adversity better now than I could have three years ago before coming here. Personally, balancing school and a social life makes you realign your priorities; mental health is quite important. I can handle more things on my plate despite having more responsibilities. Being able to be your own person with character while subjected to uniformity at a military college is something I have learned over the years.
Who has supported you and your journey while at The Citadel?
My biggest supporters have been my mom and dad though this journey. They have pushed me to make the tough decision to come to The Citadel despite looking at other options for school. I wanted to go to a school primarily to play soccer but, because of my parents, I took a risk. I chose to come to The Citadel and it has paid off. They helped push me out of my comfort zone and to take risks. Some of those risks have helped to shape me into the person I am today.
What is your favorite aspect of being a leader?
The impact of being in a leadership position without even realizing the effect you have on people of all different backgrounds. I may be an example of positional power but I choose to use my leadership position to have a true and real impact on other people's lives. Also, the lasting impact you can have on others on a day to day basis is incredible. One thing you say can significantly impact someone's day and that cascades into their week. Next thing you know, that one single act defines that person's entire perspective on life.
About The Citadel Class of 2023's ring stories
Members of The Citadel Class of 2023 received their rings on Friday, Oct. 7. Before actually getting their rings, some seniors spoke about the event's significance with Cadet Eric Wilson, the Regimental Public Affairs Officer for the South Carolina Corps of Cadets. Wilson, who is from East Granby, Connecticut, is a Mechanical Engineering major. When he graduates, he will accept a commission to become an officer in the U.S. Air Force.