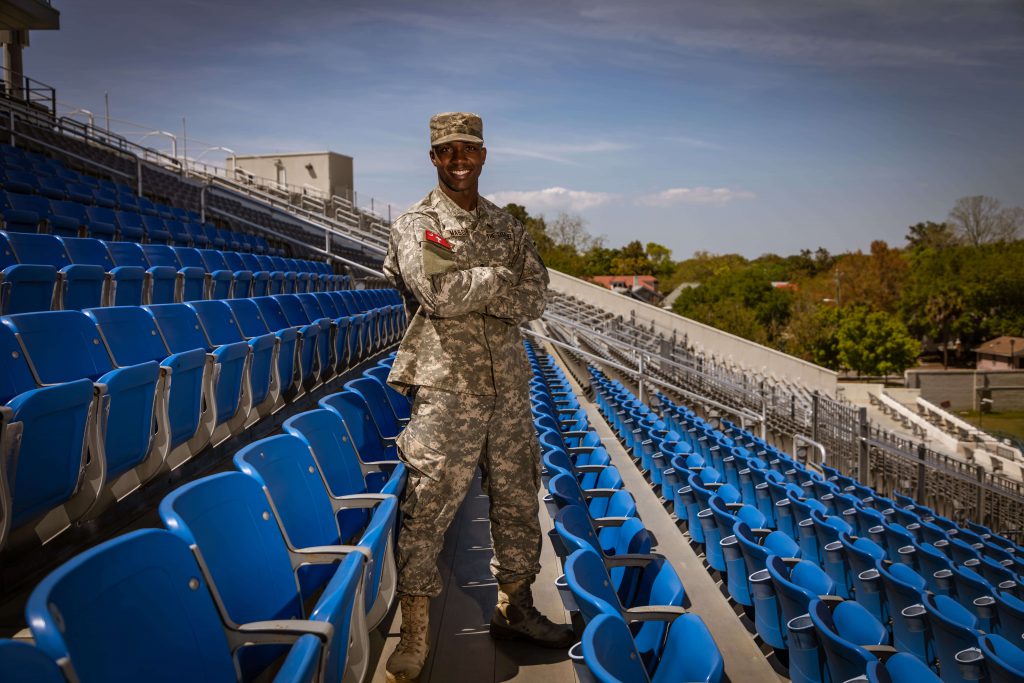 ---
It was early in the first quarter of the game on a sunny November afternoon when running back Cam Jackson, #18, caught the toss and ran the ball 59 yards down the sideline, diving into the end zone for a touchdown. The small pocket of Citadel blue amid the sea of garnet in Williams-Brice Stadium went wild.
The touchdown was a coup for the small Division I-AA team competing on a Division I playing field, and Josh Massey, a business major from Rock Hill, S.C., who played safety, was feeling the momentum.
In October 2015, Massey had suffered his second concussion of the season, which meant the bench for six months. Sitting out of the game was not the worst thing that had happened to Massey—a neurologist had advised him that if he continued his football career, another concussion was likely, and the consequences could be dire. The neurologist's words had left the 20-year-old at a crossroads. Football and sports had been a big part of his life.
"I didn't know who I was without being an athlete because that's who I had been my entire life."
Yet before he ever had to consider a life without football, Massey knew that it was important to have options. Being a good student was always a priority to him, and he had pursued a major in business because he felt that it offered him a solid future.
The Citadel went on to beat the University of South Carolina for the first time in 25 years in a nail-biting 23-22 game. As Massey joined his teammates and the crowd in the celebration, he realized that even though he had not been on the field, the victory was still his—football would always be a part of his life.
"I had teammates, I had friends, I had coaches who had all rallied around me and told me, 'It's going to be okay. We're still with you.' They actually kept me on and allowed me to coach as a student. I got some other leadership positions in the FCA and the African American Society, and I found a new role—I found a new identity and just came into my own."
In the two years since the upset over the Gamecocks, Massey soared in the classroom and in the Corps of Cadets, where as a senior he served as Bravo Company's Academic Officer. With Gold Stars for academic excellence and Commandant's List for excelling in the Corps, he earned a spot on the coveted President's List. As his Citadel career came to a close, Massey was named the 2018 Baker School of Business Student of the Year. With a promising future with accounting giant Ernst and Young and a young travel team that he coaches, Massey is still in the game.
To view more student and cadet stories, visit mighty.citadel.edu.