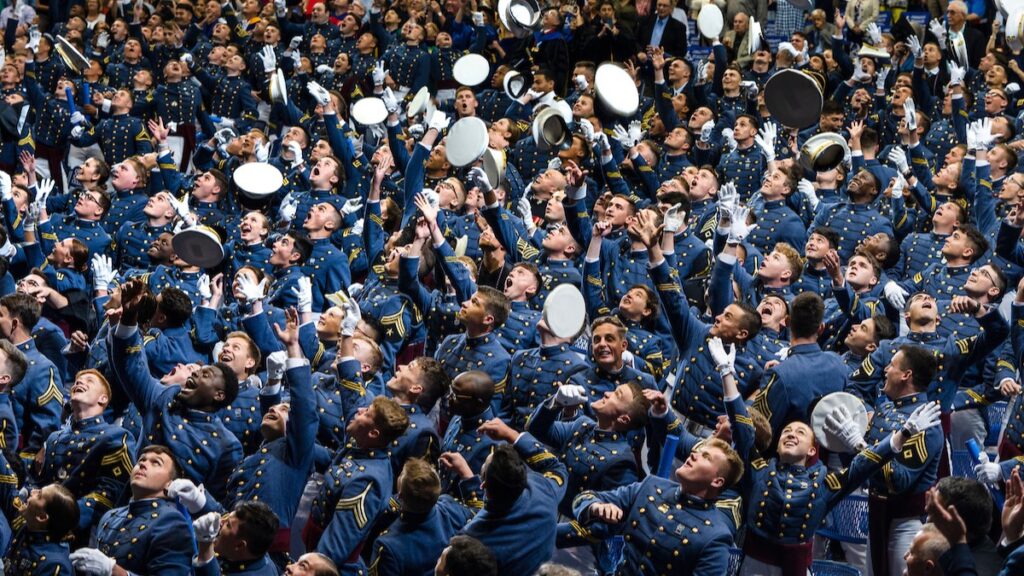 The South Carolina Corps of Cadets Class of 2023 are now part of the Long Gray Line.
More than 500 members of the South Carolina Corps of Cadets and approximately 350 students from The Citadel Graduate College accepted their degrees during the commencement ceremonies on Saturday, May 6.
The day before commencement, approximately 30% of the graduating cadets accepted commissions as officers into the U.S. Armed Services.
Awards are presented to cadets and active duty students in recognition of their outstanding accomplishments during the awards convocation on Thursday, May 4.
During the 2023 commencement, three awards were given out to the First Honor Graduate, Second Honor Graduate and the John O. Wilson Ring. First Honor Graduate went to Emily Lund, a double major in Intelligence and Security Studies as well as Political Science. Dylan Wood, a Mechanical Engineering major, was named Second Honor Graduate. The John O. Wilson Ring went to Thomas Blake Giles, a Civil Engineering major.
Also on Thursday, The Citadel Graduate College held an awards ceremony to recognize members of the graduating class who excelled during their time at the college, as well as some of the outstanding faculty who helped educate them.
The top academic programs for the Class of 2023 included Intelligence and Security Studies, Business Administration, Mechanical Engineering, Civil Engineering and Criminal Justice.
For the graduate program, top academic programs included a Master of Business Administration, Master of Science in Project Management, Master of Science in Leadership, Master of Education in Counselor Education and a Master of Science in Health Exercise Sport Science.
Graduates accepted their diploma from President of The Citadel Gen. Glenn W. Walters, USMC (Ret.), Class of 1979.
Recordings of both commencement ceremonies, as well as the Joint Commissioning Ceremony, can be viewed here.
Photos from this year's commencement events are available for purchase through The Citadel's photo store.
Graduates who completed their degree requirements are listed below.
The SCCC graduating class includes:
| First name | Last name |
| --- | --- |
| David | Abernathy III |
| John | Acker IV |
| Adrian | Alizadeh |
| Jackson | All |
| John | Allocco |
| Khalil | Al-Nakhala |
| Jack | Alvarez |
| Liam | Andersen |
| Jeremy | Anyim |
| Shannon | Arias |
| Thomas | Atchison Jr. |
| Trevor | Atkins |
| Maleena | Austin |
| Donald | Austin |
| Maia | Aviles |
| Anthony | Badala |
| Jace | Baer |
| Mason | Bailey |
| Connor | Bailey |
| John | Baker |
| Christopher | Baker II |
| Adam | Balawi |
| Mary | Ballentine |
| Clayton | Ballog |
| Madelaine | Barbee |
| Walker | Barber |
| Everett | Barkley |
| Bakary | Barton |
| William | Bastian |
| Aaron | Batalka |
| Mackenzie | Battle |
| Joshua | Baxa |
| Porter | Beal |
| Collin | Beck |
| Lonnie | Becude III |
| Brendan | Bemis |
| Colby | Bennett |
| Michael | Berry |
| Christopher | Beverly |
| Zachary | Bieda |
| Logan | Billings |
| Wilhelm | Birkholz |
| Brandon | Birsner |
| Cameron | Blanchard |
| Kingsland | Bland Jr. |
| Bradley | Blankenship |
| Brett | Blankenship |
| Jacob | Bouknight |
| Joseph | Bowers |
| Brendan | Bowersox |
| Benjamin | Boyd |
| Ian | Bradbury |
| Daniel | Brannon |
| Justin | Brannon |
| Benjamin | Brockington |
| Thornton | Brown |
| Drew | Brown |
| Tyler | Burgess |
| Jonah | Burriss |
| John | Busche II |
| Jarret | Butzer |
| John | Cahill III |
| Mirabella | Calabrase |
| Avery | Canady III |
| Madeline | Cardenas |
| Wesley | Carlay |
| Alexandria | Carter |
| Jack | Casazza |
| Albert | Castro |
| Curt | Caudle |
| Joseph | Chandler |
| Thomas | Chapman |
| John | Charles |
| Nathan | Chastain |
| Gregory | Chavez |
| Josue | Chegue |
| Christian | Chekroun Jr. |
| Patrick | Cherry |
| Michael | Cherry |
| Sarai | Chestnut |
| Seth | Childress |
| Hao-Pin | Chou |
| Dylan | Christmas |
| John | Clark |
| Stephen | Clark |
| Henry | Clarke |
| Samuel | Clarke |
| Nathan | Clerc |
| Joshua | Cockrell |
| Chase | Coffel |
| Cameron | Cole |
| Hannah | Collee |
| Grady | Collins |
| Trevor | Compton |
| James | Connor |
| William | Connor VI |
| Chace | Cooper |
| Gabriel | Cooper-Feldt |
| Kelsey | Cordero |
| Cread | Corley |
| Charles | Corte |
| Noah | Cote |
| Alexander | Cotton |
| Arista | Couture |
| Jessica | Crawford |
| Andrew | Crawford |
| Conner | Cummiskey |
| Joshua | Curran |
| John | Curtis |
| Austin | Curtsinger |
| Carl | Custer Jr. |
| Andrew | Darby Jr. |
| Michael | Darcy |
| Andrew | Davis |
| Weston | Davis |
| James | Day Jr. |
| Catherine | Debuisseret |
| Dylan | DeCosty |
| Gina | Delancey |
| Nathaniel | Denne |
| Reid | Derrick |
| Micah | Dersch |
| Joseph | Desser |
| John | Doar II |
| Charleston | Dodson |
| Maximilian | Donegan |
| Jonathon | Dowell |
| Grant | Dowis |
| Tereis | Drayton |
| Diego | Duarte |
| Tyler | Duben |
| Dyce | Duckworth |
| Marcus | Duncan |
| John | Eamiguel |
| Jonathan | Edens |
| Seth | Edwards |
| William | Eggers |
| Hikeem | Elmore |
| Jonathan | Eraula |
| Kyler | Estes |
| Bailey | Ezell |
| William | Ezquerro |
| Andrew | Finkle |
| Rodolfo | Fitzgibbons III |
| Jacob | Flesher |
| Billy | Fletcher |
| Annika | Ford |
| Brent | Forrest |
| Heidi | Fortin |
| Samuel | Frampton |
| John | Frank |
| Kennedy | Fravel |
| Grayson | Free |
| Triston | Freeberg |
| Lydia | Freeman |
| Bryan | Furtick |
| North | Gaines |
| Garrett | Gamble |
| Houston | Gambrell |
| Man | Gao |
| Donald | Garbade Jr. |
| Andrew | Gardner |
| Chayse | Garrett |
| Jacob | Garrett |
| Robert | Garrett |
| Blake | Garwood |
| Mia | Gervais |
| Joshua | Gibson |
| William | Gibson |
| Guy | Gierhart Jr. |
| Thomas | Giles |
| William | Ginn |
| Daniel | Gladwell Jr. |
| Timothy | Goike |
| Brandon | Goings |
| Heyden | Goldiner |
| Sienna | Gonzalez |
| Kyle | Goodwin |
| Simon | Graf |
| Issac | Graves |
| Thomas | Grealy |
| Amie | Greene |
| William | Greene III |
| Bryson | Gregg |
| Stephen | Griffin |
| Catherine | Guenther |
| Porter | Guyton |
| Jackson | Haguewood |
| William | Hahn |
| William | Hahn |
| Frank | Hale |
| Wyatt | Hallman |
| Henry | Hamilton |
| Thomason | Hand |
| Hunter | Hartman |
| David | Hawkins |
| Jacob | Hayes |
| Guy | Hecker III |
| Justin | Hedges |
| Joshua | Hersey |
| Nicholas | Herzler |
| Blake | Hill Jr. |
| Jackson | Hills |
| Miranda | Hinderliter |
| Brian | Hipp |
| Elijah | Holder |
| Charles | Hopkins |
| William | Howl V |
| Tyler | Hughes |
| Anna | Hughes |
| Sara | Hume |
| Jacob | Hunter |
| Jacob | Ingoe |
| Lillian | Inman |
| Ashley | James |
| Ernest | James V |
| Ryan | Januchowski |
| Ian | Jenkins |
| Julian | Jenkins Jr. |
| Mason | Johnson |
| Cullen | Johnson |
| Dylan | Johnson |
| Benjamin | Johnson |
| Charles | Johnson |
| Brandon | Johnson |
| Chandler | Johnson |
| Drew | Johnson |
| Payton | Jones |
| Todd | Jones |
| Ty'Shonna | Jones |
| Crosby | Jones |
| Joshua | Jones |
| Chazton | Jordan |
| Elijah | Joseph |
| Jackson | Joye |
| Steele | Judy |
| Joseph | Justis |
| Stephen | Kaiser-Parlette |
| Blake | Keffer |
| Jack | Kelley |
| Sydney | Kemp |
| Jacob | Kenison |
| Calista | Kenowski |
| Joshua | Kenyon |
| Jonathon | King |
| Nathanael | King |
| Colby | Kintner |
| Rudy | Kirven |
| Jordan | Kish |
| Garrett | Klein |
| Thomas | Knight |
| Samuel | Kreis |
| John | Kroske |
| Jaloveon | Lagroon |
| Evan | Lambrecht |
| Peyton | Langford |
| John | Lanier |
| John | LaRosa |
| Mackenzie | Larson |
| Alvin | Le |
| Marie | Le Gallo |
| Anthony | Lee |
| Zachary | Lehmer |
| Jonathan | Lewis |
| Jon | Lewis |
| Benjamin | Ligons |
| Rhett | Lindler |
| Nathanael | Ling |
| Samuel | Little |
| Sidney | Locke |
| Avery | Lollis |
| Tyler | Long |
| Will | Lott |
| Travis | Lott |
| Aaron | Love |
| Robert | Lowe |
| Maximilian | Lowrey |
| Jett | Lucas-Murphy |
| Emily | Lund |
| Ezra | Mack |
| Ernest | Maggard |
| Nicolo | Marcucci |
| Paul | Marshall |
| Tyler | Martin |
| Edwin | Martin III |
| Braeden | Marzitelli |
| Madison | Matthews |
| Edward | Maxted-Sorensen |
| Charles | Mayfield |
| Malcolm | Mcalister III |
| Dylan | McBride |
| Aiden | McCabe |
| Robert | McCaffrey |
| Ireland | McConnell |
| Emma | McCorkle |
| Edward | McCormick |
| William | McDannald |
| Wilson | McDonald |
| Dylan | McDowell |
| Colin | McKee |
| Ethan | McKenzie |
| Joshua | McKenzie |
| Stephen | McLaughlin |
| William | McLaurine Jr. |
| Ross | McMillan |
| Kempton | Meetze |
| Aaron | Melton |
| Cyrus | Mendez |
| Chasey | Mercado |
| Logan | Michael |
| Caleb | Michael |
| Makaya | Middleton |
| Nathanael | Milby |
| John | Miller Jr. |
| William | Minor |
| Noah | Mitchell |
| George | Mock |
| Luke | Montenery |
| Celeste | Montero |
| Olivia | Montgomery |
| Prince | Moody Jr. |
| Hayden | Moore |
| James | Moore |
| William | Moran |
| John | Morris |
| Henry | Moses |
| Jack | Mozley |
| Srijit | Mukherjee |
| Jesse | Murdaugh |
| Andrew | Murphy |
| Pierce | Myrick |
| Callista | Nasso |
| Peter | Nastro |
| Lyman | Newman |
| Jacob | Newton |
| Treonte | Newton |
| Nkemjika | Njoku |
| William | Noonan III |
| Samantha | Nordhaus |
| Brant | Norris |
| Jacob | Novack |
| Chase | Nugnes |
| Michael | O'Brien |
| Johnathan | O'Cain |
| Daniel | O'Connor |
| Blake | O'Quinn |
| Henry | Osborne |
| Maximilian | Oster |
| Ethan | Oswald |
| Braxton | Overton |
| James | Palmer III |
| Colton | Parcell |
| Stephanie | Parris |
| Mason | Patnoude |
| Isaac | Patterson |
| Noah | Pearson |
| Larry | Pearson III |
| Blayne | Pennartz |
| Damirelys | Perez |
| Jacob | Perkins |
| Jonathan | Petrovich |
| Spencer | Phillips |
| Andrew | Pickens |
| Benjamin | Pickens IV |
| Jacob | Pickett |
| Lucy | Pincus |
| Thomas | Pipkins |
| Jacob | Poole |
| Benjamin | Prins |
| Jacob | Proctor |
| Gary | Pruiett III |
| James | Pruskowski II |
| Jesse | Quimby |
| Caleb | Raab |
| Benjamin | Race |
| Perry | Raines |
| Adam | Randolph |
| Andruw | Randolph |
| Joseph | Ravago |
| Hampton | Rea |
| Joseph | Reaney |
| Elissa | Reckdenwald |
| Logan | Redding |
| Logan | Redding |
| Reed | Reichel |
| Ronald | Reid |
| Kevin | Revuelta |
| Ronald | Reyes |
| Aaron | Reynolds |
| Reginald | Reynolds II |
| Chase | Rhodes |
| Peter | Riazzi |
| Aidan | Richter |
| Samuel | Rieger |
| Nathan | Riley |
| Ethan | Roberson |
| Elijah | Robinson |
| Montray | Robinson Jr. |
| Noah | Rodgers |
| Eli | Rodriguez |
| Christopher | Rohrer |
| Sharize | Roper |
| Jack | Rose |
| John | Rourke |
| Dante | Rovere |
| Alec | Rufty |
| Juan | Ruiz |
| George | Samellas Jr. |
| Thadeus | Sanchez Jr. |
| Abigail | Sansbury |
| Dionadre | Sauls Jr. |
| Thomas | Saunders |
| Nico | Savino |
| Josiah | Sawyer |
| George | Schlageter |
| Ian | Schultz |
| David | Seymour |
| Samuel | Sharnas |
| Blake | Shope |
| Maxwell | Sibley |
| Evan | Sida |
| Brianna | Sikes |
| Camille | Simmons |
| Dayton | Simpson |
| Larry | Singletary Jr. |
| Gerik | Siwko |
| Charles | Sizer |
| John | Smith |
| Andrew | Smith |
| Marshall | Smith |
| Jacob | Snavely |
| John | Snowman |
| Braxton | Snyder |
| Gray | Sobel |
| Lucas | Sotile |
| Kaleis | Spaulding |
| Mitchell | Speedy |
| Brady | Spence |
| Jacob | Sperry |
| Javonte' | Spratley |
| Jackson | Stancell |
| William | Stanley |
| Jimmy | Starling III |
| Sidney | Starr |
| Joshua | Staunton |
| David | Stem III |
| Ryan | Stephens |
| Kallan | Stephens |
| Bretton | Stevens |
| Natalie | Stewart |
| Ryan | Stewart |
| Brady | Stone |
| Lawrence | Story III |
| Brendan | Sullivan |
| Christopher | Sullivan |
| Spencer | Suter |
| James | Sweeney |
| Taylor | Swiger |
| Garrison | Swope |
| Ethan | Taddy |
| William | Tague |
| Brett | Taylor |
| Chase | Taylor |
| Cody | Thomas |
| Claire | Thomas |
| Logan | Thompson |
| Nathan | Tirpak |
| Timothy | Toomer Jr. |
| Clayton | Tovo |
| Ivan | Tran |
| Logan | Treiber |
| Paul | Truluck Jr. |
| Steven | Valentine |
| Ethan | Van Hall |
| Adger | Vanadore Jr. |
| Derek | Vande |
| James | Vincent |
| Kellen | von Hoven |
| Michael | Voorhees |
| Garrett | Wachendorfer |
| Theodore | Wagner |
| Jack | Walker |
| Cooper | Wallace |
| Joshua | Wallen |
| Patrick | Walsh |
| Gregory | Walters Jr. |
| Yu-Ching | Wang |
| Clifton | Warren |
| Steven | Warren |
| William | Waters |
| Caleb | Watson |
| Braxton | Weaver |
| Jason | Wheeler Jr. |
| Jordan | White |
| Steven | White Jr. |
| Jeremy | Wilkes |
| Mason | Wilkinson |
| Kevin | Williams |
| Hayden | Williamson |
| Ethan | Willis |
| Clayton | Wilson |
| Kevin | Wilson |
| Eric | Wilson Jr. |
| Jack | Winter |
| Madelyn | Wojciechowski |
| Grace | Wolfe |
| Dylan | Wood |
| Zachary | Wukits |
| Suzuka | Yosue |
| Peter | Young III |
| Maximillian | Zappendorf |
| Michael | Zavala |
The CGC graduating class includes:
| First name | Last name |
| --- | --- |
| Cassidy | Abell |
| Michael | Abrams |
| Amy | Ackershoek |
| Ian | Adams |
| Andrew | Adldoost |
| Steven | Ahlers |
| Lisa | Ahrens |
| Neal | Aldavera |
| Mark | Allard II |
| Andrew | Allen |
| Nicholas | Anderson |
| Lacey | Atkins |
| Jared | Bailey |
| Derek | Baker |
| Joseph | Baker |
| Corey | Baldwin |
| | Ballard |
| Lindsey | Ballard |
| James | Barnard |
| Stephen | Barnes |
| Robert | Barnes Jr. |
| Kaelee | Barrett |
| Travis | Barrow |
| James | Bartelle Jr. |
| Caleb | Beach |
| James | Belue |
| Robert | Bernzott |
| James | Bevis |
| James | Blanton |
| Heather | Blaschke |
| Robert | Blok Sr. |
| Samuel | Blumer |
| Timothy | Bott Jr. |
| Naya | Boualany |
| Jared | Bradshaw |
| Gloria | Braxton |
| Blake | Bredemeier |
| Brian | Brennan |
| Andrew | Bride |
| Gabriela | Bromage |
| Payton | Browder |
| Jeremy | Brown |
| Michelle | Brown |
| Alaycier | Brown |
| Justin | Brownlee |
| Abigail | Brubaker |
| Abbigail | Bruner |
| Caitlin | Buchanan |
| Tyler | Bullock |
| Madia | Burchfield |
| Eric | Burchfield |
| Zachery | Campbell |
| Steven | Canaday |
| Erin | Carrino |
| Aubrey | Carson |
| Ryan | Cetin |
| Stephen | Channell |
| Bryant | Childs Jr. |
| Rayshawn | Chisolm |
| John | Clayton |
| Jacey | Cobb |
| Crystal | Cochran |
| Carleton | Compton |
| Andrew | Condon |
| Thomas | Conrad |
| Tatiana | Corso |
| Nicholas | Costas |
| Michael | Cox |
| Dalton | Cross |
| Graeme | Crowe |
| Kenneth | Cuming |
| Amanda | Cunningham |
| Alicia | Daly |
| Forrest | Dangerfield |
| Joshua | Davidson |
| James | Davidson |
| Eric | Davis |
| Richard | Davis |
| Chayne | Dawley |
| Jahdiel | de la Torre Palermo |
| Joshua | DeGeorge |
| Joshua | DeGeorge |
| Joseph | Del Vecchio |
| Lori | Del Vecchio |
| Tricia | Delice |
| Brittany | Denis |
| Melissa | Devenney |
| Darrin | Devereaux |
| Michael | Dickson |
| Mary | Dinda |
| Angela | Dixon |
| Marc | Dolder |
| Robbie | Doran |
| Tiffany | Dove |
| Diarra | Drake |
| John | East |
| Benjamin | Edwards |
| Charles | Eggleton |
| Matthew | Eichman |
| Amin | Elgazar |
| LaShone | Ellington-Tolbert |
| Melissa | Elliot |
| David | Ethridge Jr. |
| Collin | Evans |
| Brogan | Ferry |
| Randall | Fischer |
| Jeremiah | Flowers |
| Lauren | Ford |
| Nichole | Ford |
| Erika | Foster |
| Nicholas | Funai |
| Philip | Fyock Jr. |
| Corey | Gaither |
| Jessica | Galvin |
| Salvatore | Gandolfo |
| Donald | Garbade |
| Arthur | Gartner |
| Wendy | George |
| Charlynnica | Glasscho |
| Jennifer | Gonsalves |
| Joshua | Gore |
| Joshua | Graham |
| Cassidy | Graham |
| Dylan | Grant |
| Austin | Graven Franchot |
| Roy | Gray |
| Elizabeth | Grech |
| Andrea | Gregoire |
| Adam | Guercio |
| Kevin | Haddad |
| Heather | Hajes |
| George | Hall V |
| Zachariah | Hampton |
| Avery | Hanulcik |
| Carl | Harris |
| Matthew | Hart |
| Ellen | Harvey |
| Randall | Harville |
| Logan | Hatley |
| Terry | Heichelbech |
| Cazzy | Hein |
| Lillian | Hendricks |
| Joshua | Henline |
| Sybil | Hensley |
| Jennifer | Herndon |
| Ryan | Hicks |
| Kenneth | Hill |
| Bethany | Hoftiezer |
| Anna | Hopf |
| Marie | Hornsby |
| David | Howard |
| Prince | Howard-Whitaker |
| John | Hughes |
| Colin | Hunsicker |
| Zackary | Huskamp |
| James | Jennings III |
| Demerio | Jones |
| Tasha | Joyner |
| Sheldon | Kazmarski |
| Samantha | Kelly |
| Daniel | Kennedy |
| John | Kiphart |
| Kimberly | Kitchens |
| Benjamin | Knight |
| Yuko | Kojimoto |
| Alexis | Kroese |
| William | Kyzer II |
| Hollie | Lacey |
| Elizabeth | Ladd |
| James | Lawson |
| Chanel | Leach |
| Jacob | Lehr |
| Laura | Lewis |
| | Liferidge-Pinckney |
| Brittany | Linder |
| Juan | Lorduy |
| Zebulun | Lott |
| Jeffrey | Low |
| Zachary | Lowery |
| Jennifer | Lozan |
| Jalane | Lugo |
| Jennifer | Lutz |
| Alexandria | Madden |
| Karen | Majewski |
| Quentin | Major |
| Christopher | Manley Jr |
| Roel | Mariano |
| Maria | Marquez-Garcia |
| Ian | Marrone |
| Cody | Martin |
| Charles | Matheny |
| Donna | Mathias |
| Emily | May |
| David | Maynard |
| Penny | Mayton |
| Thomas | Mazzo Sr. |
| Freda | McCanick |
| Ashleigh | Mcclellan |
| Beau | McCollum |
| Emily | McCoy |
| Colleen | Mccuskey |
| Matthew | McDaniel |
| Gary | Mckenzie |
| Shannon | Mcmanus |
| Sabrina | Mcmillan |
| Shaina | Medlen |
| Thomas | Mignone |
| Danielle | Miller |
| Austin | Mims |
| Tyler | Miner |
| Lauren | Miranda |
| Richard | Mitchum |
| Meredith | Moore |
| Deanna | Moore |
| David | Moraes-Montana |
| Barry | Morehart |
| Amanda | Moyer |
| Jarrod | Murbarger |
| Daniel | Murphy |
| Larry | Murray Jr. |
| Peter | Musselman II |
| Adrianna | Napier |
| Noelle | Natale |
| Anna | Nelson |
| Christopher | Nelson |
| Debra | Nelson |
| Julie | Nguyen |
| Marissa | Niedermeyer |
| Thomas | Norby III |
| Wendi | Norris |
| Conor | Nuelle |
| Sean | O'Donnell |
| Nikki | Ogle |
| Cailyn | O'Leary |
| Matthew | Olesh |
| Amber | Opp |
| Jennings | Owens |
| William | Pakkala |
| Aaron | Panos |
| Anna | Parham |
| Jenna | Patterson |
| Jillian | Patton |
| Juanita | Paylor |
| Susanne | Pender |
| Richard | Perez |
| Debra | Petitpain |
| Viet | Pham |
| Frank | Pickering |
| Nicholas | Pohlabeln |
| Brett | Polen |
| Sabrina | Polite |
| Enrique | Portillo |
| Kara | Presson |
| Elizabeth | Quinn |
| Benjamin | Race |
| Charles | Ragsdale |
| Adam | Ragus |
| James | Ratcliffe |
| Danielle | Recinos |
| Alexandria | Reed |
| Richard | Reuter Jr. |
| Andrew | Reynolds |
| Joseph | Rhodes |
| Maxxym | Rice |
| Kevin | Richberg |
| Sarah | Richter |
| Walter | Richter |
| Steve | Riley |
| Megan | Rinehart |
| Maria | Rivera |
| Robert | Robinson |
| Ryan | Romanowski |
| Hannah | Rosselle |
| Gregory | Rothschild |
| Madelyn | Rowland |
| AnnaLeigh | Runion |
| Lindsey | Russell |
| Millicent | Sadi |
| Kay | Salomon |
| Stefanie | Salter |
| Rachel | Sanders |
| Joel | Sayre |
| Robert | Scheve |
| Luke | Schmitz |
| Jaimie | Schramm |
| John | Schreiner |
| Kole | Schultz |
| Alexandra | Seay |
| Claire | Seely |
| Shawn | Seitz |
| Alexei | Severnyak |
| James | Shahid |
| Negin | Shamsi |
| Dallas | Shreeve |
| Tessa | Simeone |
| Nicole | Sloan |
| Brianna | Smeriglio |
| Courtney | Smith |
| Tarsha | Smith |
| Adam | Smith |
| William Jay | Smith |
| Julia | Smoak |
| Tara | Spencer |
| Kyle | Staats |
| Kyle | Staten |
| Jessica | Steverson |
| Blake | Stewart |
| Jon | Strain |
| Mary | Stuckey |
| Curtis | Sturgeon |
| Jacob | Summey |
| Audrey | Sutton |
| Sean | Sweeney |
| Matthew | Swensen |
| Jeffrey | Taylor II |
| Curtis | Thomas |
| Shantanique | Thomas |
| William | Thompson |
| Katlin | Thompson |
| Samuel | Thompson III |
| Jeremy | Thomson |
| Courtney | Toporek |
| Matthew | Townsend |
| Timothy | Tucker |
| Jonathan | Vest |
| Travis | Volmert |
| Talon | Wagenknecht |
| Zachary | Watson |
| Meghan | Watson |
| Michael | Weeks II |
| Alexa | Well |
| Christopher | Werder |
| Hagan | West |
| Nathan | Wilkes |
| Richard | Wilkinson-Roberts |
| Andrea | Williams |
| William | Winston |
| Jonathan | Workman |
| Jordan | Yarborough |
| Tina | Zhou |
| Connor | Zrinzo |