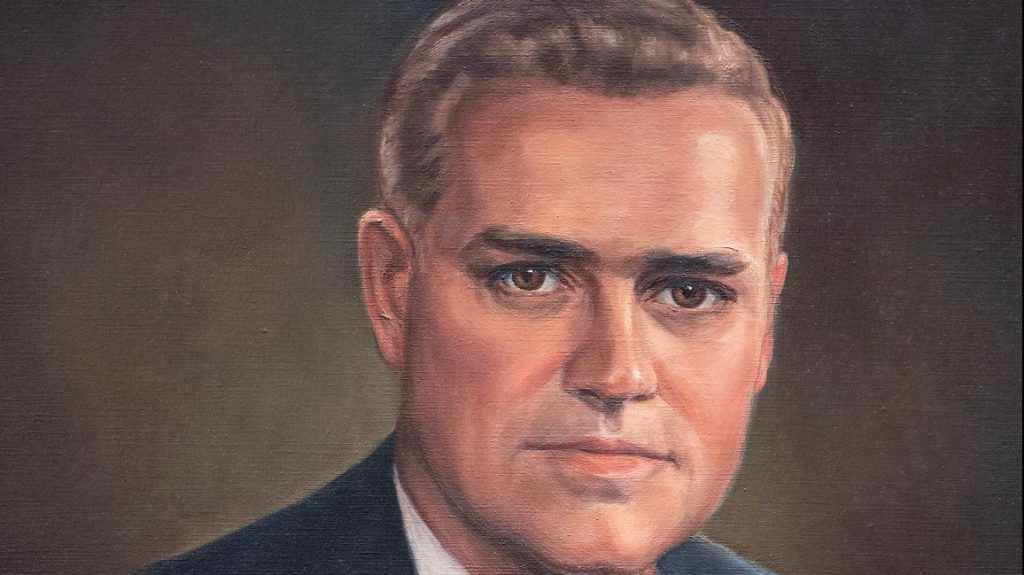 (Above) Portrait of E. Fritz Hollings hanging in the Daniel Library at The Citadel
Former U.S. Senator and former South Carolina Governor, E. Fritz Hollings lived his life in the service of others; the kind of servant-leader The Citadel, through its mission to educate and develop principled leaders, strives to produce.
Born and raised in Charleston, Hollings graduated from The Citadel in 1942 as a U.S. Army officer with a degree in business administration.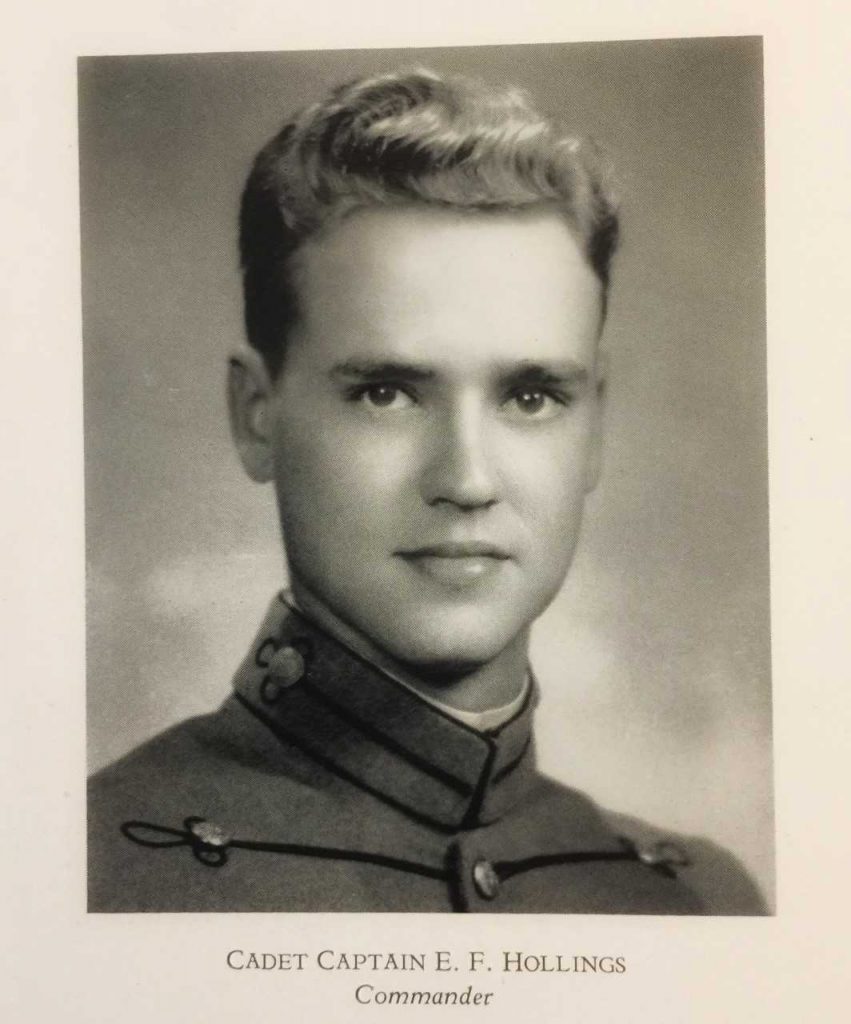 He went on to serve in both the North African and European campaigns in World War II.
Hollings's first political office was as a member of the South Carolina General Assembly. He was eventually elected lieutenant governor, and then governor, championing legislation to establish the state's technical education system and the public educational television network (SCETV), in addition to helping shepherd the state through desegregation.
Later, as U.S. Senator, Hollings fostered policy that established programs to address hunger in America and created the Health Resources and Services Administration, providing medical care through community health centers that continues today.
Hollings also worked to protect and support the natural environment and science. He sponsored laws to safeguard the coasts and oceans, such as the Coastal Zone Management Act of 1972. Hollings is recognized as the legislative "father" of the National Oceanic and Atmospheric Administration (NOAA), and was instrumental in bringing NOAA marine laboratories to South Carolina.
Hollings was honored by The Citadel and the campus community on many occasions, including being awarded an honorary degree. A portrait of Hollings, who was in Lima Company as a cadet, hangs in the gallery of The Citadel's Daniel Library. In 2000, a new, 30,000-square-foot building near the college's football stadium, Hollings Hall, was named for the senator and serves as the local headquarters for the U.S. Army Corps of Engineers.
Fritz Hollings in words and images from The Citadel archives
Hollings was highly committed to supporting his alma mater, before, during and after his 38 years in the U.S. Senate. He visited many times, including as commencement speaker for The Citadel Class of 1983:
Clearly this smaller, faster, interdependent, dangerous world gives the class of '83 a greater responsibility. Our world has become transient. The sense of community has been lost. Introspection and self gratification replace concern for the common good.

The hallmark of The Citadel is discipline. There is no greater need in our society today, in our families, in our work in our communities, there must be discipline. Those unaware confuse discipline with marching to a shouted command, or shooting a gun, or standing up at football games. But discipline is awareness. It is concentration. It is the search for truth. Discipline constitutes the search for life. You learn to analyze, you learn your limits, but more importantly, you learn your potential.

In today's world, the lack is discipline. As a public servant, let me say this is particularly the lack of government. We go from a proposal to balance the budget to a two hundred billion dollar deficient, from tax cuts to tax increases, from embargoes to no embargoes, from a negotiated settlement in El Salvador to a military victory in El Salvador. No one follows the United States because no one knows where it is headed. There is no discipline. More than a lack of consistency is at stake. There is a lack of credibility. America's defenses are weakened for lack of discipline.
Sen. E. Fritz Hollings speaking to The Citadel Class of 1983 at commencement
Read the full commencement address that Hollings delivered to the South Carolina Corps of Cadets Class of 1983 here.
Many years before that address, Hollings visited campus for The Citadel's birthday, called Corps Day, just before becoming governor of South Carolina.
The Citadel is proud that Gov. Hollings has accepted our Corps Day invitation, because he is one of The Citadel's most distinguished sons.

Gen. Mark Clark, President of The Citadel
Read the 1959 press release announcing Hollings as Corps Day speaker, just prior to him taking office as Governor here.
A favorite memory of some members of The Citadel campus community (pictured above) comes from a visit by Hollings to help dedicate the newly rebuilt Padgett-Thomas Barracks in 2004. Hollings's sense of humor was evident when when the sign didn't cooperate with the unveiling.
"What a difference a Hollings might make"
"What a difference a Hollings might make," was a headline from a column by George Will that became a campaign slogan in 1983 for Hollings's bid to become the Democratic nominee for President of the United States.
"There is one Democratic presidential candidate who wants to talk frankly about the here and now: Senator Ernest Hollings of South Carolina, the thinking man's dark horse for '84."
Bill Greider, Rolling Stone
"He is an imposing figure on the Senate floor, tall, trim and silver haired. He is a leading advocate of both military preparedness and the need to alleviate hunger in America."
Martin Tolchin, The New York Times
View the presidential campaign brochure used during Hollings's bid for the Democratic party nomination for president in 1984, here.
A letter to Fritz Hollings just days before his death
Former Mayor of Charleston and Citadel professor, Joseph P. Riley Jr, Citadel Class of 1964, wrote a letter to Fritz Hollings on April 2, 2019. The two worked together many times during their careers. According to Riley, Hollings's family read it to him three days before Hollings died on April 6.
I believe one of your finest moments in a life with many fine moments was your courageous and firm voice that said Harvey Gantt was admitted to Clemson. In our Southland, so many political leaders used the forced integration of the colleges as a vote-getting opportunity. Railing against the federal government, standing in the schoolhouse doors, reinforcing bigotry and ignorance. You did just the opposite, and it is what our state and our country had been longing for: a courageous political leader risking his future to say, "the time has come to move forward.
Read the full letter from Riley to Hollings here.
This slideshow requires JavaScript.
View the bulletin for the funeral at the college's Summerall Chapel on April 16, 2019 here.
My last evening as governor of South Carolina, I drove down from Columbia, we fired the cannons, and I made a one word speech. 'Amnesty.'
I wish I had those powers today.
Fritz Hollings, while senator, remarking on the Corps of Cadets' beloved tradition of the state's governors being able to relieve cadets with infractions from "punishments" while visiting campus