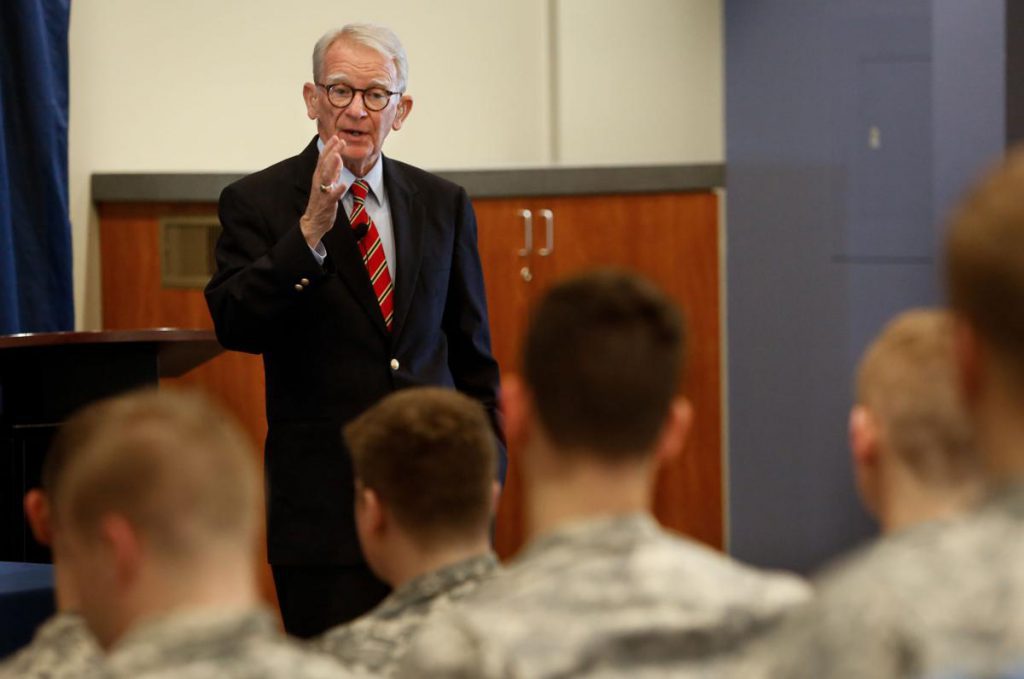 Citadel professor and former Charleston Mayor, Joseph P. Riley Jr, Citadel Class of 1964, wrote this letter to Fritz Hollings, Citadel Class of 1942 on April 2, 2019. The two worked together many times during their political careers. According to Riley, Hollings' family read it to him the next day, less than three days before Hollings passed away.
Dear Senator Hollings,

I have been thinking of you a whole lot recently, as I know you have been quite ill. I would like to share a few heartfelt thoughts with you.

I believe you have truly been the most effective political leader in South Carolina's history.

You affirmed my interest in public service and provided a most valuable model in how to lead and how to serve.

Your creation of the South Carolina technical education system is one of the most brilliant public policy initiatives in American history. I believe you got the kernel of the idea for it by seeing a vocational education program in Ohio. You brought that idea back to South Carolina, worked tirelessly to get the votes, chose the right people to set up the system, and in doing so — transformed South Carolina.

Countless South Carolinians got their first real jobs with substantial salaries and meaningful work experiences because of you. Manufacturing facilities and businesses sprang up in every community in South Carolina. From Campbell's Soup to jet airliners and everything in between was a direct result of your brilliant and well-executed idea and leadership.

You were our country's leader in waging the war against cancer. You knew the answer was not simple, rather it was a comprehensive, all-out frontal assault which you led. Millions of Americans have had their lives lengthened and saved because of you.

The WIC (Women, Infants and Children) program saved countless numbers of babies from death, malnutrition, or unsuccessful lives. This was all because of you.

Your dogged determination and support made Charleston Place possible and thus the remarkable revitalization of our once-decaying and dormant King Street.

And when Charleston's worst hurricane in history pummeled our state you became a human dynamo. FEMA then was hapless, so you personally took over for the federal government. You had Marines dispatched from Camp Lejune to the devastated McClellanville community. Huge power generators were quickly shipped from Fort Campbell, Kentucky, to serve rural communities in the Lowcountry. We got relief assistance from the Gulf communities that got hit during Hurricane Camille, as payback from all you did for their communities after that devastating hurricane.

At my request you called the power company at 12:15 a.m. the Sunday after the hurricane to demand that electric power be restored as soon as humanly possible, if not before, because so many of our communities were at risk. And you did much more. The fact is, Charleston's recovery from Hurricane Hugo became a national marvel. Ernest F. Hollings was behind that.

In another community, the BRAC (Base Realignment and Closure) of 1994 could have created a long-lasting economic depression in the effected community. But because of your determination, hard work, and full-court press of activity you turned BRAC from a disaster into an extraordinary opportunity. You brought so many federal enterprises into our region to replace what we lost, and as you so wisely knew we should bring in high-tech jobs to replace the jobs of an older economy. SPAWAR has been beyond transformative. Charleston is one of our country's leaders in the growth and development of high-tech business and industries, many of which spun off from the high-tech work of SPAWAR.

And Senator the list could go on and on. But I believe one of your finest moments in a life with many fine moments was your courageous and firm voice that said Harvey Gantt was admitted to Clemson. In our Southland, so many political leaders used the forced integration of the colleges as a vote-getting opportunity. Railing against the federal government, standing in the schoolhouse doors, reinforcing bigotry and ignorance. You did just the opposite, and it is what our state and our country had been longing for: a courageous political leader risking his future to say, "the time has come to move forward." Every time I think of that it gives me chills.

America so badly needs that kind of leadership now. But we were, however, so very fortunate to have your leadership when we needed it then, and to have your decades of service. The results of your work, Senator, will live on, enhancing not only our state but our country.

Most sincerely yours,

Joseph P. Riley Jr.
Joe Riley is among those interviewed about Hollings in this SCETV Hall of Fame video
"When Fritz votes, you know that the only thing that is dictating his vote is his conscience."

Joseph P. Riley, Jr., Professor at The Citadel and former Mayor of Charleston