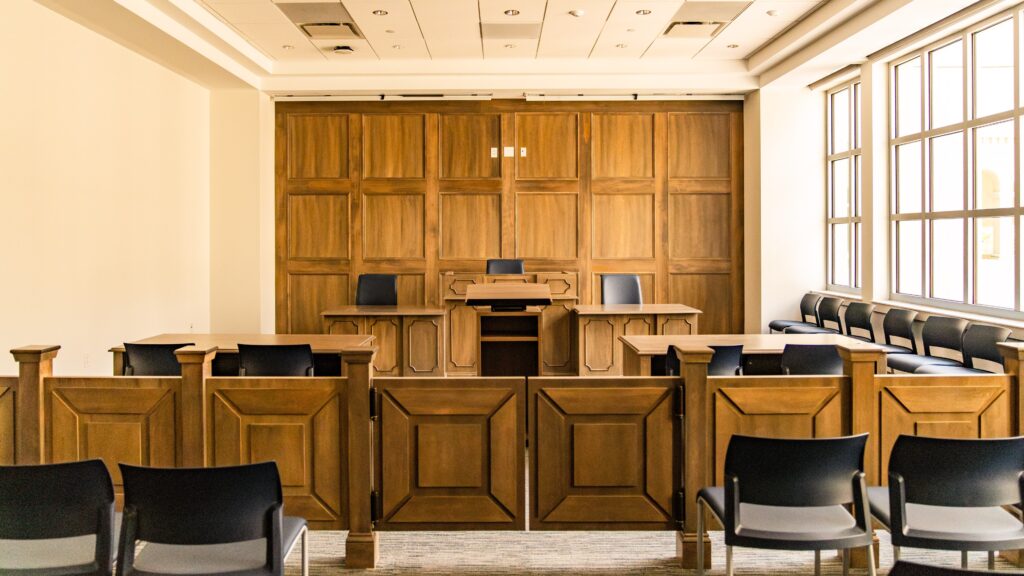 As part of the new Capers Hall, The Citadel's School of Humanities and Social Sciences will have many state-of-the-art classrooms for cadets and students to use. The building will open for use when the fall semester begins but, in anticipation, The Citadel is previewing some of its notable features – one of which being the new Legal Studies classroom. Viewed as a mock courtroom, this space will serve as the main hub for classes from several areas, including Political Science, the pre-law program, Criminal Justice, Intelligence and Security Studies, History and English. Officially called the King and Spalding Legal Studies classroom, this space was named thanks to a generous donation by law partners Dwight J. Davis, '75 and W. Randall Bassett, '89. The new room will be able to hold up to 37 people and will provide a host of learning opportunities for Citadel cadets and students.
One group on campus who is ready for this new space to open is The Citadel's Inn of Court, the school's pre-law society, an organization made up of those interested in pursuing careers in the law field after graduation. The Citadel's Inn of Court was founded in 1981 by Edward Tucker, who wanted to enhance pre-law studies at The Citadel and create a place to interact, learn about careers in law and connect with Citadel alumni in the field. Since its founding, the Inn of Court has brought numerous speakers to campus, assisted cadets with the process of applying to law school, organized trips to law schools and held cadet and alumni banquets.
Two Citadel faculty members who are eager to see the new classroom are Platte Moring, J.D., adjunct Political Science professor and faculty advisor for Inn of Court, and Thomas Horan, J.D., Ph.D., English professor and pre-law advisor.
For Moring, the Inn of Court is an opportunity to show cadets what they can do with a law degree and have guest speakers talk to them about what exactly they do.
"With the Inn of Court, we are trying to get cadets exposed to various aspects of the law and help guide their decision-making process – we want to help them consider whether they would like to use their law degree to become a litigator, criminal lawyer and so on," said Moring. "We give them an initial experience in the various aspects of law practice and let them know that, through the Inn of Court and our speaker program, there are many avenues that they may pursue."
Horan was the previous faculty advisor for the Inn of Court, and still assists by working with pre-law students and alumni on their law school applications, writing letters of reference and assisting with law school selection. Horan is confident that the new Legal Studies room will be used for a multitude of activities.
"As well as providing a space for college instruction, law-related activities and Citadel events, this moot court room will, I hope, provide an opportunity for The Citadel to host trial advocacy, moot court and mock trial events for external organizations and perhaps even actual legal proceedings through agreements with the state and municipalities. Such arrangements would allow members of The Citadel family to see law students and lawyers at work," said Horan.
In addition to The Citadel's pre-law program and the Inn of Court, the college offers a minor that gives cadets and students the opportunity to participate in a comprehensive exploration of the study of law and justice.
The Law and Legal Studies minor at The Citadel is designed to introduce cadets and students to the American systems of civil and criminal justice, introduce law and the legal systems for those who are considering a career in law or criminal justice and provide opportunities for advanced law-related courses. This minor introduces students to legal reasoning, case analysis and legal terms and citations as well as theoretical matters. Aside from an understanding of the nature of the legal process, the minor seeks to develop each student's capabilities for critical thinking and systematic analysis.
The new Capers Hall will be equipped with cutting-edge technology and educational opportunities for thousands of current and future Citadel cadets and students. Most of the project's funding was provided by the State of South Carolina, but generous Citadel alumni and supporters stepped in to provide more than $7 million dollars to enhance the new home for The Citadel's School of Humanities and Social Sciences. The mock courtroom is just one of many advanced classrooms the building will house.
"The Inn of Court will utilize this space by having meetings in this new room and we hope to restart the Moot Court or Mock Trial team that The Citadel had in the past. Inn of Court speakers are available not only to pre-law students, but anyone interested in the legal field. I encourage joint meetings between other organizations on campus to give our cadets and students a broader exposure of this field, which I hope will continue in this new classroom," said Moring.
The new building will house The Citadel School of Humanities and Social Sciences, which includes several departments: Criminal Justice; Intelligence and Security Studies; English, Fine Arts and Communications; History; Modern Languages, Literatures and Cultures; Political Science; and Psychology. These departments will all be based out of the new building and will be open when cadets and students begin classes for the fall 2023 semester.