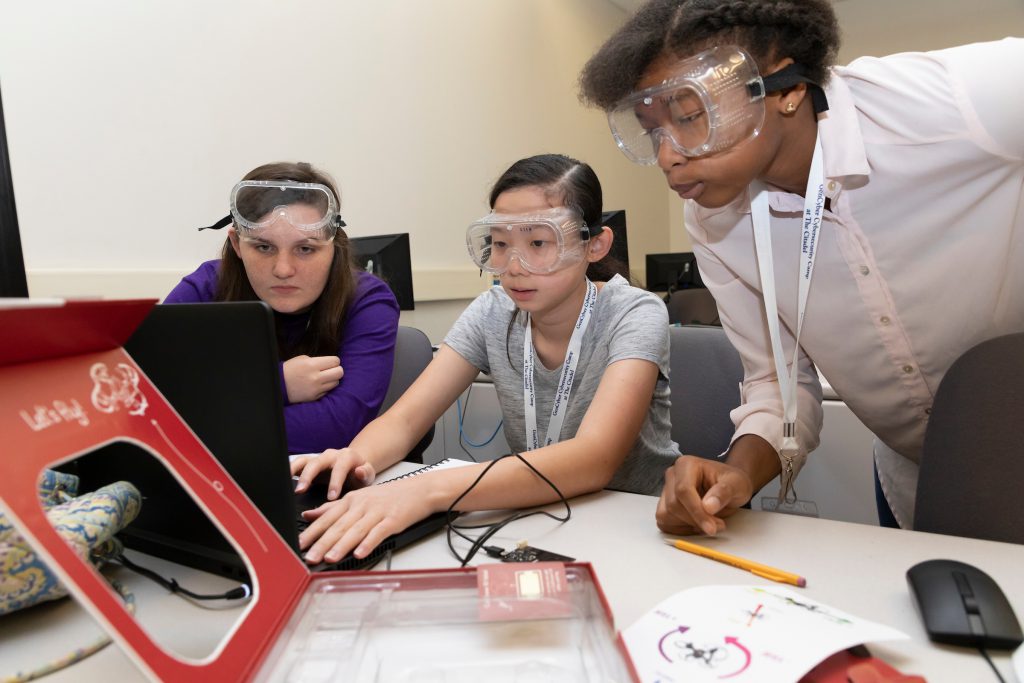 (Above) Girls attending The Citadel NSA/NSF-funded GenCyber Camp in summer of 2018
"GenCyber Citadel – Girls who Smash Codes" on campus this summer; July 29 – Aug 2
Middle and high school (8th – 12th grade) girls in the Charleston area are invited to apply to attend The Citadel's National Security Agency (NSA) and National Science Foundation (NSF) funded cyber security camp to be held on campus for five days in the summer. There is no fee to apply or to attend, if selected.
The full name of the program is: GenCyber Citadel – Girls who Smash Codes: Cybersecurity Interdisciplinary Training Camp for Middle/High School Girls.  The topics covered will include:
Cybersecurity concepts and principles
Network security
Secure coding
Crypotography
Cyber crime
Cyber ethics
This is the third NSA/NSF GenCyber grant earned by The Citadel, which has been designated a National Center of Academic Excellence in Cyber Defense Education by the NSA and Department of Homeland Security. In 2016, the college offered a GenCyber camp for middle and high school teachers, and in 2018 the college hosted a GenCyber camp for K-12 students.
"There is a large demand for cybersecurity professionals in the federal government and private industry," said Shankar Banik, Ph.D., program director for GenCyber Citadel, associate professor of cyber and computer science, and co-director for the Center for Cyber, Intelligence and Security Studies. "The Citadel is committed to helping train America's future cyber defenders who are in college, graduate college, or who are younger and considering careers in cybersecurity."
This year's GenCyber team of educators will include:
Applications are being accepted until April 26 and 20 students will be accepted. Breakfast, lunch and snacks will be provided. To apply to attend the camp, or for more information girls and their parent(s) should go to this website, or call (843) 953-7121.