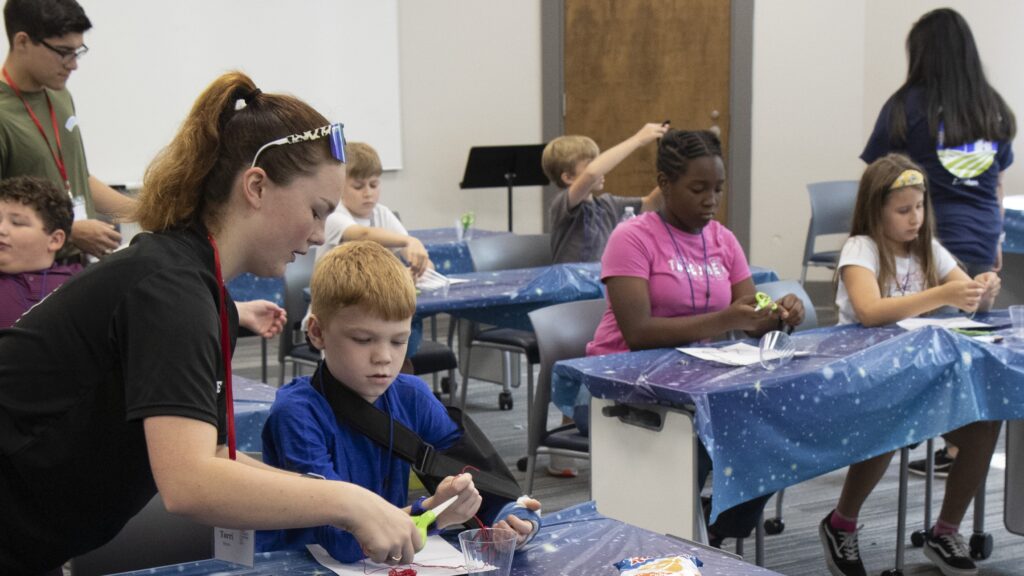 Over the past week, campers – ranging from 5th to 8th graders – came to The Citadel's campus to take part in the annual summer STEAM Camp. STEAM is an educational approach that combines science, technology, engineering, arts and math. This year's theme was "Out of This World: Cosmic Creativity," and campers had the opportunity to gain real-world knowledge about space from qualified Citadel faculty and cadets. Held over the course of five days, the STEAM Camp is an initiative between The Citadel Fine Arts Program and The Citadel STEM Center of Excellence, where campers participate in hands-on activities.
"Our STEAM camp brings together the complementary resources of the STEM Center and the Fine Arts program to engage these wonderfully curious young minds in a college environment — it's been a highlight of our summer for the past seven years," said Tiffany Reed Silverman, director of The Citadel Fine Arts Program.
The first day of STEAM camp focused on setting the groundwork for the week and welcoming each camper. The Citadel faculty helping with the camp were also assisted by cadets from the Summer SUCCEED program, a service learning effort through the Krause Center for Leadership and Ethics that supports cadets and students as they devote their summer to full-time volunteer service in schools and camps to help youth flourish.
Campers were ready to tackle challenges on the second day of camp, starting off with learning and practicing different sewing techniques, a skill they would use later in the week. They built a topographic planet, built from stacking cut pieces of foam, as well as designing the architecture of their own space station to respond to their planet's environment. In another class, campers learned block coding and how to navigate the universe through a Sphero, a small, spherical robot. Campers took photos around The Citadel's campus for their extraterrestrial collages and had the opportunity to speak with veteran student Blake Behrends, an astrophotographer who showed them his own photos of space.
The exploration of the universe continued on day three, where campers began constructing systems using polymer clay and learned how form follows function. Campers also took a walk through space using virtual reality in The Citadel Makerspace located inside the Daniel Library. Other activities of the day included designing their own constellation watercolor paintings and completing space challenges using programmable robots and Morse code. Day three also had two special guests — U.S. Space Force Col. Matthew Morand, '95, and Air Force Capt. David Melton, '14, who answered campers' questions about the Space Force and aviation.
"Candace Moorer and I ran the campers through a virtual reality spacewalk in which they explored and attempted to repair the International Space Station. This was a great opportunity to introduce them to VR if they hadn't already had experience with it and allow them to have an immersive experience of a potential STEAM job — being an astronaut. We had a lot of fun seeing their various reactions to the experience," said Dan Hawkins, head of Public Services at the Daniel Library.
Nearing the end of STEAM Camp, the fourth day consisted of stitching their constellation watercolor paintings, painting three-dimensional topographic maps, learning Adobe Photoshop to create their own interplanetary environment and a camp favorite — transforming two-liter bottles into rockets using the principles of aerodynamics, foam fins, nose cones and parachutes.
The final day of camp gave campers the chance to launch their bottle rockets on the parade field. Campers also created circuits with copper tape, painted backdrops of the galaxy and then ended their week-long space adventure with ice cream.
The STEM Center at The Citadel facilitates outreach initiatives to increase P-20 student interest, participation and opportunities in the STEM disciplines and develops innovative programming related to teacher preparation and teacher professional development activities. The Citadel's Fine Arts Program produces principles leaders who are capable of critical and creative thinking about issues, ideas and values that are of importance to society.