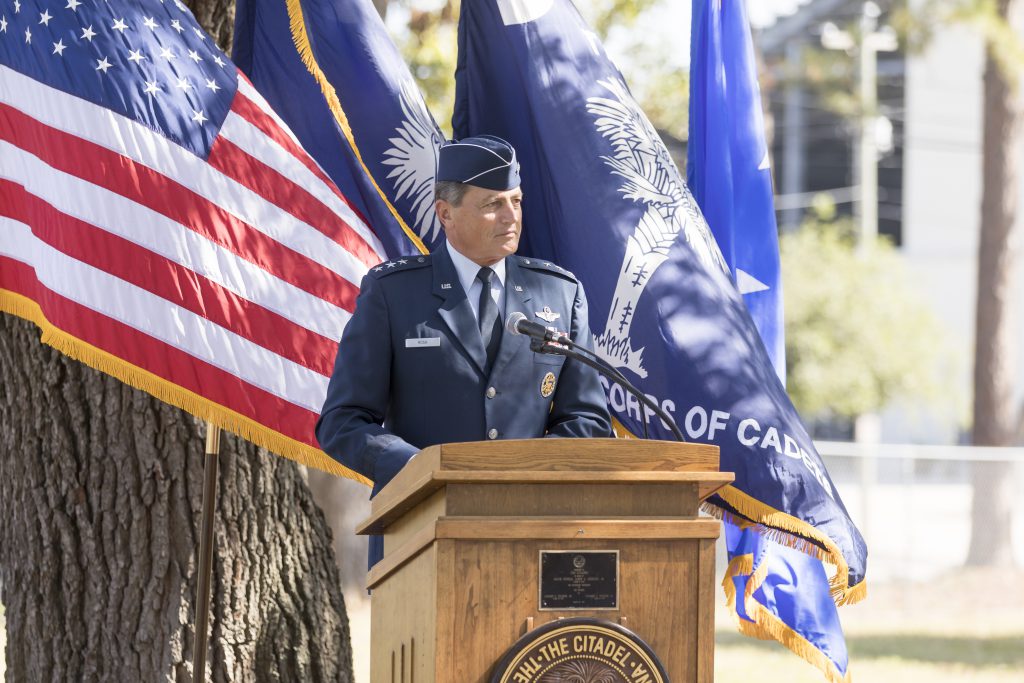 When the South Carolina Corps of Cadets' Class of 2018 graduates May 5, they will be addressed by one of the institution's preeminent leaders, Lt. Gen. John W. Rosa, USAF (Retired), who will retire shortly thereafter. Rosa announced his retirement at the beginning of the 2017-18 academic year, marking his 12th year as his last.
"We are excited that Lt. General John Rosa, one of America's great leaders, will be our commencement speaker. He exemplifies the kind of leader many of us hope to become as we set out to begin our careers in military, private sector, or community service, or to continue our educations," said Cadet Dillon Graham, regimental commander of The South Carolina Corps of Cadets.
More than a decade of unprecedented growth
When Rosa retires June 1, he will have concluded a historic capital campaign for the college through The Citadel Foundation, the results of which will be announced in late May. After he rejoined his alma mater as president in 2006, Rosa led the development of two long-range plans, successfully guiding The Citadel through the nation's 2008 economic crisis, fostering the expansion of academic programs of excellence, developing new facilities with enhanced technologies and procuring unprecedented growth in cadet and student diversity and enrollment. He established the Krause Center for Leadership and Ethics and integrated a four-year leader development program for all cadets as The Citadel earned a Carnegie Foundation designation for civic engagement, a distinction only 2 percent of colleges have earned.
"During Lt. Gen. Rosa's tenure, The Citadel earned the U.S. News & World report ranking of #1 Public College in the South for seven consecutive years – a reflection of his triumph as a strategic and innovative leader," said Col. Fred L. Price, UMSC (Unorganized Militia of South Carolina), Citadel Board of Visitors chair. "The Citadel Class of 2018 will not likely forget their send off by this truly great leader, a three-star general distinguished in military service and in his dedication to developing the next generation of principled leaders."
Commitment to educating principled leaders at all levels
During Rosa's tenure, the college saw its first school naming in 2014 with the Zucker Family School of Education, which houses the STEM Center of Excellence. That was followed by the naming of the Tommy and Victoria Baker School of Business, which will be housed in the new Bastin Hall, soon to be under construction.
Rosa led academic growth and refinements such as the doubling of The Citadel School of Engineering's programs and students, making it the second largest in the state in addition to one of the oldest in America. The Swain Department of Nursing and the Department of Intelligence and Security Studies were initiated during his tenure.
The Citadel Graduate College, now recognizing its 50th anniversary, was transformed into a more robust community resource, producing a growing stream of revenue for the college during Rosa's time as president. The student enrollment grew by 33 percent between 2006 and 2017, which includes the number of veteran students now at 250. The Citadel Graduate College now offers 26 graduate degree programs with 42 concentration options, 25 graduate certificate programs, and eight evening undergraduate programs, on campus and online, with an emphasis supporting Citadel alumni and active military personnel around the world.
"It has been an honor to serve as president of this great institution, and while I will retire in June, The Citadel will always be at the forefront of my thoughts," said Rosa. "Donna and I will continue to be a part of the life of the college and will watch proudly as The Citadel begins a new chapter in its distinguished history."
Rosa commissioned in the Air Force after graduating with a business degree from The Citadel in 1973 and served 32 years. He holds a master's degree in public administration from Golden Gate University. He is a graduate of the Air Force Command and Staff College, the U.S. Army Command and General Staff College, and the U.S. Army War College. He has studied at the John F. Kennedy School of Government and the Harvard Graduate School of Education. He received an honorary doctor of humane letters from the College of Charleston in 2007. His biography is available here.
More information on Citadel Class of 2018 Commencement
Graduation-related ceremonies and events for the South Carolina Corps of Cadets begin May 2 and conclude on Saturday, May 5, following the commencement exercises during which the president will speak. The complete schedule is here.
The search for a new president is currently underway.
---