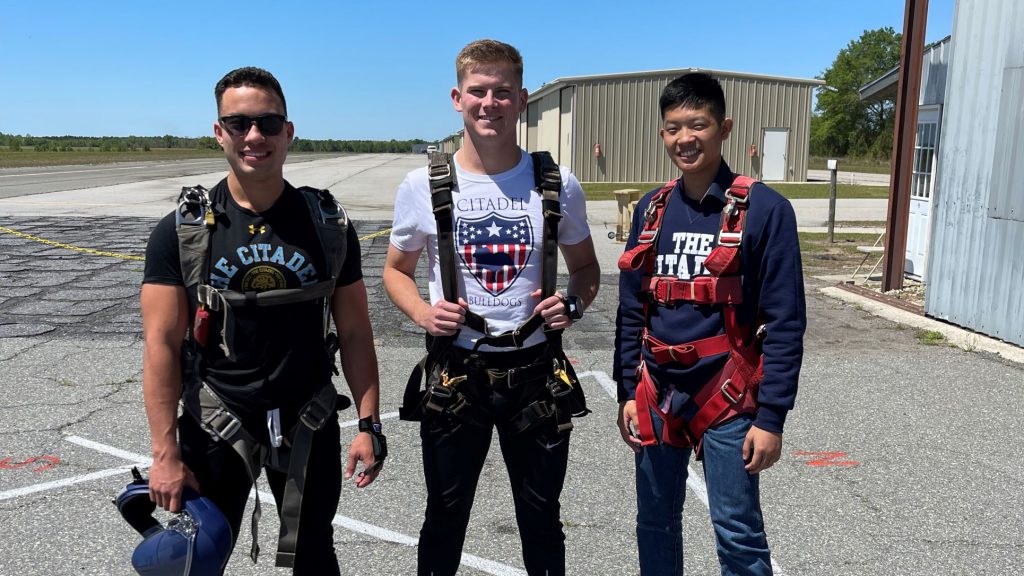 New cadet club aims to establish parachute competition team
Photo above: Cadets Tyler Miller, James Palmer and Alex Wang during the club's spring jump session in Georgia.
When they jump from a plane flying at about 14,000 feet they plunge through the air for about 60 seconds. They fall at a rate of about 17 miles an hour and when their feet touch the ground they hit hard, usually at about 13 miles per hour.
To do that solo takes coordination, precision, training and planning. And all of it is a part of the thrill of parachute jumping, according to Cadet Tyler Miller. The rising senior helped lead the formation of The Citadel Skydiving Club during the 2021-22 academic year. There are already about 70 members.
"I like jumping out of airplanes, and I wanted to create something exciting for cadets to participate in that wasn't the norm," said Miller.
The goals of the club are to help members work toward U.S. Parachute Association (USPA) licenses if they wish and to eventually create a competition team. "Some of us have jumped before. Some of us may jump if we are going into the military. I think as we become more and more proficient, we might be able to have a competition team," Miller said. "As I understand it, though the federal military academies have USPC competition teams, The Citadel would be the first Senior Military College to have an active skydiving competition team."
Capt. Wouter Sijtsma, Royal Netherlands Air Force (RNAF), serves as the club's advisor. Sijtsma, a pilot and jumpmaster is on his 11th year working as a liaison for the RNAF at The Citadel. He is a cadet Teaching, Advising and Coaching officer. Additionally he serves as the advisor for The Citadel Cadet Flying Club as well as the Rifle Team and soccer team.
"The ability to move beyond your comfort zone is indispensable for military people, but works in all walks of life. People have a general tendency to avoid obstacles, which holds them back from achieving great things in their life," Sijtsma said. "Skydiving is one of the most effective ways to remove those psychological barriers. The feeling of elation people experience after their first jump cannot be replaced by anything else. The feeling of accomplishment is tremendous."
The spring training and jump sessions were held in Sylvania, Georgia, with a company called JumpGeorgia Skydiving. "Right now in South Carolina there isn't a place where we can go to get the training we need," Miller explained.
Cadets who participated included:
Mason Draxton
Andrew Erdmann
Safia Karimi
Tyler Miller
James Palmer
Gustavo Pizza
Ryan Quinn
Alex Wang
Kevin Williams
Club members are learning the basics about skydiving gear and preparation, as well as the skills essential for aerial movement during a freefall. "Some members might only jump once, tandem with a jumpmaster. Others might get serious about it and want to get certified. Our club is for every cadet who wants to learn more about skydiving. We hope, that like the Cadet Flying Club, we will be able to raise funds to provide scholarships for those wanting to get licensed and possibly compete in national parachuting competitions," Miller said.
Miller explained that the college has had a cadet parachuting club, intermittently over the years — in the 1970s and again in the 1990s. The new Citadel Skydiving Club was officially chartered as a club with the Office of Cadet Activities in February 2022.
"The first jump operations were held in March. Now we have our first batch of cadets working towards their civilian free fall certification. And we have a fully operational team of club officers," Miller said. " Furthermore, with our future plans for team and precision jump operations, we aim to foster leadership development through teamwork and our clear vision to be a competitive team representing The Citadel on a national stage."
Read about members of The Citadel Class of 2022 embarking on careers in aviation here.