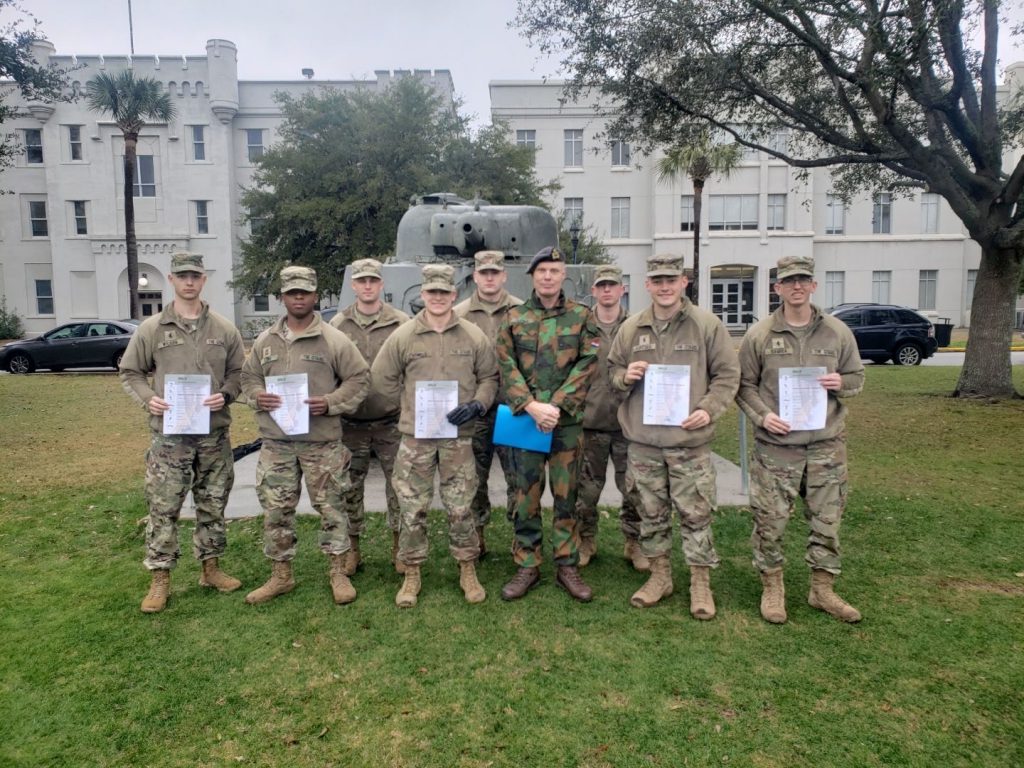 Going the extra mile (or three) in commitment to fitness
Photo above: cadets, knobs and Captain Wouter Sijtsma pose for a photograph on The Citadel campus on January 21, 2022. Credit: MSG Kohl Hammer, '23, The Citadel Mascot Handler NCO, Judo Club president.
Physical fitness is one of the four pillars at The Citadel supporting the cadet experience in the development of the whole individual.
As part of that commitment, The Citadel Physical Effectiveness Program (CPEP) leads cadets through regular early morning physical training (PT) and the required military-based PT test every semester. CPEP is underpinned by the philosophy that effective leaders take pride in their own level of physical fitness.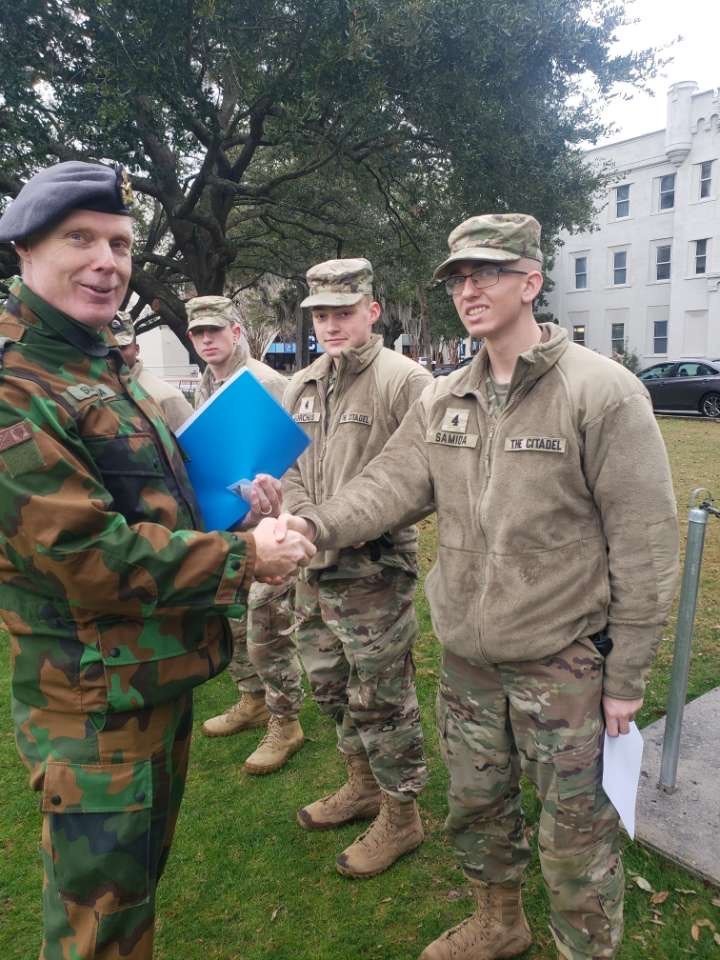 Recently eleven cadets and knobs (freshmen) took their commitment to physical fitness to another level, earning the Dutch Military Proficiency Badge. Among them: Cadet-recruit Kyle Samida, a freshman Computer Science major from East Meadow, New York, who attend The Citadel on a U.S. Marine Corps contract.
"Physical fitness is an essential part of the military lifestyle here at The Citadel and for a future military career. That is why I decided to try to earn the Dutch Military Proficiency Badge," said Cadet-recruit Kyle Samida.
Members of the South Carolina Corps of Cadets were first introduced to the badge and its related challenges by Capt. Wouter Sijtsma, The Citadel's Alpha Company Tactical, Advisory and Counseling (TAC) Officer.
Sijtsma is an active duty member of the Royal Netherland Air Force. His military career began in 1979 as a Dutch Army communication specialist. Over his decades of service he became a pilot and parachutist, was trained in Explosive Ordnance Disposal (bomb disposal) and Chemical, Biological, Radiological and Nuclear Warfare and has engaged heavily in officer and non-commissioned officer training, including for the U.S. Air Force Reserve.
In 2017, Sijtsma helped cadets form a charter to establish The Citadel Foreign Military Auxiliary Not long after, their efforts were recognized by the Royal Netherlands Armed Forces when the first group of cadets, 23 in all, passed the same series of exercises Dutch forces must complete. In January the newest group of cadets to earn the badge were presented with their awards.
What does it take to earn the Dutch Military Proficiency Badge?
These are the requirements that must be met to qualify for the badge:
Requirements for men
1000 yard speed run, full combat gear, within 4:20 minutes
5000 yard (3 Mile) endurance run, PT gear, within 23:15 minutes
Cat crawl on a rope or cable, combat gear, no helmet, 23 yards minimum, starting position ape hang, then swing on the rope for cat crawl
Obstacle course, combat gear, no helmet, within 4:30 minutes
Hand grenade throwing (30 yards), combat gear, no helmet, 4 grenades, minimum throw 30 yards, within 90 seconds
Rope climbing, combat gear, no helmet, no jumping up, no gliding down
Swimming (optional, but needed for blue badge inlay) , swimming gear, minimum 200 yards within 4:50 minutes
Requirements for women
1000 yard speed run, full combat gear, within 5:10 minutes
5000 yard (3 Mile) endurance run, PT gear, within 27:45 minutes
Cat crawl on a rope or cable, combat gear, no helmet, 20 yards minimum, starting position ape hang, then swing on the rope for cat crawl
Obstacle course, combat gear, no helmet, within 4:30 minutes
Hand grenade throwing (30 yards), combat gear, no helmet, 4 grenades, minimum throw 20 yards, within 90 seconds
Rope climbing, combat gear, no helmet, no jumping up, no gliding down
Swimming (optional, but needed for blue badge inlay) , swimming gear, minimum 200 yards within 5:25 minutes
The list of cadets earning the Dutch Military Proficiency Badge in January 2022 are as follows:
Bronze with blue inlay
O'Brien, Michael
Wilson, Sam
Mauriello, John
Proctor, Jacob
Klincewicz, Sebastian
Furches, Tyler
Samida, Kyle

Bronze
Lowe, Robert
Mayes, Trevor
Portegello, Robert
Howell, Joshua