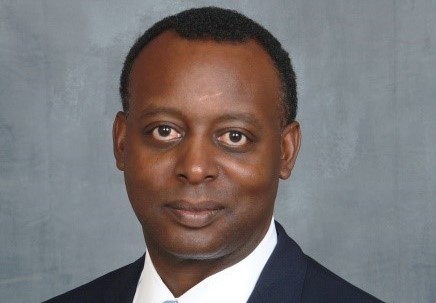 Former West Point Senior Associate Athletics Director to start mid-September
The Citadel Foundation (TCF) has tapped Lt. Col. Gaylord Greene, USA (Ret.), to serve as its next Vice President for Athletic Development.
Greene currently serves as Senior Associate Athletics Director for the Army West Point Athletic Association at the U.S. Military Academy at West Point.  He fills the TCF position left vacant when Mike Capaccio took the reins as The Citadel's new athletic director in August.
"We are excited to welcome Gaylord, Roxana and the kids to The Citadel community," said Jay Dowd, Ph.D., chief executive officer of The Citadel Foundation. "He is uniquely qualified for this position, thanks to his extensive experience in college athletics—both internally and, of great importance to this position, externally—and his keen understanding of the role the athletics program plays in a military college environment.  Likewise, his highly decorated 21 years of service in the U.S. Army—not to mention his own Army football career—make him a great fit with our Citadel alumni and Bulldog supporters."
Greene, who recently completed a 20-plus-year military career and retired as lieutenant colonel, comes to The Citadel after serving as Associate Athletic Director with the Army West Point Athletic Association since 2014. A native of Santa Ana, California, he previously spent six years working in admissions support with the football team as a member of the U.S. Army.
"Thank you Dr. Dowd, TCF Chair Stephen Davis, and interim and incoming Citadel Presidents Lt. Gen. John Sams and Gen. Glenn Walters for this amazing opportunity to continue to serve cadets," said Greene. "We are honored to join The Citadel Foundation, the Bulldog family and the Charleston community. My family and I were simply blown away by the kindness and passion of everyone we met. We are forever grateful to West Point AD Boo Corrigan, the West Point leadership and community for developing, preparing and supporting us in this journey.  Developing principled leaders while providing an exceptional experience for our cadets is a mission we are very familiar with, and we look forward to joining the team."
Following his retirement from the military, Greene joined the Army West Point Athletic Association's Executive Staff, where he oversaw football admissions, football operations, and the strength and conditioning staff. He also served as a voting member of the Army West Point Athletic Association Board of Directors, and a member of the West Point Leadership team focused on educating, training and inspiring the Corps.
During his tenure, he oversaw the construction of the Army West Point Nutrition Center and weight room floor renovation valued at $1.5 million and assisted in raising $68 million from major gift donors and annual fund commitments.
In his prior role of providing admissions support for the Army West Point Athletic Association, Greene managed the recruitment, admission, development and retention of student athletes for 28 Division I athletic programs, managed the program's $5 million operational budget, and coordinated academic support for 150 student athletes.
Brief Bio: Lt. Col. Gaylord Greene, USA, Ret.
A 1993 graduate of the U.S. Military Academy with a Bachelor of Science in Management degree, Greene was commissioned into the Field Artillery branch of the U.S. Army and served numerous roles while stationed in Fort Lewis, Washington, and Vilseck, Germany, before being deployed to Kosovo.
Greene was assigned to the West Point Staff and Faculty from June 2003 to 2006 as Director of Minority Admissions and was reassigned to Army Athletics in an admissions support role until 2010.
Greene left West Point for duty with the 3rd Brigade, 4th Infantry Division as the Iraqi Security Assistant Coordinator. He deployed in support of Operation Iraqi Freedom and Operation New Dawn from March 2010 to March 2011. He returned to West Point as an Admissions Support Officer from April 2011 until his retirement.
Among the military schools Greene completed were Artillery Officer Basic Course and Artillery Officer Advance Course. He graduated from the Army Command and General Staff College in 2007 and holds a Master of Business Administration degree from James Madison University in 2003.
His awards and decorations include the Bronze Star Medal, Meritorious Service Medal with an Oak Leaf Cluster, Army Commendation Medal with three Oak Leaf Clusters, Iraqi Campaign Medal, Kosovo Campaign Medal, Global War on Terror Service Medal, NATO Medal and the Honorable Order of Saint Barbara.
Greene and his wife, Roxana, have been married for 24 years. The couple has four children, MiKayla, Mayah, McKinley and Mason.
Greene earned two varsity letters as a member of the Army football team, in 1991 and 1992. In 1992, he hauled in a 68-yard touchdown catch to lead Army to a 25-24 victory over Navy. It stands as the longest Army pass play in the history of the storied rivalry.
For more information, please contact sontaj1@citadel.edu.