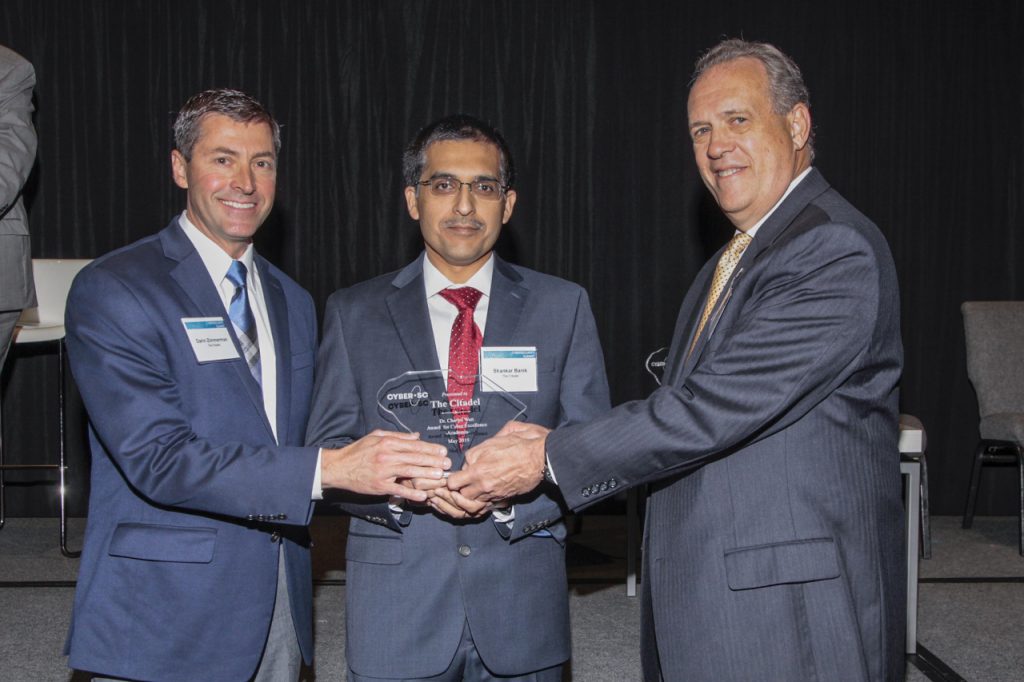 Above, left to right: Dr. Darin Zimmerman, Dean of The Citadel Swain Family School of Science and Dr. Shankar Banik, Director of Center for Cyber, Intelligence and Security Studies at The Citadel, accepting award from Les Eisner, chair, Board of Directors, Cyber SC 
The Citadel recently earned statewide recognition for its work to educate and prepare future leaders in the field of cybersecurity. Darin Zimmerman, Ph.D., dean for the Swain Family School of Science and Mathematics at The Citadel, and Shankar Banik, Ph.D., professor of Cyber and Computer Sciences and co-director of The Citadel Center for Cyber, Intelligence, and Security Studies accepted the Dr. Charles Watt Award for Cyber Excellence – Academia, from the director of Cyber SC in May.
"We have been actively following the work done in the cybersecurity arena by The Citadel and your institution has clearly gone above and beyond to promote cyber excellence across South Carolina and the country," said Tom Scott, director of Cyber SC.
The work behind The Citadel's award-winning cybersecurity programs
Some of The Citadel's cybersecurity programs and activities contributing to the award include obtaining National Security Agency (NSA) grants in 2017, 2018 and 2019 to host free cybersecurities camps for teachers and K – 12 students.
Additionally, The Citadel is part of a Senior Military College collaboration that resulted in the 2019 National Defense Authorization Act prioritizing U.S. Department of Defense (DOD) cyber institutes at five of the colleges.
The universities and the Defense Department see this plan as a way to generate more cyber experts ready to fill jobs with high security clearances at military and government organizations. Rose Thayer, Stars and Stripes
The college also sponsored the 2018 Intelligence and Cybersecurity Conference at The Citadel, featuring the Director of National Intelligence and the deputy director of the FBI.
The National Security Agency designated The Citadel as a National Center of Academic Excellence in Cyber Defense Education in 2016.
And most recently, The Citadel hosted the Jack Voltaic 2.5 Cyber Workshop, intended for local leaders and the owners of high-priority infrastructure that are critical to the DOD. The workshop focused on key relationships between commercial-critical infrastructure and DOD-critical missions. and was one of a series developed by the Army Cyber Institute at West Point.
Finally, numerous Citadel cadets are engaged in cybersecurity internships and military training, and many alumni work in the field of cybersecurity for the U.S. Armed Forces and private industry.
For more information about programs offered through The Citadel Department of Intelligence and Security Studies, please click here. For more information about programs offered through The Citadel Department of Cyber and Computer Sciences, please click here or email john.moore@citadel.edu.