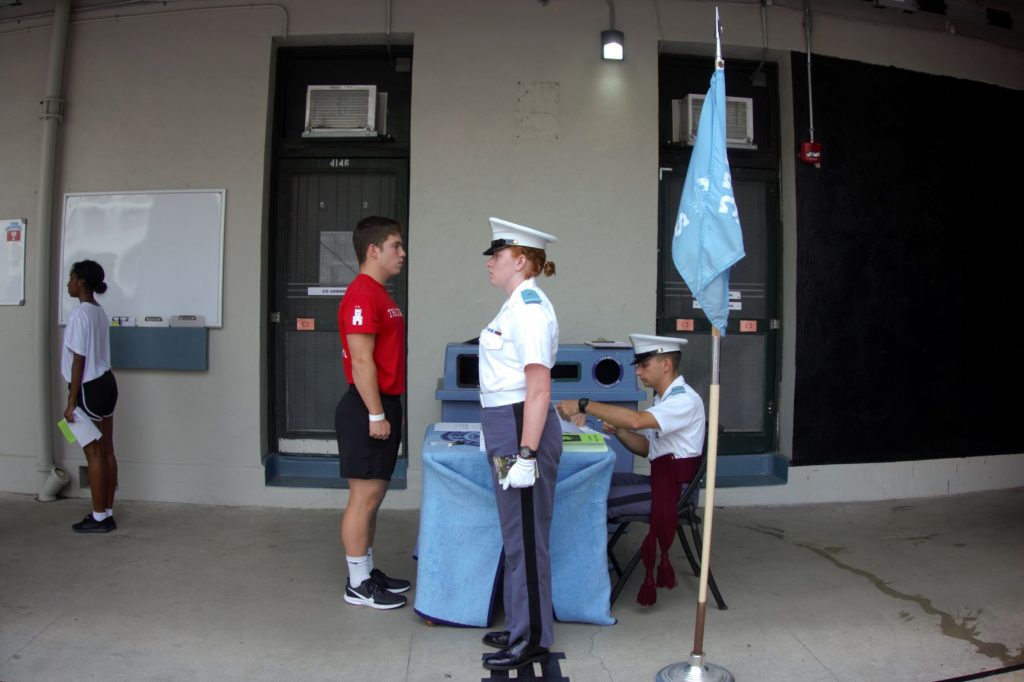 Photo: Cadet recruit reports on Matriculation Day 2019
The Citadel Class of 2023 cadet recruits report to campus Saturday, August 17 between 7 – 9:30 a.m. More than 700 men and women from over 40 states and four countries check in to begin their college careers at the U.S. News & World Report #1 public college in the South.
Holliday Alumni Center on Matriculation Day 2019

Cadet recruit checking in on Matriculation Day 2019

Cadet recruit on Matriculation Day 2019

Gen. Walters watching during Matriculation Day 2019

Cadet recruit reporting on Matriculation Day 2019

Cadet recruit moving in during Matriculation Day 2019

Rainbow over Padgett-Thomas Barracks on Matriculation Day 2019 (Courtesy: Breana Broad, Regimental Public Affairs Officer)
The freshmen recruits' processing begins at the Holiday Alumni Center where they receive their company and barrack room assignments. Then they proceed to their home barrack to pick up a set of physical training uniforms and move into their rooms with the help of parents from The Citadel Family Association.
At 10 a.m. the parents must leave the famous red and white checkered quads. The gates to each barrack close. That's when life as the freshmen have known it becomes very different as they begin to learn about living in the college's 24/7 military culture.
Most members of the class of 2023 were born in the year 2001. That puts them right in the center of Generation Z which is "on track to be the most diverse, best-educated generation yet," according to Pew Research Center. These post-Millennials were born just before or after the 9/11 attacks and many witnessed their family's financial challenges created by the Great Recession of the late 2000s.
The freshmen enter college at a time when they can select from the most robust menu of academic programs available at the Citadel, the newest among them being computer engineering, finance, nursing and supply chain management. Cadet academic areas of study anticipated to be among the most popular include business administration, engineering, intelligence and security studies, cyber security, criminal justice, political science and biology.
Approximately 30% of the class of 2023 will earn commissions as military officers at graduation.
An estimated 25% will study abroad in at least one of 23 countries where The Citadel offers programs.
Watch live stream of Oath Ceremony
The Oath Ceremony for The Citadel Class of 2023 will be live streamed on the college's Facebook page and on YouTube beginning at 5:30 p.m. Monday, Aug. 19. The class will stand on Summerall Field and take an oath pledging to abide by the college's core values of honor, duty and respect as future members of the South Carolina Corps of Cadets.
The cadet recruits will complete the college's arduous Fourth Class System program March 28, 2020, when they are formally recognized as members of the South Carolina Corps of Cadets and participate in the Oath Renewal on the Green ceremony at Marion Square in downtown Charleston.
Media notes
Members of the media are welcome on campus Matriculation Day (with an escort from The Citadel Office of Communications and Marketing) from 7:15 – 10:00 a.m. on Saturday Aug. 17. Before arrival, please contact Zach Watson zwatson2@citadel.edu, or text or call 843-814-9410 to get parking and meeting locations.