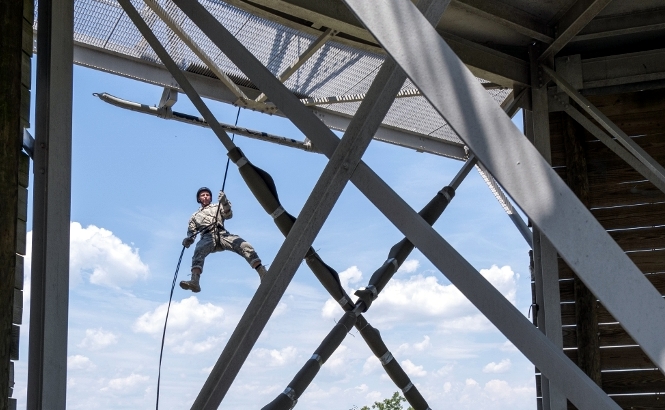 The cadre consists of about 500 cadets who are tasked with helping shape The Citadel's recruits, or freshmen, into full fledged members of the South Carolina Corps of Cadets.
Under the guidance of cadet officers, the cadre oversee almost every step a freshman takes from Matriculation Day in August until Corps Day in the spring. That's when the recruits are formally recognized as part of the Corps.
This year, the cadre got a surprise.
"They didn't know they were going to be trained at Parris Island until about 0400 when their very long day of training began," said Capt. Geno Paluso, USN (Ret.), commandant of cadets at The Citadel. "When you think of U.S. military training, you think of Parris Island — and it doesn't get any tougher. There was a lot of excitement and some serious nervousness when we told the cadets that's where we were headed."
"We thought Marines were going to storm the bus and start yelling as soon as we arrived at Parris Island, kind of like basic training," said Zachary Henriquez, a junior cadre sergeant from Staten Island, New York. "Everyone was fired up."
The Cadre Leadership Reaction Course at Parris Island is unique to The Citadel, arranged by Paluso with the assistance of the Marines and a contracted team of special forces leadership trainers. Similar training was held in years past on campus or at the beach, but this was decidedly different.
"Nobody trains cadets to be leaders like The Citadel does, but being at Parris Island this year raised the experience for our cadre to a new level," Paluso added.
All day.
Five event stations.
Dozens of cadet teams working together.
A shorter version of the 50-plus hour Marine Crucible.
From close contact combat with pugil sticks in the Parris Island octagon, to problem-solving the delivery of "sensitive material" over obstacles, every element of the course was constructed with purpose. Every interaction was designed to be physically, mentally and emotionally taxing.
The intent: building trust, moral courage and thoughtful, but instinctive leadership responses.
"You are responsible for the very intentional and very professional training of the next class. Those you train will not be in your company, which is also intentional," Paluso said. "It should be a badge of pride over the year to watch your cadet recruits excel across campus. It will reflect your success as a leader."
Henriquez, who serves in the South Carolina National Guard in addition to being a cadet at The Citadel, has been through basic training but believes this day was beneficial for all who participated, whether they go into the military for their career or not.
"In the end, the heat had to be the hardest thing. It was pretty brutal. But, my biggest takeaway was that good ideas can come from anyone, including people with lower rank. Also, leaders just can't blindly run into things. We have to take a deep breath, think about a plan for the team and then execute that plan."
"We are grateful to The Citadel Class of 1970 for endowing our ongoing cadre training initiative," Paluso added. "Now we can go forward year after year to train these young South Carolina Corps of Cadets leaders so they can be as professional and effective as possible."