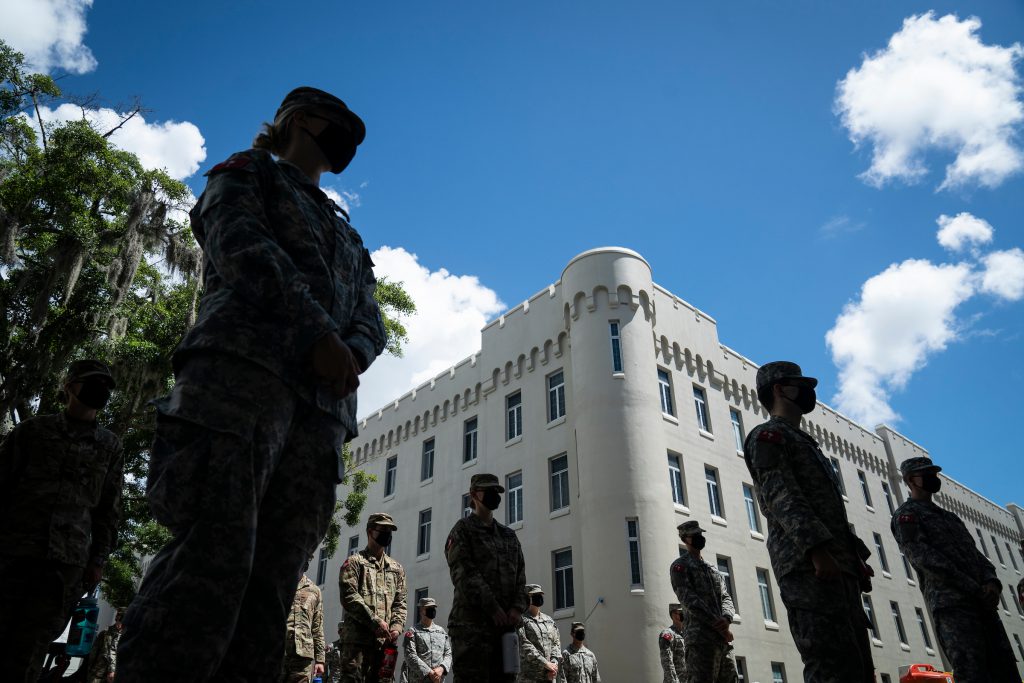 Citadel restricting cadet leave and limiting campus access to mission-essential persons only
Members of the South Carolina Corps of Cadets begin returning to The Citadel campus on a staggered schedule January 13.
Rather than a single day reconstitution as would be the norm, the Corps will return in smaller groups during a three-day period to limit population density and for one other major movement: every cadet will be tested for COVID-19 upon arrival. Each cadet will get their test results back before they report and move into the barracks.
The Citadel is offering free Rapid Molecular COVID-19 testing this month for all students, employees and campus partners. The South Carolina DHEC and The Citadel strongly encourage our campus community to be tested, regardless of symptoms or exposure to a close contact with a confirmed COVID-19 diagnosis. Asymptomatic individuals can unknowingly carry the virus and pass it along to friends, family and colleagues.
Cadets and students should check their college email for instructions on the requirement to fill out their coronavirus-related documents, including registration for testing as soon as possible and before returning to campus.
The Citadel will provide tests for students and employees at the following days/times on the 2nd floor of McAlister Field House:
Wednesday January 20th from 1 p.m. through 6 p.m.
Thursday, January 21st from 1 p.m. through 6 p.m.
Friday, January 22nd from 8 a.m. through 1 p.m.
Town Hall for Corps and families Tuesday Jan. 12 at 7 p.m.
The President will lead a virtual Town Hall with the Provost and Commandant of Cadets on Tuesday, Jan. 12 at 7 p.m. ET. It will be livestreamed via The Citadel Facebook page.
Cadets and their parents can ask questions via the Facebook stream page during the Town Hall that the leadership team will do their best to answer.
Guidance from the Commandant of Cadets
Face coverings are again a required part of the cadet uniform, meals in the Mess Hall will be prescheduled, and other fall COVID-19 protection protocols will be repeated. Students will also be required to wear masks and should bring their insurance card and driver's license when they go for COVID testing.
"I want to thank everyone in the Corps again for the effort you all put in to make last semester a successful one. I know it was not easy, but your teamwork and individual efforts truly made a huge difference," wrote The Citadel Commandant of Cadets, Captain Geno Paluso in a communication to the Corps. "I know everyone is tracking the current state of the pandemic in our country. Given the current and projected situation, the leadership of the college has decided to remain in the organizational structure that we executed first semester, which helps protect the Corps."
To read the full guidance from the Commandant, please click here.
Campus access limited to essential business only through Jan. 29
The college asks for cooperation as it limits campus access to those on official, confirmed business from Jan. 13 – 29. This means cadets' and students' friends and family, tour buses and tourists − anyone who does not have confirmed, business-related appointments − will not be permitted onto campus.
"We greatly appreciate the cooperation of everyone concerned as we work to limit coronavirus exposures and spread on The Citadel campus. Unless you are a member of the Corps, a student, faculty, staff or a contracted worker or vendor, please do not come to campus unless you are on pre-arranged, essential business," said Col. John Dorrian USAF (Ret.), vice president for Communications and Marketing.
The restriction includes all campus facilities such as the barracks, The Citadel Bookstore, Chick-Fil-A, the Daniel Library, Athletic Facilities, Starbucks, Cadet Laundry Services, The Citadel Career Services, the Holliday Alumni Center, etc.
Additional restrictions are as follows:
Food delivery will not be able to access campus
Non-campus bicyclists, joggers and walkers will not be granted access
Access to athletic events will be limited temporarily including basketball games against against Furman on Jan. 13, Mercer on Jan. 20 and Wofford Jan. 27.
Summerall Chapel and the columbarium will be available for scheduled funerals and weddings.
Additionally, cadets will likely not be granted privileges to leave campus through January 31.
"Many of the protocols in place in the fall that set conditions for a successful on-campus semester will continue in the spring to deter the spread of the virus on campus," Dorrian said. "Those include ramped up sanitation of shared barracks and campus spaces by the expert Budd Group, mandatory face coverings for every person and a hybrid classroom schedule."
Classes for cadets and students begin January 20.
See a full recap of the fall, 2020, semester with photographs and videos on The Citadel Today newsroom here.