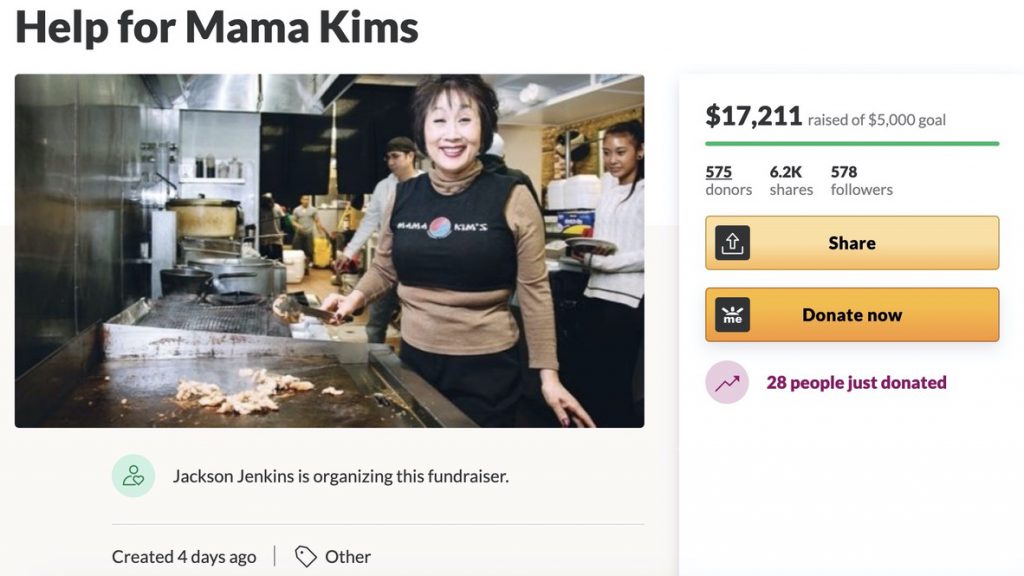 It's a tense and difficult time in America. But that's the kind of environment where principled leaders stand tall to help, demonstrating values like honor, duty and respect.
Two servant leaders from The Citadel family — one current and one former cadet — are working to give back to the Charleston community.
To be a servant leader means serving those around you and working to meet the needs of others.
Cadet Jackson Jenkins, a member of The Citadel Class of 2022, and 2nd Lt. Richard "Ben" Snyder (USA), the regimental commander for the Class of 2020, both started GoFundMe accounts in response to last week's unrest for two different purposes.
Snyder's fundraiser is called "24 Hours for Charleston," raising money for the International African American Museum. On Friday, June 5, Snyder plans to walk around a track in Georgia for 24 hours, near where he is stationed for officer training. He says that he chose a track "to replicate the monotonous walk felt by peaceful-protestors as they search for a means to an end."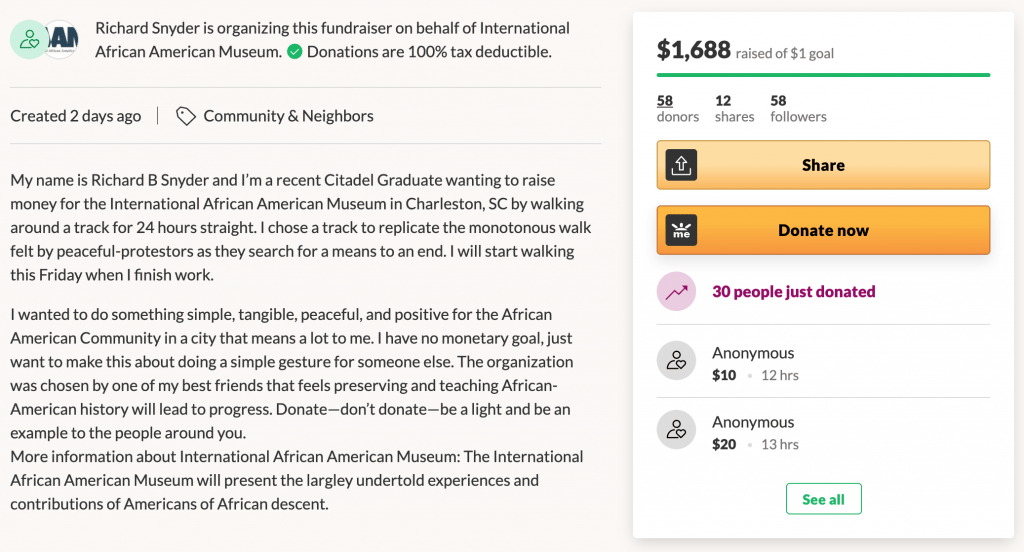 "I think being alone with my thoughts, going in circles for 24 hours, will allow me to empathize with African-Americans that have walked for generations, have felt alone, and still not arrived at any final destination," Snyder said. "It is important to me because I believe this is a simple way, any young man or woman, can be a part of the solution. By looking for an opportunity to be there for a neighbor, a friend, or even a stranger that has been mistreated."
Jenkins decided to start a fundraiser for Mama Kim's — a restaurant frequented by cadets for years — after it was damaged during the riots. It started with a $1,000 goal on Saturday May 31, but raised $16,000 by the end of the weekend.
"Mama Kim's is really a touchstone part of cadet culture," said Jenkins. "I think that so many people donated in such a short time because, in a large part, giving is also a huge part of Citadel culture. Mama really is a person that has helped several generations of cadets and is an adopted mother for the Corps. She is one of the best people out there, and when the opportunity arose to give back, everyone jumped at the chance."
Jenkins plans to deliver the check to Mama Kim's on Saturday, June 6.
Examples of civic leadership like this are part of the reason why the Carnegie Foundation for the Advancement of Teaching awarded The Citadel with the Carnegie Foundation Elective Community Engagement Classification for the second time in two consecutive cycles.
The classification is an evidence-based affirmation of best institutional practices earned through years of accountability and the presentation of that work. The Citadel and its South Carolina Corps of Cadets provide approximately 30,000 hours of community service annually, organized through the college's Krause Center of Leadership and Ethics.
For more information about the Mama Kim's fundraiser, see the news coverage below.
Kim Onam Brown is known around the Lowcountry as "Mama Kim." Her beloved Korean restaurant, "Mama Kim's," was recently damaged in Saturday's riots.
When the community caught wind of what happened, many stepped in to help. Her shattered windows are now boarded up; covered with messages of hope and love.
"I feel like it's my job to take care of everybody. But of course, they're my heart, and I love them," says Mama Kim.
She treats her customers as members of her family. Joking that some have called her "a computer" because she is a whiz at remembering names and details of the people she meets.
Her walls are covered in hundreds, if not thousands, of photos. A testament to the people that mean the most to her, and nearly 50 years in the restaurant business.
Mama Kim is especially known for taking care of students at The Citadel. Citadel Cadet Jackson Jenkins says she's "an absolute saint to so many of us."
Cadet Jenkins decided to start a GoFundMe for Mama Kim's repair costs. In just 2 days, the community raised over $16,000.
The number has now reached over $17,000. Mama Kim is absolutely floored. She plans to give part of the money to her favorite people and places in the community to say 'thank you.'
"I think Charleston is all sweet people, I really do. I'm going to give back part of it, I'm going to give it to some scholarship, to College of Charleston, a part to The Citadel, to the church. I'm going to fix up the windows and fix up the floors," she says.
Coming up, Mama Kim will be celebrating her 50th year in the restaurant business. She has no plans to retire anytime soon!
"One thing that I always talk about is people asking 'Mama when are you going to retire?' I say, 'I love people, and social, you know that's why I cannot retire,'" she says.
For more on Mama Kim's, click here.