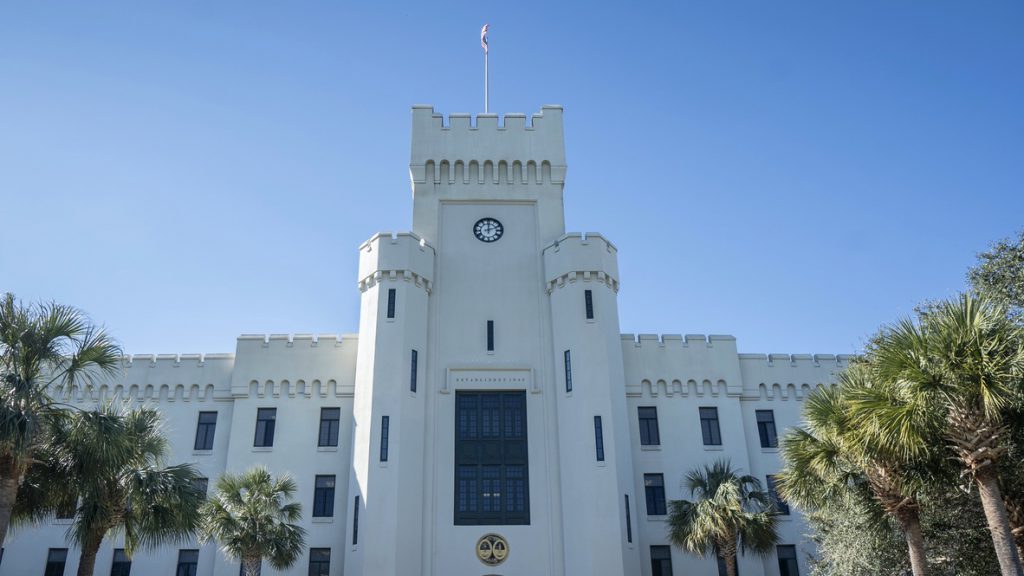 Nearly 600 members of the South Carolina Corps of Cadets accepted diplomas during The Citadel's virtual commencement ceremony on Saturday, May 9. In addition to graduating, about 30% of the class accepted commissions as U.S. military officers in all branches of service.
The Citadel Class of 2020 was celebrated for their achievements during two virtual commencement ceremonies. Both can be viewed on the college's Facebook page and on a special commencement website.
Part of the virtual commencement celebrations included creating a webpage for each graduate, where they and their loved ones can share messages. In total, more than 6,000 messages were left on the commencement profile pages. To view an example of a graduate page, click here to see the profile for Richard "Ben" Snyder, the 2019-20 Regimental Commander.
By the numbers, the ceremony included:
590 cadets from 33 states
Approximately 210 cadets are earning commissions in all branches of U.S. Armed Forces to become new officers. These ceremonies were also virtual, managed by each ROTC branch.
26 veteran students
4 active duty students
The following cadets were among the graduating class:
| Last name | First name | | | |
| --- | --- | --- | --- | --- |
| Achterkirch | Peter | Stephen | | |
| Adams | Montele | Markwese | | |
| Adkins | Ryan | Matthew | | |
| Allen | Gavin | Alexander | | |
| Alsbrook | Joseph | Morgan | Hunt | |
| Alvarez | Larry | Stephen | III | |
| Anderson | Marshall | James | | |
| Arline | Oscar | Riley | | |
| Arnold | Roman | Alexander | | |
| Asher | Michael | Ilan | | |
| Askins | John | Dyer | | |
| Avalos | Eric | Cristian | | |
| Bach-Davis | Griffin | Lloyd | | |
| Baer | Charles | Dean | | |
| Baghdady | Mohamed | Gaber | | |
| Baker | Justin | Scott | | |
| Ballard | Nathaniel | Aaron | | |
| Barbee | Allen | Hunter | | |
| Barber | Daniel | Forbes | | |
| Barberena | Daniel | Jarrett | | |
| Barbero | Michael | Patrick | II | |
| Barbot | Jenifer | Lyn | | |
| Barnes | Donald | Milling | | |
| Barrett | Phillip | Matthew | | |
| Barrineau | Abigail | Ann | | |
| Bauknight | Paul | Foster | | |
| Beasley | Jack | Henry | | |
| Becker | Andrew | Samuel | | |
| Behney | Nicholas | Harrison | | |
| Beier | Booker | Jeffrey | | |
| Belida | Dylan | Charles | | |
| Bell | Austin | Jonathan | | |
| Bell | Preston | Michael | Dollard | |
| Bergeron | Albert | William | III | |
| Best | Jacob | Stuart | | |
| Bianco | Cory | Brenton | | |
| Bishop | William | Taylor | | |
| Bitting | Grayson | Sawyer | | |
| Blackburn | Zachary | Thomas | | |
| Blair | Matthew | Bryce | | |
| Blankenship | Jacob | Bartholomew | | |
| Blanton | Samuel | Charles | IV | |
| Blount | RayQuan | Marquis | | |
| Bobel | Michael | Austin | | |
| Bogdan | Andrew | Tyler | | |
| Bord | Nathan | Lawrence | | |
| Botkin | Brandon | Lane | | |
| Bourlet | Keara | Morgan | | |
| Bradfield | Matthew | Thomas | | |
| Bradford | Jacquary | Marquise | | |
| Brawley | Aaron | Isaiah | Don | |
| Brennan | Hunter | Paul | | |
| Bridenbaugh | Donald | Peter | III | |
| Broach | Bryce | William | | |
| Broad | Breana | Marie | | |
| Broad | Breana | Marie | | |
| Brooks | Shiloh | Mark | | |
| Brown | Henry | Taylor | | |
| Brown | Jeffery | Stacy | Jr | |
| Brown | Rhaei | Christian | | |
| Brown | Tanner | Preston | | |
| Brunson | Keith | Hunt | | |
| Bryant | Andrew | Richard | | |
| Bryant | Mitchell | Todd | | |
| Buckhannon | Collin | Patrick | | |
| Buckles | Gabriel | Paul | | |
| Buda | Jackson | William | | |
| Buddenberg | Alex | James | | |
| Burger | Sean | William | | |
| Burgess | Elena | Ann | | |
| Burk | Lee | Thomas | | |
| Burke | Clayton | Michael | | |
| Burkholder | Taylor | McCoy | | |
| Burn | Murray | Thomas | | |
| Burris | Rian | Derek | | |
| Butterfield | Andrew | Christopher | | |
| Byrnes | Matthew | Alexander | | |
| Cain | Albert | Ryan | Jr | |
| Calkins | Hunter | Christian | | |
| Campbell | Peyton | Alexander | | |
| Carter | Craig | Robert | | |
| Casco | Otoniel | | | |
| Charles | Samuel | Bennett | | |
| Chen | Boey | | | |
| Chiu | Cheng-Yu | | | |
| Choppa | Jacob | Allen | | |
| Chu | Chun-Jung | | | |
| Clark | David | Allen | | |
| Clark | Jack | Vandiver | | |
| Clark | Timothy | Grant | | |
| Cobb | Cameron | Christian | | |
| Cochran | Edward | Hutchinson | III | |
| Coker | John | Thomas | | |
| Collins | Emmett | Michael | | |
| Coluccio | Salvatore | Constantinos | | |
| Conley | Charley | James | | |
| Connolly | Shane | Michael | | |
| Cooper | Alexander | Mason | | |
| Corbett | Connor | Franklin | | |
| Corley | Gunter | Price | | |
| Coste | Charles | Lee | | |
| Cote | Ryan | Joseph | | |
| Cothran | Brian | Alexander | | |
| Courtney | William | West | | |
| Covey | Gunner | Klein | | |
| Cramer | Christopher | Michael | | |
| Crawford | Jacob | Tyler | | |
| Creech | Robert | Sanders | IV | |
| Croft | John | Willson | | |
| Crook | Jackson | Lee | | |
| Crosby | Zachary | Shannon | | |
| Crosswhite | William | Jackson | | |
| Crowder | Robert | Lee | III | |
| Culler | Holden | Keefe | | |
| Cummings | Richard | Cole | | |
| Curtis | John | Thomas | Jr | |
| Curtis | Joseph | Edward | Jr | |
| Dalhouse | Malcolm | David | | |
| Daniel | William | Alexander | | |
| Davidson | Robert | Gage | III | |
| Davis | Jonathan | David | Jr | |
| Davis | Jonathan | Matthew | | |
| Davis | Megan | Elizabeth | | |
| Dawes | Preston | Matthew | | |
| DeGenova | Adam | Emory | | |
| Delpizzo | John | Richard | | |
| Dennen | Kaitlyn | Taylor | | |
| Dennis | James | Henry | | |
| Derrick | Daxton | Storm | | |
| DeSalle | Julianna | Marie | | |
| DeStefano | John | William | | |
| Diegel | Andrew | Benton | | |
| DiNovo | Anna | Elizabeth | | |
| DiSabatino | Jacob | Pasquale | | |
| Dixon | Chase | Beauregard | | |
| Dobin | Mitchell | David | | |
| Dobrich | Sarah | Elizabeth | | |
| Dockins | Ross | Alexander | | |
| Doherty | Oliver | Andrew | | |
| Doud | Victoria | Elizabeth | | |
| Douglas | Jared | Brian | | |
| Duane | Martin | Liam | | |
| Dunbar | Richard | H | | |
| Duong | David | | | |
| Durnan | William | Waldron | | |
| Dykens | Adam | Nathaniel | | |
| Eckert | Samuel | Cole | | |
| Edwards | Grady | Cornelius | III | |
| Eich | Ethan | Victor | | |
| Elgazar | Mustapha | Mohamed | | |
| Elliott-Ford | Trevon | Debarr | | |
| Ellmann | Timothy | Leonard | | |
| Eppley | John | Thomas | | |
| Epps | Blakely | Taylor | | |
| Ermakov | Arthur | Oleg | | |
| Erney | Joshua | Michael | | |
| Erwin | Woods | Twitty | | |
| Evans | Charles | Wade | III | |
| Evdemon | Matthew | Graham | | |
| Farr | Tyler | Grant | | |
| Feinberg | Colton | Ryan | | |
| Feldman | Parker | Joseph | | |
| Finneseth | Gunnar | Paul | | |
| Fisk | Caitlin | Saenz | | |
| Fitzhenry | Jesse | Joseph | | |
| Foggo | Ian | William | | |
| Follin | John | Thomas | | |
| Foulds | Taylor | Steven | | |
| Franklin | Hunter | Sean | | |
| Franklin | Jacob | Adam | | |
| Frazier | John | Paul | Joseph | |
| Frazier | John | Rhett | IV | |
| Fritz | Jacob | Matthew | | |
| Gaillard | Griffith | Blaine | | |
| Gambert | Kyle | Michael | | |
| Gambill | Cole | Allen | | |
| Gardner | Andrew | Ronald | | |
| Gardner | Jason | Campbell | | |
| Garrell | Raymon | Bryce | | |
| Garrett | Drake | Williams | | |
| Gates | Jacob | Isaac | | |
| Gause | William | Joseph | Ryan | |
| Geter | Aaron | Tyrek | | |
| Gibson | Cecilia | Karin | Song | |
| Gilbert | Robert | Coker | | |
| Gilstrap | Jon-Scot | Bradley | | |
| Godek | Jacob | Paul | | |
| Gonzalez | Gabriel | Andres | | |
| Graupner | David | Joseph | Jr | |
| Green | Jeremy | Christian | | |
| Greve | Richard | Arthur | | |
| Griffith | Micah | Duggan | | |
| Gudenburr | Douglas | Henry | | |
| Gunn | Paul | Alexander | | |
| Guth | Kaeleigh | Christel | | |
| Guy | Trace | Jordon | | |
| Hall | John | Randall | III | |
| Hall | Kevin | Karl | | |
| Hamilton | Chandler | Grant | | |
| Hamilton | Connor | James | | |
| Hamilton | Hunter | Blake | | |
| Hamilton | Joseph | Trammell | | |
| Hammeran | Alexandra | Lynn | | |
| Hammond | Logan | Campbell | | |
| Hammond | Matthew | David | | |
| Harley | Hart | Legette | | |
| Harrelson | Spencer | Cash | | |
| Harrington | Nicholas | John | | |
| Harris | William | Ellis | | |
| Havener | Jesse | Vere | | |
| Heath | William | Walker | | |
| Heintschel | Alexander | Jonathan | | |
| Helms | Charles | Brandon | | |
| Hembree | Brayden | Banks | | |
| Hemphill | Paul | Hardin | | |
| Henderson | Thomas | Clark | | |
| Hensley | Richard | Gunnar | | |
| Hesse | William | Patrick | | |
| Hession | Henry | Francis | Xavier | VI |
| Hester | Benjamin | Thomas | | |
| Hicks | Ian | Jeremy | | |
| Hill | Ruston | LeBarre | II | |
| Hinson | Mills | Gray | | |
| Hoefgen | Greer | Olivia | | |
| Hoffer | Ethan | Mitchell | | |
| Hohlbein | Adam | Joseph | | |
| Hohlbein | Ian | Joseph | | |
| Holliday | Johnathan | Devin | | |
| Honeycutt | Richard | Odis-Bane | | |
| Hope | William | P | IV | |
| Hough | Jason | Phillip | | |
| Howard-Whitaker | Prince | William | | |
| Howard | Robert | Louis | III | |
| Htoo | Joshua | Gaynay | | |
| Hudgens | Nicholas | Crosswell | | |
| Huff | Allen | Pierce | | |
| Hughes | Shane | Jefferry | | |
| Huntington | Ryan | Matthew | | |
| Hutchins | Quintin | Bentley | | |
| Inglis | John | Brewer | | |
| Jablonski | Vincent | Edward | | |
| Jackson | Ashley | Monique | | |
| Jackson | Ryan | Austin | | |
| Jacobs | William | Harrison | | |
| Jalbert | Hannah | Rae | | |
| Jeffcoat | Braxton | Sharron | | |
| Jeffords | Davis | Marion | | |
| Jennings | James | Patrick | | |
| Jensen | Cameron | Douglas | | |
| Jhang | Rong-Rong | | | |
| Jhang | Rong-Rong | | | |
| Johnson | Jonathan | Michael | | |
| Johnson | Logan | Marie | | |
| Johnson | Nikolaus | Raymond | | |
| Jones | Nikolas | Michael | | |
| Jones | Olivia | Donetta | | |
| Just | Alex | Joseph | | |
| Kamara | Ballah | Yaroh | | |
| Karitis | Joseph | William | III | |
| Karres | Gus | Michael | | |
| Kellam | Meridith | Clarke | | |
| Kelley | James | Dillard | | |
| Kelley | Liam | Clyde | | |
| Kennedy | Matthew | Jordan | | |
| Kent | Charles | Cameron | | |
| Kent | Jesse | Louis | | |
| Ketphan | Phromnachanok | | | |
| Khan | Fauzan | Ahmed | | |
| Kicklighter | Bradford | David | | |
| Kidd | Aidan | Christopher | | |
| Killough | Noah | Lance | | |
| Kilpatrick | Austin | Chandler | | |
| Kim | Bryan | Jongin | | |
| Kim | Yoon | | | |
| King | George | Shields | III | |
| Kinsey | Chase | Bronson | | |
| Kinsey | Dacota | Nicholas | | |
| Kirscht | Devin | Maureen | | |
| Kiser | Eugene | Pickens | Jr | |
| Klassen | Benjamin | Charles | | |
| Klauber | Caroline | Sims | | |
| Krone | Victoria | Grace | | |
| Kuchta | Denis | James | III | |
| Lavallee | Zachary | Neil | | |
| Lee | Sae-Eun | | | |
| Lemmons | Leland | Alexander | | |
| Lentz | David | Michael | | |
| Lewis | Parker | Alexander | | |
| Lewis | Thomas | Charles | | |
| Lima | Michael | Assis | | |
| Lindsey | Sloan | Addison | | |
| Lipscomb | Brett | Arthur | | |
| Lipscomb | James | Edwin | | |
| List | Mitchell | Ferguson | | |
| Livingston | Nicholas | Reid | | |
| Lovick | Coleman | Brentley | | |
| Lowe | Elijah | Jeremiah | | |
| Lowery | Thomas | Michael | | |
| Lucas | Brady | Joseph | | |
| Lucillo | Jial | Alain | Jaca | |
| Ludwigsen | Dillon | Von | Red | |
| Mabry | Michael | Brian | | |
| MacDonald | Austin | Robert | | |
| Madden | Ethan | Tyler | | |
| Madden | Landon | Ford | | |
| Mai | Koy | Adam | | |
| Major | Evan | Collins | | |
| Maldonado | Kimberly | Sherry | | |
| Mappus | Andrew | Michael | | |
| Markiewicz | Zachary | Joseph | | |
| Marsh | Jakob | Ian | | |
| Martin | Brian | Thomas | | |
| Martindale | Trent | Watkins | | |
| Martinez | Joseph | Luke | | |
| Martinez | Kalvin | | | |
| Marzitelli | Jaron | Jeffrey | | |
| Mason | Emily | Rose | | |
| Massey | William | Spencer | | |
| Mathis | William | Richard | | |
| Matthews | Justin | Bryant | | |
| McAlear | Alexander | Thomas | Hugh | |
| McAleavey | Michael | Francis | Jr | |
| McAlpin | Matthew | Owen | | |
| McCann | Dennis | Paul | Jr | |
| McClary | James | Frank | III | |
| McCormick | Kyle | Thomas | | |
| McDonald | Connor | Joseph | | |
| McDonald | David | Evan | | |
| McDougal | William | Gregory | | |
| McDowell | Daniel | Henry | Jr | |
| McEntyre | Drew | Jordon | | |
| McGee | Jeffrey | Hunter | | |
| McIntosh | Kory | Jordan | | |
| Meacham | Jason | Andrew | | |
| Meetze | Dylan | Baker | | |
| Melville | Alec | James | | |
| Mewhorter | Michael | Vincent | | |
| Miller | Isaha | Fox | | |
| Mills | Zachary | Raymond | | |
| Minaudo | Anthony | Philip | | |
| Minor | John | Raymond | IV | |
| Mitchell | Gage | Chandler | | |
| Monteiro | Josef | Gianni | | |
| Moon | William | Clyde | III | |
| Moore | Hunter | Allen | | |
| Moore | Trace | Nevin | | |
| Moran | Lucas | Matthew | | |
| Morgan | David | Walker | | |
| Morris | Sierra | Marie | | |
| Morton | Samuel | Alexander | | |
| Moser | Cash | Selby | | |
| Mueller | Gabriel | Ashton | | |
| Mueller | John | Andrew | Jr | |
| Mullally | Brenden | Blair | | |
| Mundy | James | Patrick | Updyke | |
| Murdaugh | Brian | Thomas | | |
| Murray | Michael | Thomas | Jr | |
| Nance | George | Chandler | | |
| Nations | Austin | Lee | | |
| Nawabi | Noah | Lee | | |
| Neal | Haylee | Dakota | | |
| Neal | Landen | Mitchell | | |
| Neeley | Jordan | Elizabeth | | |
| Nettles | Joshua | David | | |
| Neu | Zacarias | Hunter | | |
| Newman | James | Edward | Jr | |
| Newman | Turner | Champ | | |
| Newton | Andrew | Russell | Lee | |
| Nichols | Timothy | Mitchell | | |
| Niehoff | Adam | John | | |
| Offredo | Sébastien | Daniel | Jean | |
| Ortiz | Dillon | Antonio | | |
| Osborne | Addison | Leroy | III | |
| Owens | Brandon | Christian | | |
| Pack | Lewis | Gerald | III | |
| Packard | Ian | Christian | | |
| Padgett | Hadyn | Alexander | | |
| Page | Jessy | Lenea | | |
| Parker | Gavin | Andrew | | |
| Parker | Sebastian | Noah | | |
| Parker | Zachary | Lucas | | |
| Parry | Evan | John | | |
| Passarelli | Michael | Adam | | |
| Peckham | Jacob | Tyler | | |
| Peña | Hernan | Elias | III | |
| Pessagno | James | Paul | II | |
| Peterson | Nathaniel | Zane | | |
| Pflieger | Donovan | Wyatt | | |
| Phillips | Samuel | Jacob | | |
| Pillsbury | William | George | | |
| Pippins | John | Cameron | | |
| Polk | Chandler | Griffith | | |
| Price | Tierra | Natia | | |
| Priester | Antoinette | Rio | | |
| Prince | Austin | Barry | | |
| Puckett | Hunter | Lee | | |
| Pyritz | Jack | Logan | | |
| Quimby | James | Rea | | |
| Quinn | Ryan | Charles | | |
| Ramutkowski | Jeffrey | Anthony | | |
| Randall | Marcell | Herbert | Jr | |
| Randolph | Joseph | Leon | II | |
| Ransom | Matthew | James | | |
| Ray | Michael | Elbridge | II | |
| Reeves | Harrison | Lee | | |
| Reihl | Aaron | Livingston | | |
| Reinhart | Nicholas | Graham | | |
| Renda | Sebastian | Frank | | |
| Rhyne | Paul | Neal | II | |
| Richardson | Bailey | Elisa | | |
| Richerson | Jake | Lane | | |
| Richmond | Dereck | Tyler | | |
| Rickenbaker | Grayson | Alexander | | |
| Riddle | Lake | Garrison | | |
| Rider | John | Lingle | II | |
| Ridge | Colby | Ryan | | |
| Riegerix | Colleen | Jean | | |
| Riley | Hayden | Thomas | | |
| Riley | Rashad | Jermaine | | |
| Riley | William | Michael | | |
| Rivers | Nicholas | Clark | | |
| Rizzo | Nicholas | Xavier | | |
| Robinson | Robert | Carlton | | |
| Robinson | Tyler | Odel | | |
| Rodgers | Natalie | Laura | | |
| Rodriguez | Caricia | | | |
| Roides | Joshua | Michael | | |
| Rollings | Jack | Powers | | |
| Roof | Chadd | Davis | | |
| Ross | Huntor | Joseph | | |
| Rossbach | Skyler | Lee | | |
| Rossi | John | Cole | | |
| Rozanski | Riley | Gerald | | |
| Ruble | Robert | Tucker | | |
| Russell | Christopher | Gage | | |
| Ryan | Patrick | Andrew | | |
| Salazar | Matthew | Thomas | | |
| Sanchez | Martinez | Daniela | Amida | |
| Sandifer | John | Alexander | Rutland | |
| Santiago | Samuel | Lloyd | | |
| Sauls | Isaac | Duncan | | |
| Savage | Hunter | Chance | | |
| Sawicky | Neel | Michael | | |
| Schall | Kyle | Andrew | | |
| Scheuer | Michael | Francis | | |
| Schindler | Jake | Allen | | |
| Schlageter | Logan | Pitts | | |
| Schoonover | Grant | Joseph | | |
| Schrieks | Christopher | | | |
| Segars | Turner | Wells | | |
| Shave | Christian | Cullen | | |
| Sheriff | Colton | Reid | | |
| Shugart | William | Ware | | |
| Simmons | Thomas | Crispin | | |
| Simon | Jeff | Kenna | | |
| Smith | Cole | Stephen | | |
| Smith | Connor | Michael | Theodore | |
| Smith | Hunter | Wes | | |
| Smith | Samuel | Hudson | | |
| Smith | Troy | Vasily | | |
| Snell | Maxx | Oliver | | |
| Snyder | Richard | Benjamin | | |
| Sobota | Hailey | Nicole | | |
| Sotile | John | Chase | | |
| Spoehel | Elizabeth | Schuyler | | |
| Sposato | Cole | James | | |
| Stansberry | Kimberly | Andra | | |
| Stone | Chandler | DuRant | | |
| Suber | Khari | Troyé | | |
| Sullivan | Raymond | Alan | | |
| Summerford | Zachary | Curtis | | |
| Taglieri | Zachary | Michael | | |
| Tallon | Daniel | Evan | | |
| Taylor | Kenneth | Wyman | | |
| Terris | Kyle | Carter | | |
| Terry | Oliver | Wendell | | |
| Thompson | Scott | James | | |
| Tia | AnaMalae | Lealofiamoa | | |
| Triplett | Joshua | Allen | | |
| Tripp | Zachary | Thomas | | |
| Trocha | Nicolás | Correa | | |
| Urbanic | Jonathan | Raymond | | |
| Van | Zyl | Willem | Jacobus | |
| Vargas | Paul | Vincent | | |
| Vargo | Kenzie | Nicole | | |
| Viado | Christopher | Glen | | |
| Viteri | Anthony | Giuseppe | | |
| Vlass | Tyler | Joseph | | |
| Voskian | Vayk | | | |
| Waldrop | Patrick | Quinn | | |
| Wallace | Adam | Alexander | | |
| Walrath | Brycen | Orcino | | |
| Walton | David | Parker | | |
| Ward | Jackson | Carlisle | | |
| Warner | Cameron | Paul | | |
| Warner | Ethan | Daniel | | |
| Warren | William | Daniel | | |
| Washington | Devan | Keanu | | |
| Way | James | Daniel | | |
| Weakland | Mark | Matthew | | |
| Weatherholt | Dante | Robert | | |
| Wentworth | Timothy | Jacob | | |
| Werder | Michael | Everett | | |
| West | Jaylin | Tyree | | |
| West | Matthew | McKinley | | |
| Westmoreland | William | Harley | Logan | III |
| Wheeler | Colin | James | | |
| Williams | Edgar | Beck | | |
| Williams | Eric | O'Cyrus | | |
| Winston | Brandon | Michael | | |
| Wisniewski | George | Joseph | | |
| Wittman | Andrew | David | II | |
| Wode | Christopher | Ian | | |
| Woodbury | Tristan | Philip | | |
| Woods | Richard | Donnie | | |
| Wratislaw | David | Leslie | Jr. | |
| Wright | Denzel | Ray | | |
| Wyble | Darrian | Robert | | |
| Ye | Huazhou | | | |
| Yongue | Webb | Alston | | |
| Young | Bratton | Frank | | |
| Zeigler | Brennen | Alexander | | |