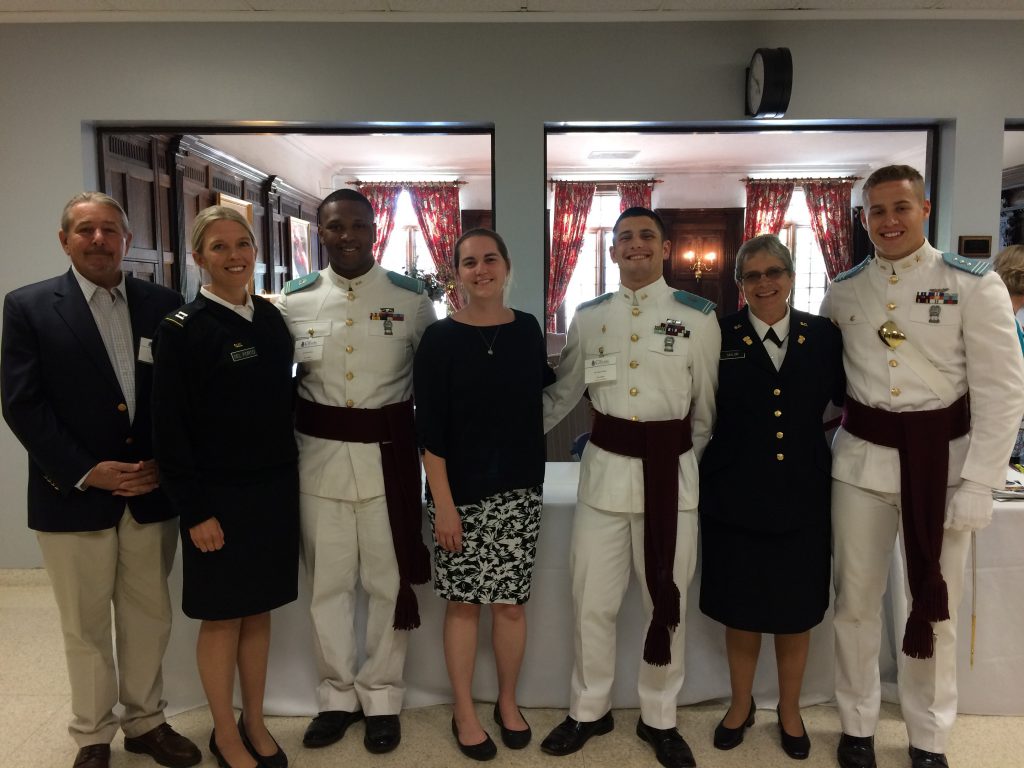 Citadel cadets, faculty and partners are being recognized for their commitment to service learning and civic engagement by South Carolina Campus Compact (SCCC). SCCC is a coalition of 17 South Carolina colleges and universities that collaborate to promote and develop the civic purposes of higher education.
As a SCCC member, The Citadel annually nominates candidates for the South Carolina Civic Engagement Leadership Awards. All nominees were honored, and some won statewide awards, during the 2018 Civic Engagement Leadership Summit on Friday, April 13. The nominees were recognized on campus during an awards ceremony on Friday, April 20.
Cadets committed to service
Cadet Col. Dillon Graham was recognized as honoree of the South Carolina Student Service Achievement Award for his commitment to community service and service learning endeavors on campus and within the community. Graham is The Citadel's Class of 2018 regimental commander, the highest-ranking member of The South Carolina Corps of Cadets. Under his leadership, cadets performed more than 20,000 community service hours and increased participation in The Citadel Service Learning and Civic Engagement programs. Additionally, Graham personally conducted weekly tutoring classes at nearby Burke High School, helped resurrect the Alternative Spring Break programs and led highly successful pre-health society initiatives like "Light the Night" and "Cadets for a Cure".
Cadets of Tango Company were also honored for their volunteer work. As a company, they are on track to break the school record for documented service hours in one academic year. Because of their thousands of hours of work, which include mentoring younger students and assisting disaster victims, Tango Company was recognized as honoree of the South Carolina Student Organization Achievement Award.
Additionally, Cadet Michael Rice was named 2018 Newman Civic Fellow for his contributions to The Citadel's community engagement programs. Rice pursued higher education despite the stress and disruption of losing his mother and is now among the first generation in his family, along with his older sister, to attend college. He now uses his personal experiences to mentor high-risk elementary and middle school students and encourage local African-American students to overcome obstacles and reach their potential.
Faculty inspiring campus engagement
Jennifer Albert, Ph.D., director of The Citadel STEM Center of Excellence, was recognized as honoree of the South Carolina Faculty Award for Service Learning for her commitment to establish a culture of engagement on the college's campus. Albert's work as co-leader of The Citadel's annual Storm The Citadel competition and summer STEAM Camp brings thousands of K-12 students to the college's campus for hands-on activities. Through the STEM Center of Excellence, Albert also helped initiate The Citadel Sustainability Project, which provides cadets the opportunity to learn about growing sustainable food sources in controlled, indoor spaces.
Gervais Hagerty Del Porto was honoree of the South Carolina Civic Engagement Professional Award. Del Porto, director of The Patricia McArver Public Speaking Lab, was recognized for her contribution toward inspiring a vision of service on the college's campus. As director of the lab, Del Porto has coached Citadel students, faculty and staff to become effective speakers and moving presenters.  She has also led The Citadel's annual Henry Dale Smith Corps-Wide Speaking Contest and advised the popular campus toastmasters club, El Cid Toastdawgs.
Community partner educates outside the classroom
Citadel partner Sweetgrass Gardens Co-op was the recipient of the statewide South Carolina Engaged Community Partner Award for their sustained collaboration with the college.
The co-op provides free local produce to charitable food distribution agencies, including Lowcountry Food Bank, Our Lady of Mercy Community Outreach and One80 Place.
The owners, Dale Snyder and Jennifer Wicker, frequently collaborate with The Citadel to grow produce and educate cadets about the farm-to-table process. They also work with The Citadel community to educate others on sustainable and organic farming and food distribution.