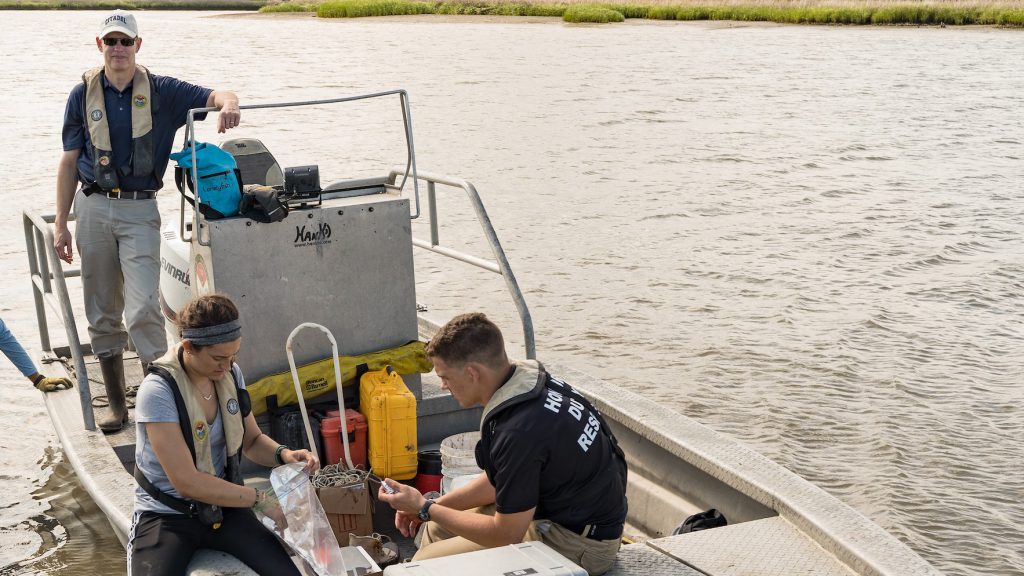 The chair of The Citadel Biology Department, John Weinstein, Ph.D., is leading change through ongoing, collaborative environmental toxicology research related to the impacts of degrading plastics and tires on waterways and marine life.
The research is conducted by undergraduate cadets and graduate students, in conjunction with funding Weinstein and the college have received from the S.C. Sea Grant Consortium, National Science Foundation and other sources.
Several continuing projects are underway, with the most recent being a study into micropastics in sea life and how that may impact human health. This research is being conducted as part of the Center for Oceans and Human Health and Climate Change Interactions collaboration funded by the National Institute of Environmental Health Sciences.
Addtionally, in 2018, Weinstein published a first of its kind study into what he describes as the biggest polluter: tire micro-particles that have washed off of bridges and roadways as long as vehicles using tires have existed. The natural Resources Defense Council and National Geographic are among the entities that published the results of this research.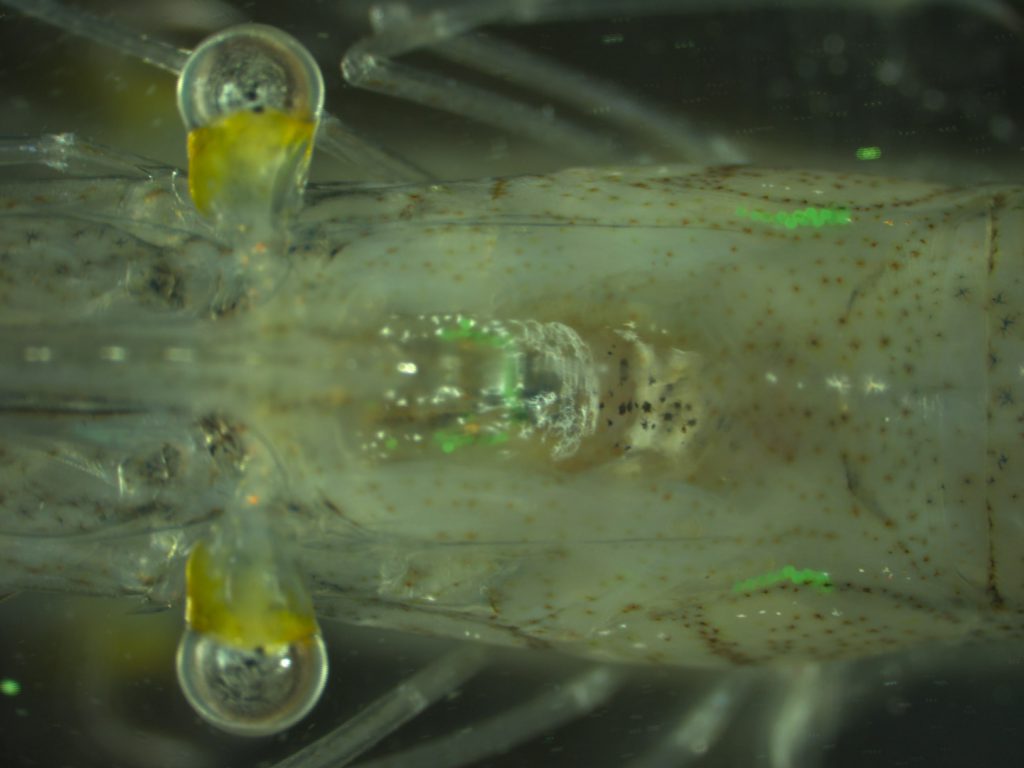 Some of Weinstein's earlier work assessed the volume of plastic refuse in the Charleston coastal area. Another examined how tiny brine shrimp respond after ingesting microscopic beads of polypropylene, a type of plastic used in bottle caps and food containers.
One of the first comprehensive findings reports from the research proved that plastic refuse in the state's coastal marshlands is breaking down into micro-particles much more rapidly than previously understood, and that the plastic spheres are commonly ingested by tiny grazing sea creatures, eventually killing them.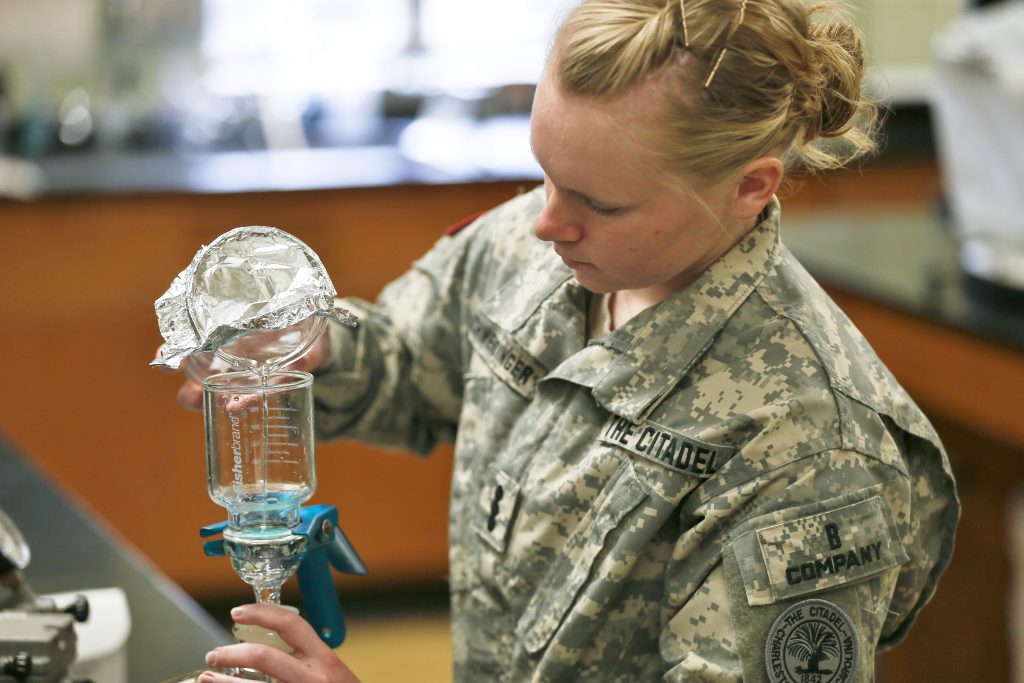 The work demonstrates that microscopic plastic particles can be just as hazardous to sea life as whole plastic bags and other larger debris, and that beach and marsh clean up sweeps are needed frequently to remove plastic waste as quickly after it enters the salt marsh environment as possible.
Related news reports and publications
Citadel professor finds not all plastic is equal in study on decomposition
The Post and Courier
Company accused of polluting ocean with plastic has an ally: SC ports
The State
Degradation of bio-based and biodegradable plastics in a salt marsh habitat: Another potential source of microplastics in coastal waters
Marine Pollution Bulletin

Would you believe that microplastic particles from tires are making their way into our oceans?
@Pattrn (The Weather Channel)
Following up: Thoughts from Dr. John Weinstein after plastics pollution discussions with French leaders and scientists
The Citadel Today
Weinstein research used as reference in Charleston single use plastic bag ban
The Post and Courier
Tires, the plastic polluter you never thought about
National Geographic
The Lowdown: Plastics Research
OHM Radio
Pondering Plastic – Wildlife, Bans and Trash
South Carolina Public Radio
Traces of plastic found in Columbia's drinking water and rivers: researchers not surprised
The State
Tire particles found in Charleston waterways, researchers say
WCIV-TV, ABC4
Diseases form the sea being studied by 3 South Carolina colleges.
The Post and Courier
Tires: An Emerging Threat to Our Waterways, Our Seafood, and Ourselves?
National Resources Defense Council
Car tires and brakes spew harmful microplastics
Science News for Students
Plastics: The Final Straw?
Gimlet Media
Plastic scraps from Charleston Harbor make for trashy art
The Post and Courier
New South Carolina water pollution research from The Citadel points to tires, eco-plastics.
The Post and Courier
The global plastic breakdown: how microplastics are shredding ocean health
Coastal Heritage newsletter
Awash in wastes; Study says tons of plastic in Charleston Harbor
The Post and Courier
Report finds tons of plastic in Charleston Harbor
Washington Times
Plastic bag ban on Isle of Palms has Council support, officials say
The Post and Courier
Trash in the water ends up in the drink; The Citadel studies how much
The Post and Courier
The problems with plastics in S.C. waters
The Times and Democrat, from The Post and Courier.
Study says tons of plastic in Charleston Harbor. The Post and Courier and 30+ other news outlets nationwide