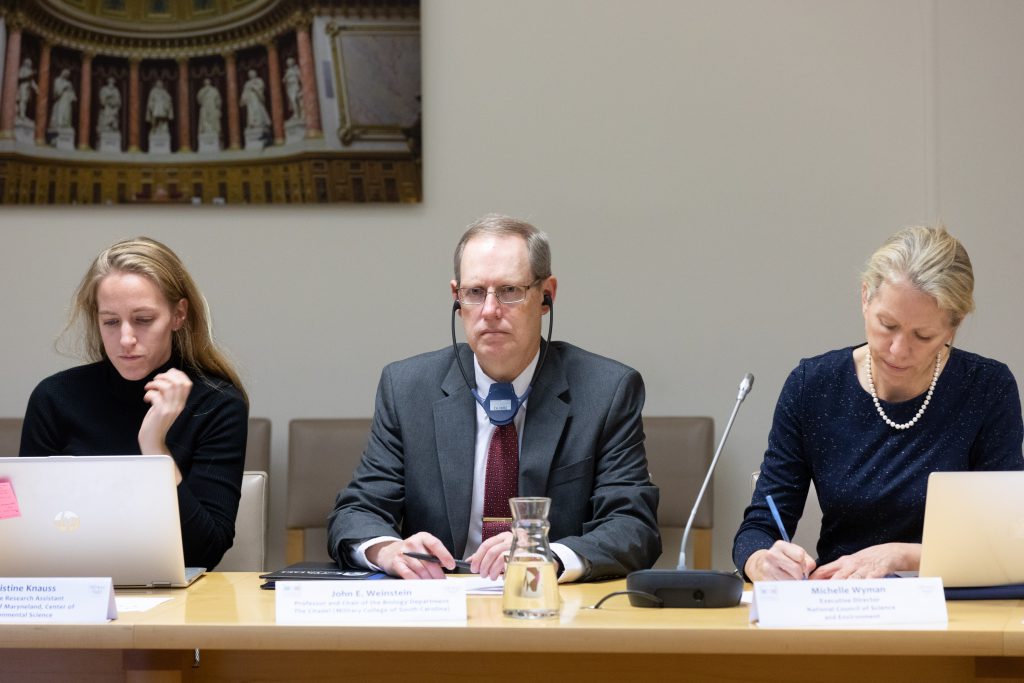 Photo above: Citadel ocean toxicology researcher, Dr. John Weinstein wearing translation device while appearing before special committee of French lawmakers looking into plastic pollution in the world's oceans. Weinstein was requested for two events in France: a roundtable with the Parliamentary Office for Scientific and Technological Assessment and a French-American microplastics workshop. He provided these reflections upon his return.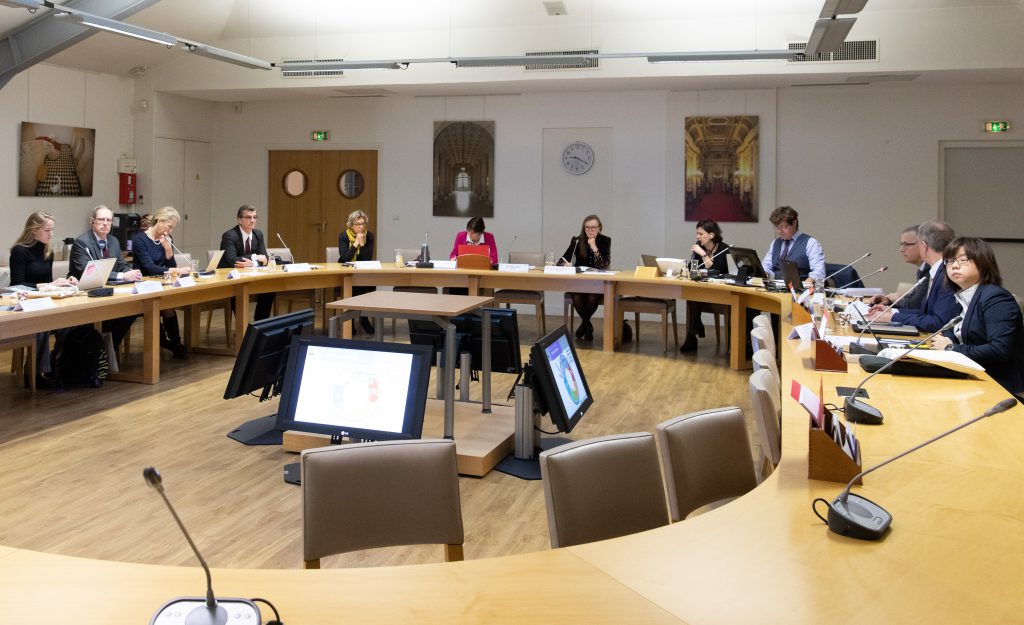 The Parliamentary Office for Scientific and Technological Assessment (OPECST) has recently launched a study on plastic pollution. Senator Angèle Préville for Lot and Député Philippe Bolo for Maine-et-Loire were nominated to carry out this study. They have been holding weekly meetings on this topic with various stakeholders for the past several months. On December 11, they held a roundtable discussion to learn more about what is happening in the United States concerning plastic and microplastic pollution studies. I was one of six American scientists to present ongoing research findings at this meeting. The roundtable was sponsored by the National Council for Science and the Environment, and the French Embassy's Office of Science and Technology.

Following the OPECST meeting in Paris, the two parliamentarians then traveled to Le Mans, France to attend the French-American Workshop to learn more about the current state of the science from other French and American scientists.

Personally, I was impressed with Senator Préville's and Député Bolo's engaged leadership, their desire to learn more from both French and American scientists on the current state of our knowledge of the impacts of ocean plastic, and their commitment to address this global problem. I hope their approach to making data-driven policy recommendations can serve as a model on how we address complex, multi-stakeholder, international problems.

The workshop served as a forum by which scientists from both France and the United States could learn more about on-going research projects, challenges, and opportunities that we each face on this topic. It was clear that although our scientific knowledge on the impacts of plastics and microplastics continues to grow, critical uncertainties are still present.

I am optimistic that by sharing our research results and our commitment to pursue joint research collaborations in the future, we will be able to help shape cross-national strategies on how to deal with this global problem.

John Weinstein, Ph.D., chair for the Department of Biology, professor of physiology and aquatic toxicology researcher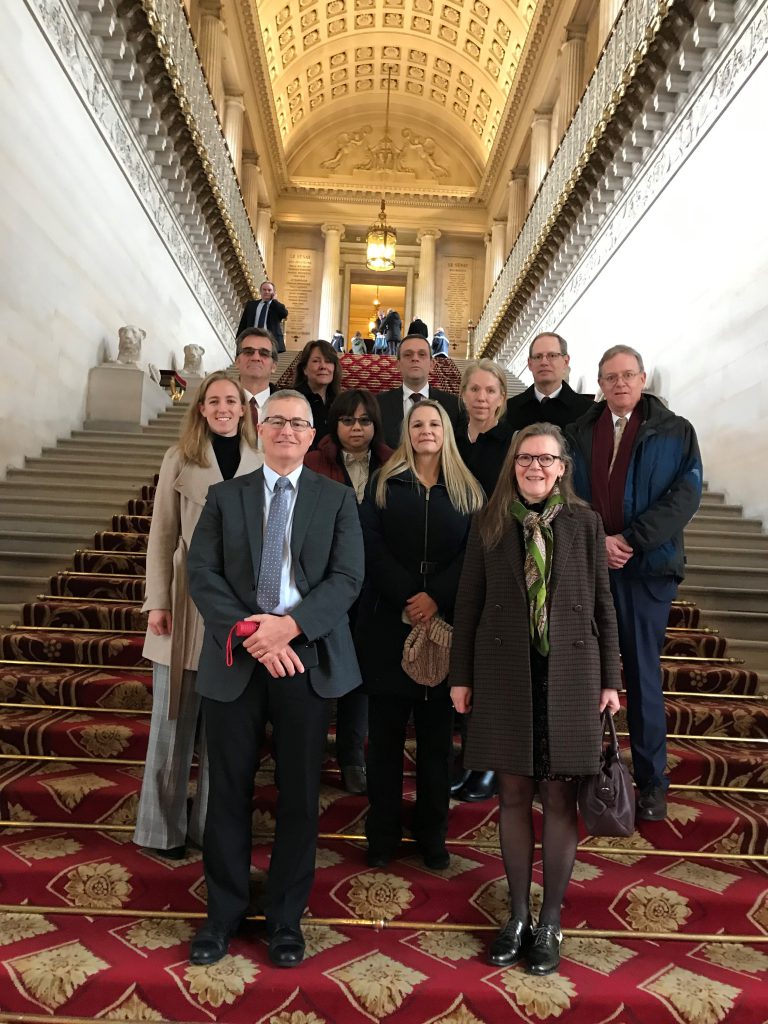 Original story from Dec. 6, 2019: Leading microplastic pollution researcher, Dr. John Weinstein, to address French Parliament
One of the America's leading scientists investigating plastic pollution in oceans and inland waterways, Citadel professor John Weinstein, Ph.D., will share his discoveries with French lawmakers, government officials and with other scientists during events Dec. 10 and 11 in France.
Weinstein, whose research into microplastics pollution in waterways was recently featured in National Geographic and Pattrn (The Weather Channel), is being flown to Paris at the request of the French Embassy.
He will participate in a microplastics pollution workshop in Le Mans, with the French Agency for Food, Environmental and Occupational Health & Safety, French National Centre for Scientific Research (CNRS), the French Research Institute for Exploitation of the Sea, and the National Science Foundation and National Oceanic and Atmospheric Administration.
As part of the trip, Weinstein will participate in roundtable hearings in Paris with the Parliamentary Office for Scientific and Technological Assessment (OPECST). The gathering will include députés (legislators) of the French National Assembly, as well as other American and French scientists.
"OPECST recently launched a study on plastic pollution," said Weinstein, "and is interested in learning more about ongoing microplastics research in the U.S., including ours at The Citadel. I am honored to be included in these meetings."
Weinstein is leading change through ongoing, collaborative aquatic toxicology research conducted at The Citadel in Charleston, South Carolina. The Citadel campus is boarded by tidal marshes and by the Ashley River.
The research is conducted by undergraduate cadets and graduate students, in conjunction with funding Weinstein receives from the S.C. Sea Grant Consortium, National Science Foundation and other sources. Weinstein and his students discovered that plastic items break down much more rapidly in coastal waters that anyone knew, that particles wearing off of tires are among the most prolific microplastics and that there are microplastics in bottled beverages and in some local municipal drinking water.
Addtionally, Weinstein is one of the scientists supporting a five university oceans, human health and climate change alliance funded by the National Institute of Environmental Health Sciences.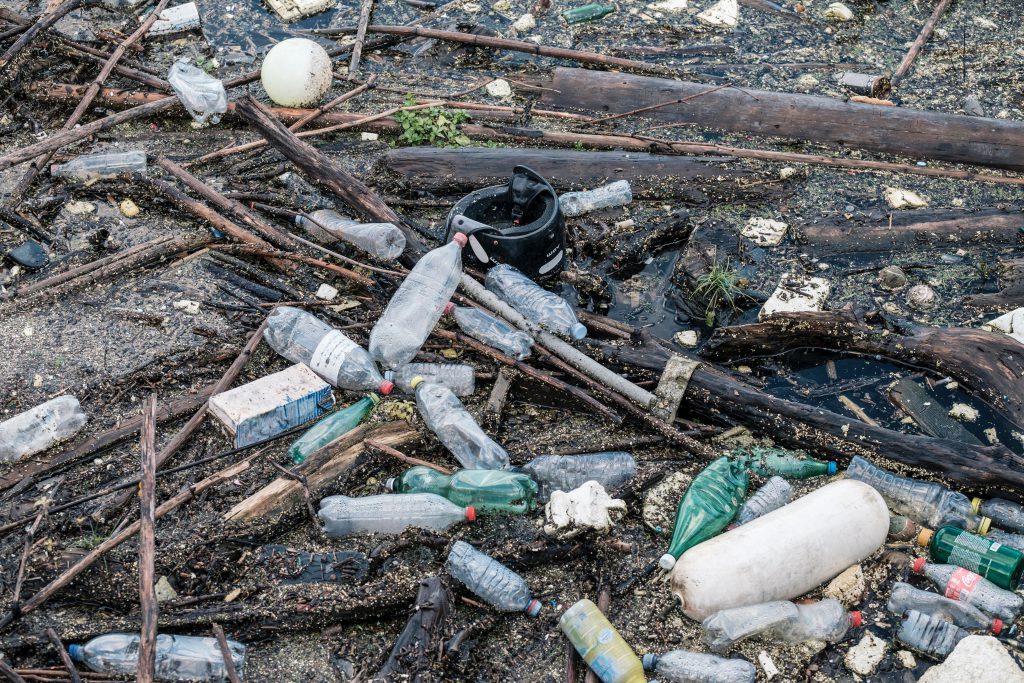 To read more about Weinstein's discoveries visit The Citadel Today newsroom here.