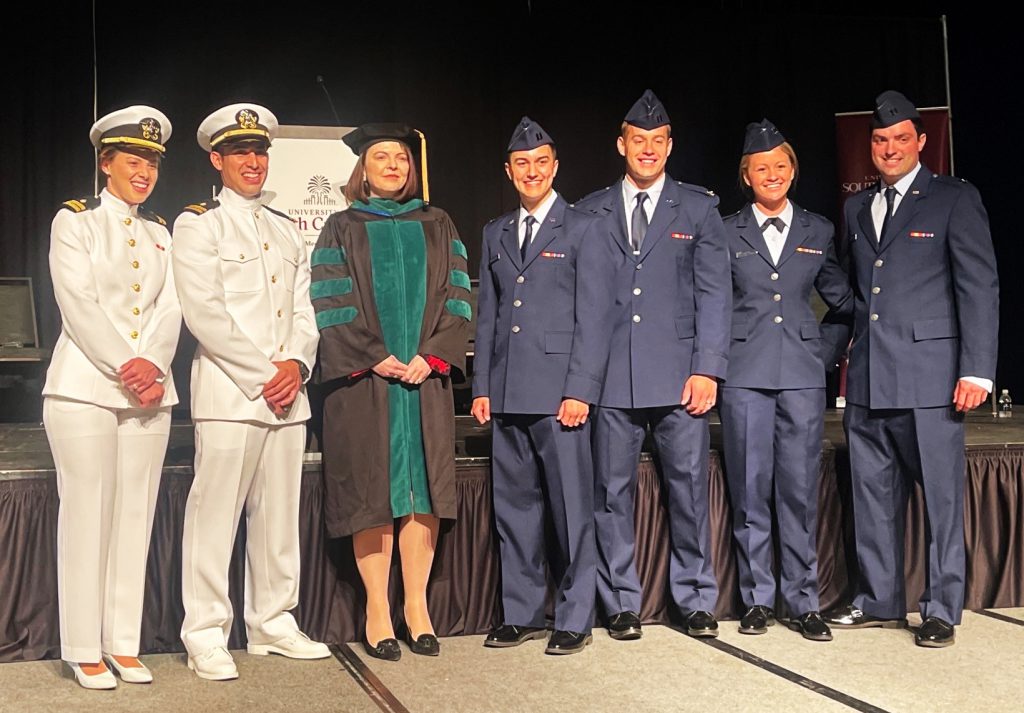 Photo above: Lt. Fernando Gonzalez, USN, The Citadel Class of 2016 seen second from the left, and Cpt. Dillon Graham, USAF, The Citadel Class of '17, pictured fifth from the left pose with their classmates at the University of South Carolina Greenville Medical School graduation on May 6, 2022. Photo credit: Dr. Sarah Imam, The Citadel.
Two military doctors, an Air Force medical student and an Army nurse: all becoming servant leaders in medicine
The Citadel Director of Health Sciences, Sarah A. Imam, M.D., had two reasons to attend the University of South Carolina Greenville Medical School graduation. Drs. Fernando Gonzalez, The Citadel Class of 2016 and Dillon Graham, '17, both completed the shared career goal of becoming medical doctors.
"It's been an absolute pleasure being a part Fernando Gonzalez's journey to becoming a doctor. He was a student and advisee of mine while he was a cadet at The Citadel, graduating in 2016. Now he is a medical school graduate, finishing in May, and is off to an Emergency Medicine Residency in Virginia in addition to serving in The United States Navy Reserve as a medical officer," Imam shared following the ceremony.
Additionally, Imam was on hand to congratulate Capt. Dillon Graham, The Citadel Class of 2017 Regimental Commander.
"Dillon is a new medical doctor and a newlywed. His next step is going to a surgery residency in Greenville in addition to his promotion to captain in the Air Force. It was an exciting day and The Citadel was very well represented," Imam added.
Every year cadets graduate from The Citadel to go on to medical school, becoming nurses, physician's assistants or physical therapists. Imam says the college provides four years of pre-health guidance to help the cadets realize those goals.
"One of our Class of 2022 cadets who was a business major is going to medical school. Though biology might be a common pre-med major, is important to understand you can be any major and still go into medicine," Imam stressed. "At The Citadel, we normally have 60 to 70 pre-health cadets with a variety of majors, plus our nursing majors. We make sure all cadets interested in health careers are accurately advised."
Programs are in place at The Citadel where the cadets and students "simply have to be engaged in the two health career clubs to gain all the competencies that are needed to be considered for competitive medical programs after graduation," Imam said.
Some of the benefits for cadets and students participating in The Citadel's Pre-Health Society and Alpha Epsilon Delta, The Health Preprofessional Honor Society, include:
Discounted prep programs paid for with regular tuition (or GI Bill® funds for veteran students)
Scholarships
Research opportunities
Mentor and job shadowing matches
Healthcare study abroad service experience
Organized and vetted volunteering opportunities
"These opportunities are carefully curated for the cadets and students to make their path to medicine a direct one," Imam said.
Read about other Corps alumni who are successfully entering medical service below and here.
2nd Lt. Bennett Lucas, '22, a U.S. Air Force-funded medical student
His service to others while a member of the South Carolina Corps of Cadets included serving as Alpha Company Commander. Now, 2nd Lt. Bennett Lucas's service to country is getting underway as the recipient of a coveted Air Force Health Professional Scholarship Program (HPSP) slot. The program covers his tuition at the University of South Carolina School of Medicine: Columbia along with living expenses, with his commitment to serve as a medical officer for at least four years after that.
Lucas's classmate, Cadet Olivia Hime, also bound for medical school, asked him and their peer, Malcom Jackson (below), a few questions about their experiences to date.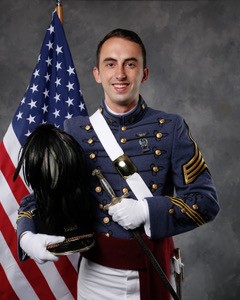 Where are you from?
I am from Lexington, South Carolina. The most unique part of Lexington is that it has the "small-town" feel, but is close to the capital city of Columbia, as well as being a short drive to the beach or to the mountains. My family had land growing up and raised horses and chickens, so there was always plenty of work to be done as a kid.
What was the best part of being a cadet at The Citadel?
I think the best part of being a cadet is the relationships that you build. Whether it is with classmates or faculty members, The Citadel's campus community is a really close one. This unique aspect has helped me in countless ways.
What inspired you to pursue a career in medicine? What do you plan to specialize in?
I decided to pursue medicine after an introductory Health Science course in high school. Since then, I have shadowed and had internships with many physicians who have guided me in pursuing this career path. I want to be a physician simply because I love people.
During my junior year as a First Sergeant in Sierra Company, a cadet fell over a third floor railing onto the quad. She was in my company, and I was one of the first people to rush to her side. Along with a few other cadets, we were able to stabilize her, and I called for an ambulance. I followed her to the hospital and stayed in the waiting room of the ER until her parents were able to meet us there. It was one of the most traumatic and impactful experiences I have had in my life and pushed me to continue pursuing a career as a physician.
I think medicine is one of the most humbling professions, and I'm excited at the prospect of building relationships and serving those around me. I plan on specializing in either cardiovascular or general surgery. I want to use my hands to serve those in critical need.
What is the hardest obstacle you overcame at The Citadel? In your journey to practice medicine?
The hardest obstacle I overcame while at The Citadel and in my journey to practice medicine was taking the MCAT. I took the test for the first time in January of my junior year. I didn't put nearly enough time into preparing for the exam and my score reflected that. It was a huge setback and made me really question whether I had what it took to get into medical school. I used that experience as a motivator to study and prepare to take the MCAT again. After a second attempt, I scored high enough to get into medical school. What I thought would be a huge setback and obstacle turned into a motivator that I used to push myself toward success.
What do you like the most about the medical field? Is there anything you feel needs improvement?
I love that I can work hard to be prepared to help people who can't help themselves. If I could change one thing about the medical field, it would be the medical disparities present in low-income areas. Especially in South Carolina, there are many places and people who don't have access to sufficient healthcare. This should be considered a right, available to all regardless of socioeconomic status or class.
What is something you learned at The Citadel that you will take with you?
One thing I learned at The Citadel is that stress is artificial. Stress is an internal reaction to external factors, and it is up to you to decide whether or not you're going to let things turn into stress.
What advice would you give someone following in your footsteps?
I would tell them to never stop putting yourself out there. Go for the positions of greater responsibility, apply for the internship you don't think you'll get and take chances. You'll never be successful or achieve your highest potential unless you aim high. You'll be amazed at the pieces that fall into place when you try. The worst that can happen is you get told no.
2nd Lt. Malcolm Jackson, '22, Army nurse focused on caring for military families and veterans
Tell us about your hometown
I'm from Bloomingdale, Georgia. It is a smaller city that is often overshadowed by its neighboring city, Savannah. Growing up in this area was unique in that it provided me with a diverse and geographically complex environment. Many athletic camps and summer programs I attended were hosted in the city of Savannah, while I grew up and attended school in the countryside.

What was the best part of being a cadet at The Citadel?
The best part of being a cadet at The Citadel was the challenges that I had to overcome to progress and grow my cadet career. I was raised to never quit and readily accept challenges, which often helped me develop my overall character, demeanor and discipline.
What inspired you to pursue a career in medicine? Are you planning to specialize in one area?
My family was the biggest influence on my career choice. My sister and my aunts were constantly beacons of success and happiness in their nursing careers. In my senior year of high school, I often visited and cared for my great-grandfather, which also pushed me to choose a medical profession that would have the most patient-practitioner interaction. I am grateful for the relationship I developed with my great-grandfather as a result of the care I provided him. This, along with the opportunities to learn and practice medicine, cemented nursing as my desired career of choice.
I plan on specializing in Psychiatry or Critical Care for active duty, veterans, their families and the surrounding communities. I understand that mental health is at a critical point in today's society and we need support for our armed services. This is where I believe I can have a profound impact on people's lives.
What was the hardest obstacle you overcame at The Citadel? In your journey to practice medicine?
The most difficult obstacle I overcame at the Citadel was my own complacency. My sophomore year roommate, along with my parents, motivated me to make the most of the opportunities provided at The Citadel. In my journey to practice medicine, the largest obstacle is the uncertainty that comes with inexperience and building confidence to an extent where you can actively recollect and apply knowledge from the classroom.
What do you like the most about the medical field? Is there anything you feel needs improvement?
What I like most is the ample opportunity to improve the lives of patients in different areas of healthcare practice. If there was anything to improve, that which is most important to me would be the regulation of nurse to patient ratio designed by governing boards of nursing professionals.
What is something you learned at The Citadel that you will take with you?
I've learned many concepts and takeaways that I've adopted into my way of thinking. Of these, I will always remember to lead without recourse. This means doing the right thing even when no one is looking and ensures a confident leader who will navigate morally and ethically through any adverse situation.
What is your next step?
After graduating from The Citadel I will study for my NCLEX and, after passing, proceed to my Basic Officer Leader Course in San Antonio, Texas. Ideally, I would like to be stationed in Washington D.C. to work at Walter Reed Hospital. I feel this would be a great learning opportunity and work environment.
What advice would you give someone following in your footsteps?
My only advice is to put your heart into everything you do. If you put your effort and care into your tasks, obligations or job, you will gain from it in one way or another. One of the most underappreciated gifts is often character development. We are growing as long as we live. Our only limit is what we place on ourselves.