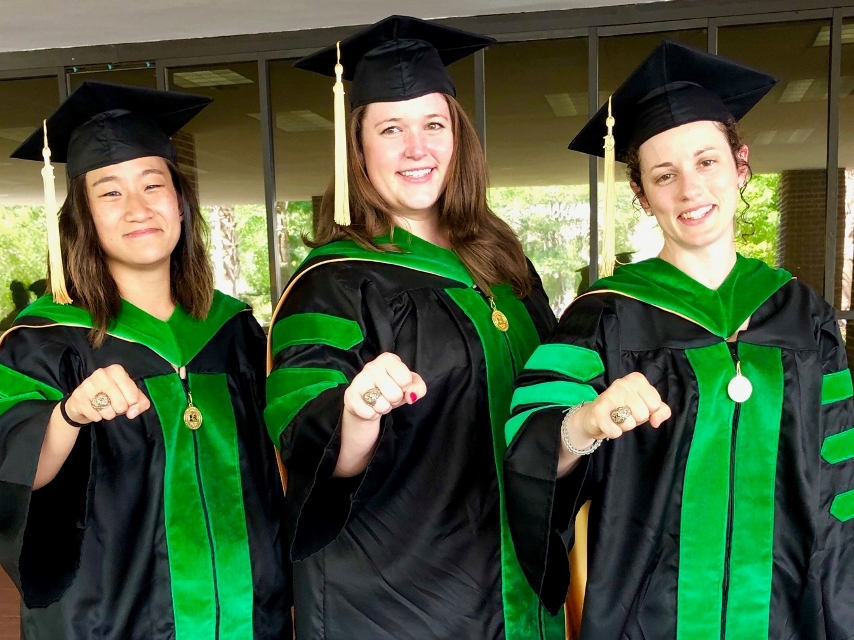 Above: Citadel alumnae Dr. Jane Ma, '15, Dr. Emily Green, '10, and Dr. Sarah Katchen, '14, after graduating from the Medical University of South Carolina together in May 2019
Three former cadets joined for photos on the day they graduated from the Medical University of South Carolina (MUSC) together. The three are among eleven former cadets and students who graduated from The Citadel between 2008 – 2015, and are well on their way to becoming physicians after completing medical school in May:
Capt. Jane Ma, M.D., U.S. Army, Citadel Class of '15: internal medicine/psychiatry residency at Walter Reed National Military Medical Center, from Manassas, Virginia
Emily Green, M.D., Citadel Class of '10: cadet athlete from Charleston, South Carolina, is going into family medicine
1st Lt. Sarah Katchen, USAF, Citadel Class of '14: stationed at Nellis Air Force Base where she is doing her general surgery residency, from Galesburg, Illinois
"Medicine has always been a part of my life due to growing up in a medical family," said Katchen. "I spent countless hours in my parents' offices and in the hospital, my second homes. I kept my mind open to other careers, but being drawn to science, people, hard work and problem solving, I found that medicine was a great fit for me. "
 The Citadel alumni, most of whom were in the Honors Program as cadets and many of whom were athletes, are all starting their residencies.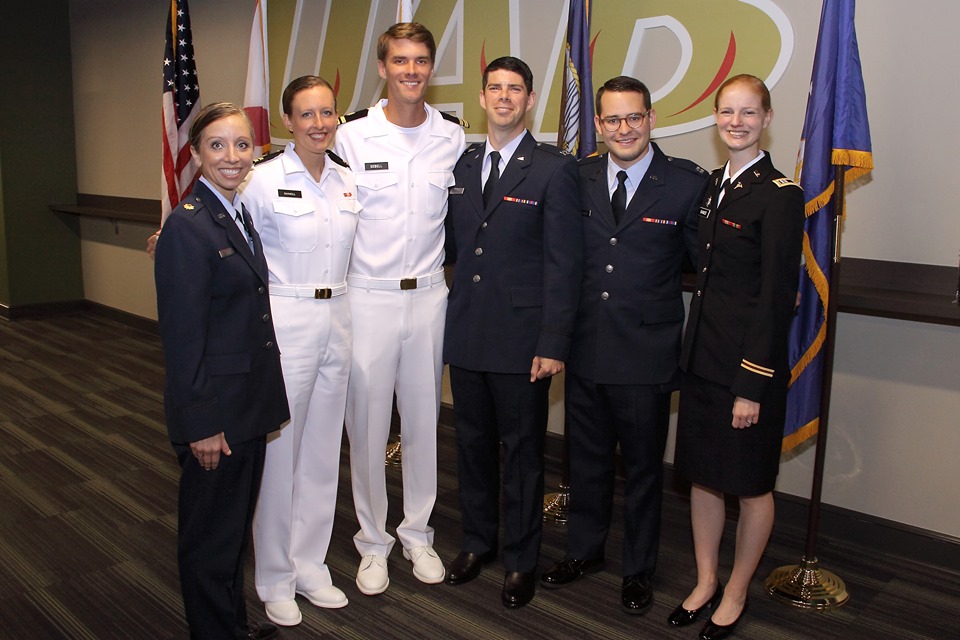 2nd Lt. Grace Raines, M.D., U.S. Army, graduated from University of Alabama at Birmingham School of Medicine and earned a commission as an officer with the Army in May. Before that, Raines was an honors graduate and a leader on the Bulldogs soccer team as a cadet at The Citadel. Her hometown is Snellville, Georgia.
Several of Raines' classmates from 2015 also graduated with Doctor of Medicine or Doctor of Osteopathic Medicine degrees. William Ellison, originally from Mount Pleasant, South Carolina, graduated from MUSC, and Erik Usher, who is from Ashville, North Carolina graduated from Campbell University School of Osteopathic Medicine. Usher is doing an OB/GYN residency. 
Other new Citadel alumni physicians include:
Zach Brownlee, Citadel Class of '14: honors program graduate and cadet athlete from Saint George, South Carolina
Ben Canipe, Citadel Class of '13: honors program graduate and cadet athlete from Hickory, North Carolina
Raymond Kessler, Citadel Class of '08: Doctor of Osteopathic Medicine from Edward Via College of Osteopathic Medicine – Carolinas
Matthew Short, Citadel Class of '08: originally from Ashville, North Carolina
Aimee Weber, Citadel Graduate College Class of 2013: Master of Arts in Biology graduate, completed a Doctor of Medicine degree at MUSC in May
Dr. Raymond Kessler, Edward Via College of Osteopathic Medicine – Carolinas, Citadel Class of 2008
Why so many Citadel alumni becoming doctors at one time?
Is this a larger than normal number of alumni becoming physicians at the same time? Citadel pre-health advisor, Kathy Zanin, Ph.D., says it is not unusual. According to Zanin there are 50 – 60 pre-health cadets and students attending The Citadel every year.
Cadets and students interested in health care careers become a close knit group. Many participate in at least one of the programs on campus created to support their interests. Those programs include the Pre-Health Mentorship Program, the Pre-Health Society, The Citadel-MUSC internship program, and The Citadel's health care study abroad experience. 
What should a student interested in becoming a doctor select as a major at The Citadel?
Many pre-health cadets and students major in biology or chemistry but Zanin says those are not the only options.
"A pre-medical student can study anything while at The Citadel. Medical schools do not care what the student's major is, as long as they have performed well in all the required prerequisite coursework for medical school. The students just need to be sure they know what courses are required to prepare for the MCAT and for medical school applications," Zanin explained.
A closer look at one success story
Capt. Jane Ma, shared some thoughts about how The Citadel helped prepare her to pursue her dream of becoming a medical doctor.
What is your next step and what will you be doing there?
I am just getting started in my residency training. I matched to a combined Internal Medicine and Psychiatry Program, the only one of its kind in the military, at Walter Reed National Military Medical Center. I am headed there right away.
What about The Citadel helped propel you toward success?
I have to give special credit to the wonderful mentors I had within both of my majors which included a Bachelor of Science in Biology and a Bachelor of Arts, English Language and Literature. The professors and academic faculty are often overshadowed by the cadet/military life as part of the "Citadel Experience," but their impact on the students inside and outside the classroom cannot be overstated. The small class sizes and the The Citadel Honors Program allowed me personalized and regular access to these mentors, and this gave me an advantage in terms of research opportunities and special studies projects, as well as an ongoing relationship with a few professors that I still maintain and benefit from today.
On the cadet side of things, my time as part of the human affairs team for the South Carolina Corps of Cadets inspired me to pursue (in part) a career in psychiatry. My enjoyment of The Citadel's regimented schedule, focus on the whole person (mind, body, spirit), and the team mentality, led me to military medicine.
What are some of the challenges you confronted during your educational career thus far?
Encountering and overcoming imposter syndrome, something I am still learning to navigate. Other difficult obstacles were tactfully and persuasively confronting bias in others and acknowledging it in myself.
Why did you become a doctor?
As a college student, when asked about my major, I identified most strongly as a Biology/STEM major. As a medical student, when asked about my major, the first one that came to mind was my English major. To me, medicine is the marrying of science and humanism.
Contact information
For more information about The Citadel for those considering careers in health care fields, please contact Dr. Kathy Zanin at 843-953-7077 or email her at kathyzanin@citadel.edu.