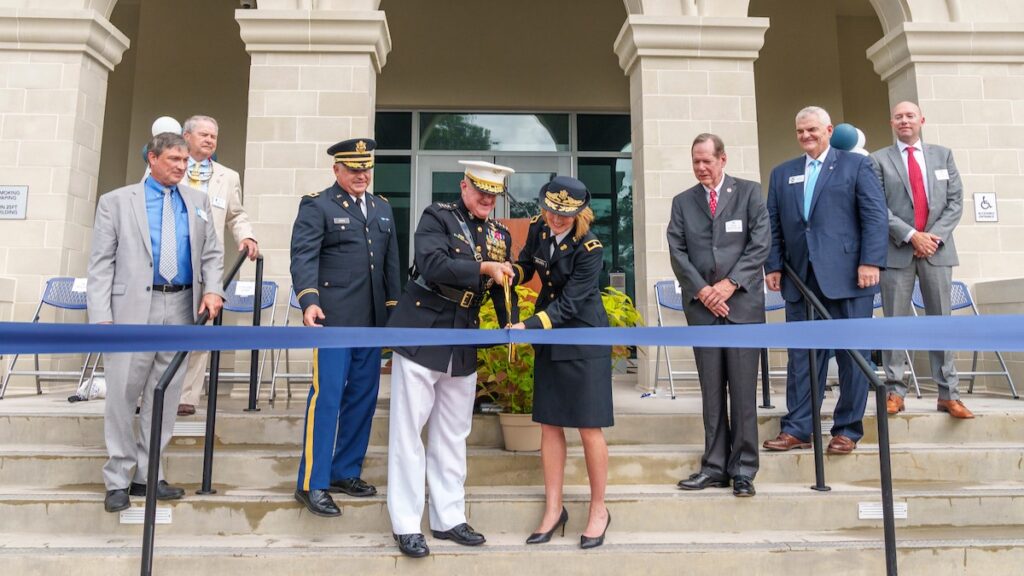 After years of preparations and planning, the Capers Hall ribbon-cutting ceremony was held on Saturday, Sept. 9, to officially commemorate The Citadel's newest academic building. Although the building has been open for classes since the middle of August, the ceremony marked a significant milestone. Demolition of the original Capers Hall began in June of 2021 and was completed in time for fall 2023 classes.
The day's festivities started with welcome remarks from Brian Madison Jones, Ph.D., dean of The Citadel's School of Humanities and Social Sciences. Following his address, Gen. Glenn M. Walters, USMC (Ret.), '79, President of The Citadel, Sally Selden, Ph.D., SPHR, Provost, and Greg Delleney Jr., '74, Chair of The Citadel Board of Visitors also delivered remarks.
Walters took a moment to thank the employees who have offices and classroom spaces in the new building, particularly for their willingness to be flexible in their workspace during construction.
"I especially want to thank the faculty and staff who work in Capers. The construction and time frame required many of you to work out of alternative spaces, sometimes uncomfortable, but I hope today you can see how worthwhile the sacrifice was. As much as this building is for cadets and students, it's also for you," said Walters.
Invited guests — including alumni, faculty, staff and other members of The Citadel community — had the opportunity to tour the new Capers Hall and explore several highlighted spaces within the building, including the King and Spalding Legal Studies Classroom, Class of 1981 Cyber, Intelligence and Security Studies Lab, Nicholas J. Bouras and Sam J. Bouras Training SCIF, Class of 2011 Study Abroad offices, Trainer National Security Classroom, Class of 1969 Auditorium, Center for Inclusive Excellence and Center for International and Special Programs and the Tiffany Reed Silverman Studio for Fine Arts.
"Capers Hall has been a bedrock of this institution for seven decades. It has seen generations of leaders walk through its doors, armed with the skills and knowledge to make a meaningful impact on our society," said Selden. "As we stand in this new building today, it's not just bricks and mortar we see, but the embodiment of a strategic vision — Our Mighty Citadel."
Capers Hall houses the School of Humanities and Social Sciences, which includes several departments: Criminal Justice; Intelligence and Security Studies; English, Fine Arts and Communications; History; Modern Languages; Literatures and Cultures; Political Science and Psychology. The new building will serve as a beacon of academic achievement and growth at The Citadel and will continue the college's mission of creating principled leaders in all walks of life.
"Looking at this space and knowing the great function it will serve, validates my faith in that divine spark inside each one of us which drives us to seek freedom, enlightenment, purpose and community. Let this place stand for that and let our work inside and outside of Capers Hall be so inspired," said Jones.
Delleney shared his appreciation for those who helped make Capers Hall into a reality.
"On behalf of our Board of Visitors, I'd like to thank everyone who made this building possible — our exceptional campus leadership, our supportive general assembly and supportive lawmakers, generous donors and steadfast supporters, and many more," said Delleney. "Thanks to you and your willingness to share your time, treasure, and your talents, The Citadel community and the entire City of Charleston will benefit for generations to come."