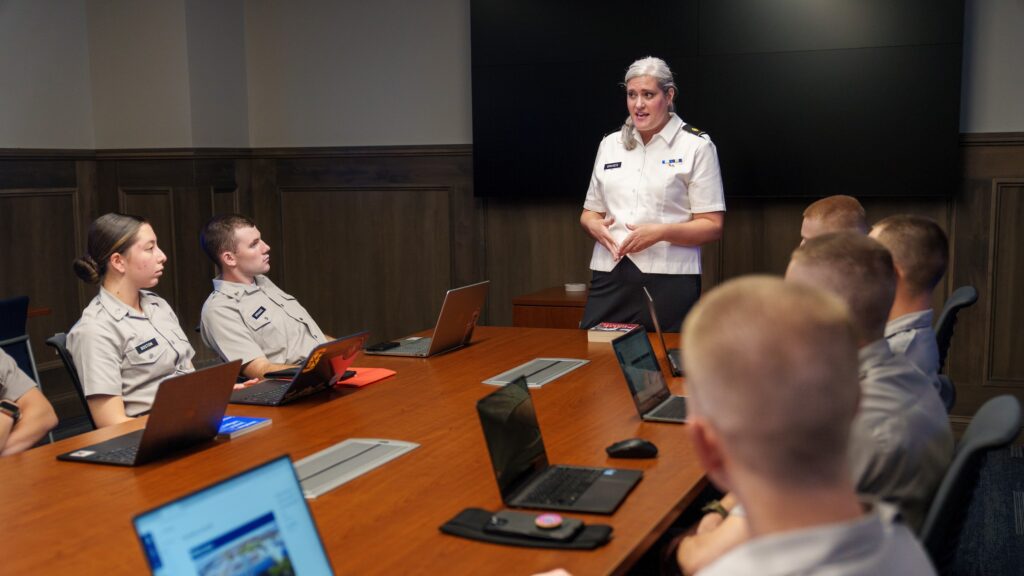 Photo: Melissa Graves, Ph.D., interim head of the Department of Intelligence and Security Studies, teaches a class in The Citadel's new training SCIF.
As the fall semester begins, Capers Hall has officially opened for cadets and students to explore the new, state-of-the-art facility. Among the new building's numerous features, The Citadel is highlighting some of its most unique spaces, including the training SCIF. Officially called the Nicholas J. Bouras and Sam J. Bouras Training SCIF, this space was named thanks to a generous donation by the Nicholas J. and Anna K. Bouras Foundation.
A SCIF — or sensitive compartmented information facility — is a secure place where classified information can be viewed and discussed without the risk of spying. The room is designed to function as a secure training work environment where cadets and students can learn how to operate and how to work in a space like this. The purpose of the training SCIF is to familiarize them with handling classified materials and teach them methods to process and analyze intelligence collected from different sources.
While the room itself cannot function as a real SCIF, it closely mimics one. There are storage lockers outside of the door to store phones and other personal items and a storage unit inside that has 20 laptops that can be set up and used by cadets and students to simulate a secure work environment. The ceiling of the training SCIF is open, which is traditional to a working SCIF, so that no devices could be hidden in the ceilings. The walls are double insulated to create an air gap, which guarantees nobody can listen into the room either by sound or radio waves. The conference table, the video boards and the external work area were all designed to replicate a functional SCIF, even though classified information cannot be processed in this facility.
As a training version of a SCIF, no one using the room will need to have security clearance to utilize the space. Citadel cadets and students will gain insight into working in a classified environment, providing them with an advantage when they graduate.
"The training SCIF gives our cadets and students a competitive edge when they finish their degree programs here and enter the workforce. This space will give them the ability and the familiarity to work in a secure environment, where they will understand the preparations that have gone in, they understand their responsibilities and roles and they understand what it is like to analyze and work with intelligence. I think it is crucial for our cadets and students to be able to learn and participate in this type of environment," said Brian Madison Jones, Ph.D., dean of The Citadel's School of Humanities and Social Sciences.
From the initial phases of construction, the focus remained on the cadets and students, and particularly enhancing the Intelligence and Security Studies major. However, the room will be used by a wide range of cadets and students, including those majoring in Cyber Security or others who require training for a classified environment.
One cadet had the chance to see the training SCIF before classes started — and he was able to compare it to a real SCIF he visited over the summer. Cadet Luke Stringfield worked for the Savannah River National Laboratory in his hometown of Aiken, South Carolina, this summer and, while he didn't have a security clearance, he was allowed to enter the SCIF under certain parameters.
"As soon as I entered the SCIF, they would flip a switch that alerted all personnel in the building that an uncleared person was there. It was an interesting atmosphere because it was all business and very serious for most of the briefs," said Stringfield. "When I saw the training SCIF in Capers Hall, I was very impressed with how it turned out. It's surprisingly similar to a real SCIF and portrays what a SCIF would look like even if doesn't have all the functions. I have never seen anything like this at any other school, so the experience you gain while learning is absolutely invaluable. Overall, I couldn't be more excited for the training SCIF to be put to use, and I think it will be a great experience for my classmates to be in that setting."
Melissa Graves, Ph.D., interim head of the Department of Intelligence and Security Studies, is excited for cadets and students to use the room and sees this space as an opportunity to instill an intelligence community culture at The Citadel, simulating what they will experience after graduation.
"In a lot of ways, it's refreshing to walk into such a beautiful room. For me, my initial impression was just the awe that I felt of how much The Citadel values this program, to provide a classroom space like this shows that the college is invested in the program," said Graves. "I think the training SCIF will help with recruiting some great students. It's a huge boost to our program in terms of validating what we're doing, and it will be exciting to show that to prospective students and tell them that this is where they'll get to study and work."
The Citadel's Department of Intelligence and Security Studies is committed to preparing cadets and students to meet the challenges of a changing and uncertain world. The Citadel is a unique position to offer a curriculum in the emerging field of Intelligence and Security Studies through several programs, contributing to its commitment to excellence in education.