Reports & Cadet Blog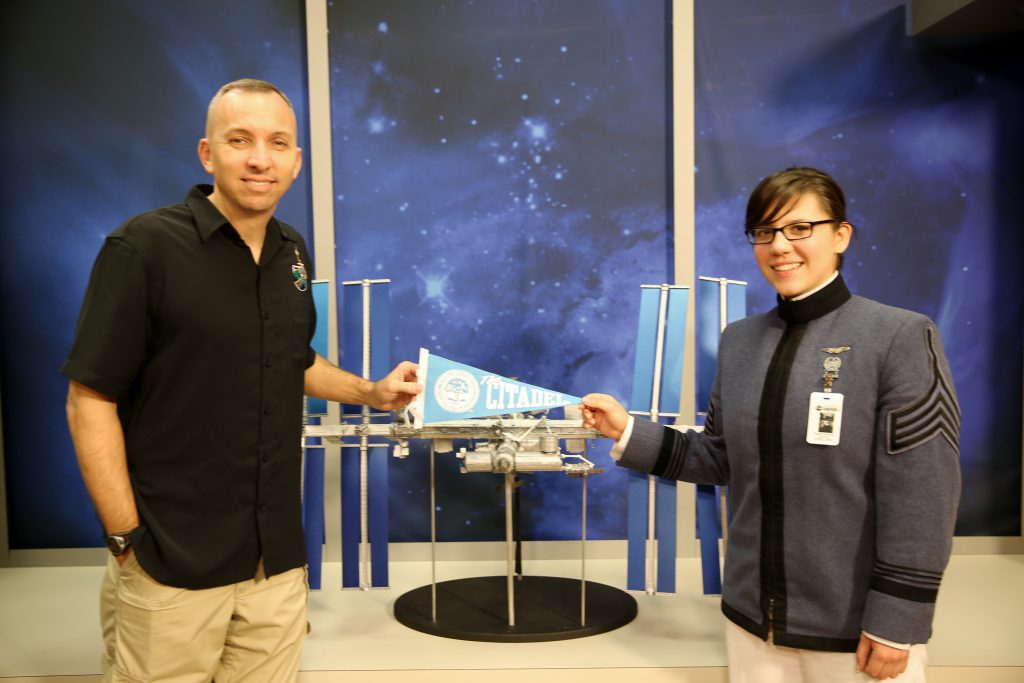 The Citadel is following the work of NASA astronaut Col. Randy Bresnik (Citadel Class of 1989) from training, to the launch from Russia, and from his time commanding the International Space Station, to when he is back on Earth which is expected to be in December 2017.
Meet The Bloggers
Cadet Angelica McNerny, began this blog while she was a senior in the South Carolina Corps of Cadets, reporting on Bresnik's training for Expedition 52/53 to the Internaltional Space Station. McNerny is now serving with the U.S. Airforce as an officer in Space Systems Operations training after graduating from The Citadel in May 2017 with a degree in physics.
Cadet Rafael "Ralf" Gonzalez, took over the blog in the fall of 2017. He is a mechanical engineering major with a minor in aeropsace studies. He is from Miami.
"I have a vested interest in what lies beyond our atmosphere," says Gonzalez. "After graduating from The Citadel, I plan to attend graduate school for aerospace engineering with a focus on astrodynamics and then work for either NASA or a private aerospace company."
Gonzalez conducts research with Patrick Bass, Ph.D., a member of college's Mechanical Engineering Department faculty. They are researching orbital mechanics, which involves the design and optimization of spacecraft trajectories.
"We have participated in the Global Trajectory Optimization Competition and the Chinese Trajectory Optimization Competition, and we will continue to partake in these and other annual events," says Gonzalez. "Through this blog, I hope to share my love for this complex and lively realm and promote an increased understanding and appreciation of space exploration."
---
Entries: 1 2 3 4 5 6 7 8 9 10 11 12 13 14 15 16 17 18 19 20 21 22 23 24 25 26 27 28 29 30
MESSAGE 1: FIRST IMPRESSIONS
We arrived in Houston, Texas in the evening on Wednesday, Dec. 7, excited to meet with Col. Randy Bresnik and to be in Lone Star State. As I settled into my hotel room, I got a surprising phone call from none other than The Citadel Space Star himself, Col. Bresnik. After giving me a warm welcome to Houston, we went over the next day's itinerary and it began to dawn on me that I was on the phone with one of the handful of men and women who've travelled beyond the sky. I went to sleep that night eagerly anticipating the following day.
Early Thursday morning, after Citadel videographer Sam McAdams and I checked in and got our security badges, we were lead to Johnson Space Center's Building 9. It houses the Space Vehicle Mockup Facility, a full-scale replica of the International Space Station, which I'll refer to as the ISS for the sake of brevity. We briefly met with Col. Bresnik and then he returned to his training on the mockup.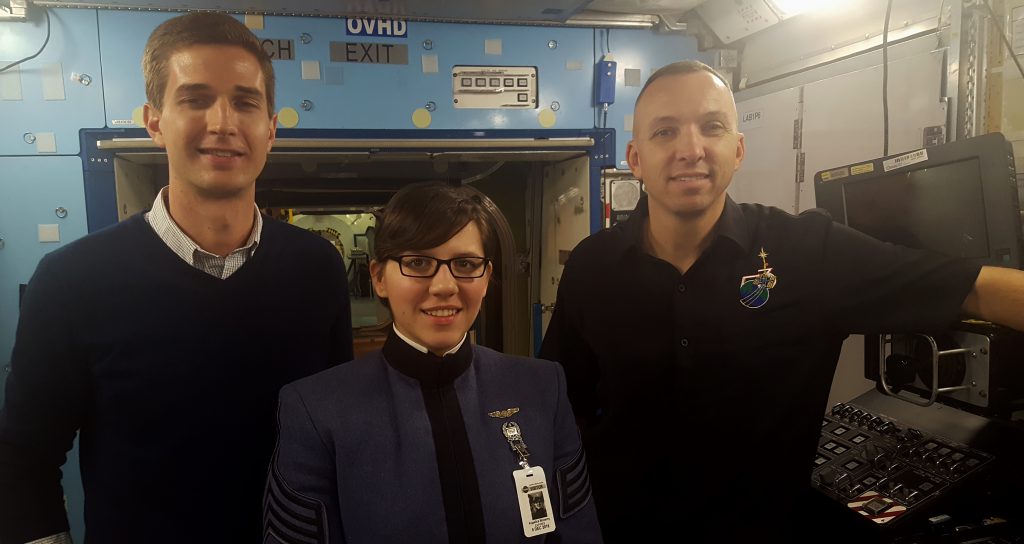 The astronauts practiced various emergency scenarios including quarantining atmospheric and ammonia leaks and detecting/extinguishing fires onboard the ISS. Col. Bresnik and his colleagues were equipped with manuals and a training staff of more than fifteen individuals. I was astounded to see the amount of detail that not only comprises the physical mockup itself, but the training as well. I will be sharing more of those details in future blog posts and videos.
As I observed the emergency training, I was particularly impressed by the cooperation and teamwork of the astronauts. The American and Russians went back and forth between languages to solve the problem at hand quickly and efficiently. The execution of their duties appeared seamless as they ticked off a very long list of complex objectives— almost second nature due to their attention to detail and copious amounts of practice. Watching the scenarios served as a reminder of just how volatile the interplanetary environment can be. There is no "astro-carpenter" that comes up to fix the ISS when something breaks, or "astro-firefighter" that flies up when something starts burning. The astronauts must be self-reliant and industrious, and above all confident.
Not many people can say they've met a real live astronaut. I'm thankful every day for the opportunity afforded to me by Col. Bresnik, the Johnson Space Center, Space Center Houston, and The Citadel. Thanks for checking out our blog and stop by soon for more on our #CitadelSpaceStar!