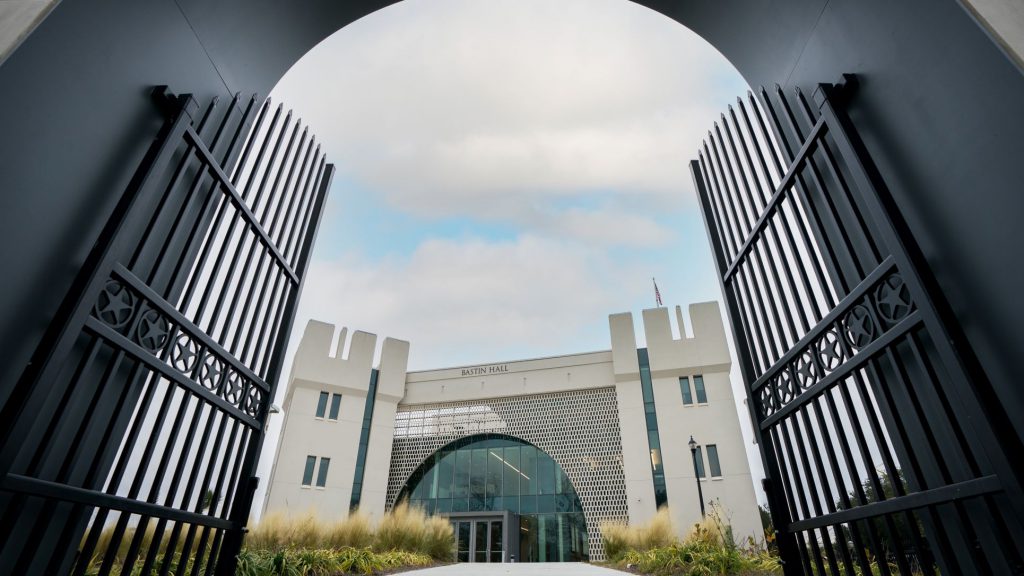 Photo: Bastin Hall, the home of the Tommy and Victoria Baker School of Business, seen on Jan. 25, 2022 — exactly one year after it officially opened for cadet and student use. Though they do not take classes on campus, online students can use the building's equipment and resources year-round.
Online business bachelor's program also earns high ranking at #26
Even as institutions across the country increase and enhance their online education offerings, The Citadel's Tommy and Victoria Baker School of Business (BSB) continues to demonstrate that it's one of the best in the business.
U.S. News & World Report recently ranked The Citadel's online Master of Business Administration program as #37 in the country, improving its position by 51 places over one year.
Additionally, the online program is the highest ranked in South Carolina for the fourth consecutive year.
"It is gratifying to see how our focus on helping students succeed – by providing relevant courses taught by faculty with a combination of industry experiences and outstanding academic credentials – has resulted in so many positive outcomes for the graduates of the Baker School of Business," said Michael Weeks, Ph.D., dean of the BSB. "Our historically successful MBA program is making a material impact on the capabilities and careers of so many in an ever-expanding market."
The convenience and schedule flexibility of online education allows working professionals, military service members and others to earn their degree at the pace that works for them.
"I have a pretty set schedule with work, and I've learned how to gauge how much time I need to spend studying," said Abigail Showalter, an MBA student who plans to graduate this May. "The online format definitely makes it flexible to decide where and when you want to study. In some ways, it's like a remote job."
Online undergraduate business program also earn high placement
In addition to the MBA program's success, the BSB's online business bachelor's program was ranked #26 in the nation; it is also the highest-ranked program in the state.
Another factor that the undergraduate and graduate programs have in common is how they are designed to help students pursue their specific interests.
"Our online MBA offers flexible capstone experiences, designed to directly support interests in executive decision-making, entrepreneurship or consulting skill development" said Todd Drew, Ed.D., director of MBA and College Transfer Programs. "Online students also benefit from a variety of student support and networking experiences, including access to career and professional coaching."
Business programs are offered through three departments: Accounting and Finance – Management and Entrepreneurship – and Marketing, Supply Chain Management and Economics.
The BSB is accredited by AACSB International, an organization that evaluates the best business schools in the world.
To learn more about programs offered through the BSB, click here.
Other online program rankings from the January 2022 U.S. News & World Report release include:
#35 online bachelor's programs for veterans
#59 online bachelor's programs overall
#120 online Master's in Education programs
The online rankings released Jan. 25 are limited to non-cadet student programs, since cadets studying in the business school take their classes on campus, in-person.
In Sept. 2021, U.S. News & World Report named The Citadel as the #1 Top Public College in the South for the 11th successive year.