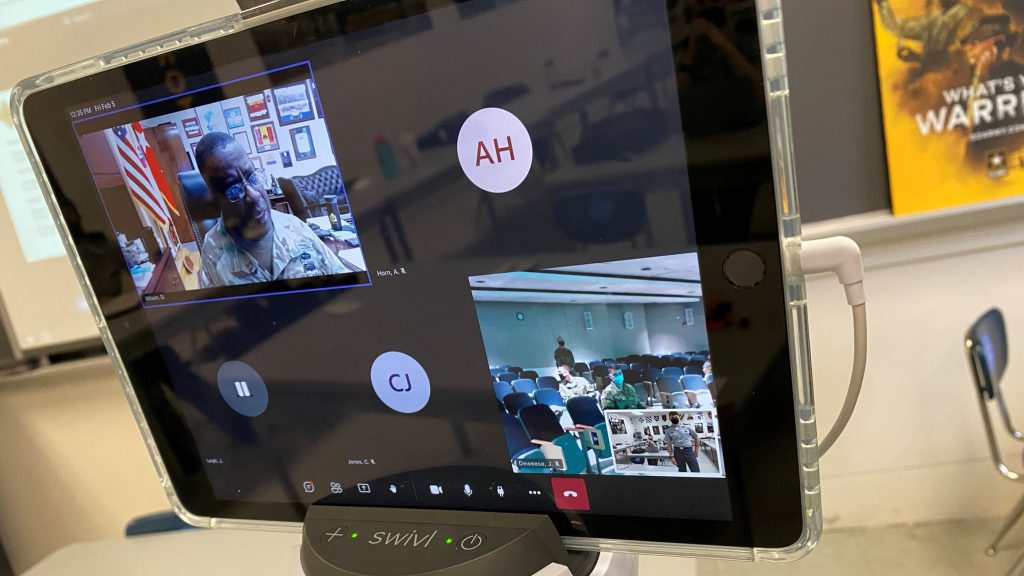 Photo: (top left) Maj. Gen. David Wilson, Class of 1991, speaking with Citadel cadets virtually
"If you don't like what you do, you won't do it well or do it long."
A history-making graduate of The Citadel recently returned to Jenkins Hall, one of the campus locations where his Army career began many years ago.
Though Maj. Gen. David Wilson, USA, was back on his old stomping grounds, he didn't get to stroll down memory lane. That's because Wilson, a member of the Class of 1991, visited campus virtually via Microsoft Teams.
Wilson, the first African American Citadel graduate to become a two-star general, was participating in a day-long, virtual leadership development event, hosted by Fort Jackson.
Twelve senior Citadel cadets participated in the opportunity, which brought together senior Army ROTC cadets from nearly 20 colleges and universities. The annual Leader Professional Development Symposium — in its fourth year — included a panel discussion with junior officers and well as speed mentoring with various Army generals, including Wilson.
"Taking care of people is more than making sure that they have the means and resources to care of themselves and their families," said Wilson during his Citadel speed session. "It's about making sure they're empowered and equipped to do the missions that they're going to embark upon."
Cadets were also given the chance to ask Wilson questions about his time in the Army, his Citadel experience and more.
"Receiving advice from a Citadel graduate, who is a general in the Army, gives me hope for my future," said Cadet Pedro Sharpe. "This is true because advice from a graduate is more relatable. They can utilize examples from their experiences at this institution and connect them to real world scenarios."
Wilson discussed how his time at The Citadel prepared him to operate in a diverse environment and gave him an early lesson in the importance of structure and discipline.
"The Citadel is a leadership laboratory. If you can get a senior private to shine their shoes, get their hair cut — that's really something," continued Wilson.
With a hands-on assist from Citadel AROTC Chief Military Science Instructor Sgt. Maj. Willie Murphy, Wilson also presented some of the attending cadets with his Challenge Coin, to honor their achievements.
"Listing to Maj. Gen. Wilson helped me realize that being a leader is about setting the example and putting your people first," continued Sharpe. "Leadership includes you being the sole individual that is willing to put yourself on the line for your people. It also means being honest with yourself in the Corps and in the Army."
Wilson wasn't the only member of The Citadel family to help guide the ROTC cadets across the region. Citadel Military Science professor, Capt. Paul Najarian, sat on a junior officers' panel, taking questions from cadets with all the participating ROTC units.
"It was an honor to be able to pass along some lessons that I learned the hard way," said Najarian. "This is one of the ways in the Profession of Arms that we can continue to grow within our organization, ensuring future leaders learn from our successes and failures. Based on what I saw, and the questions I heard asked during the symposium, it is clear to me that the Army will be getting some fantastic young leaders very soon."
Najarian also pointed out that all the cadets who participated in the program are less than 100 days away from becoming officers — making the lessons they learned at the event even more vital.
"Life isn't so much about how much you keep for yourself, it's about how much energy you pour into other people," said Wilson. "And you as a leader, pouring into your subordinates, investing in them, is what's going to allow them to achieve mission success."