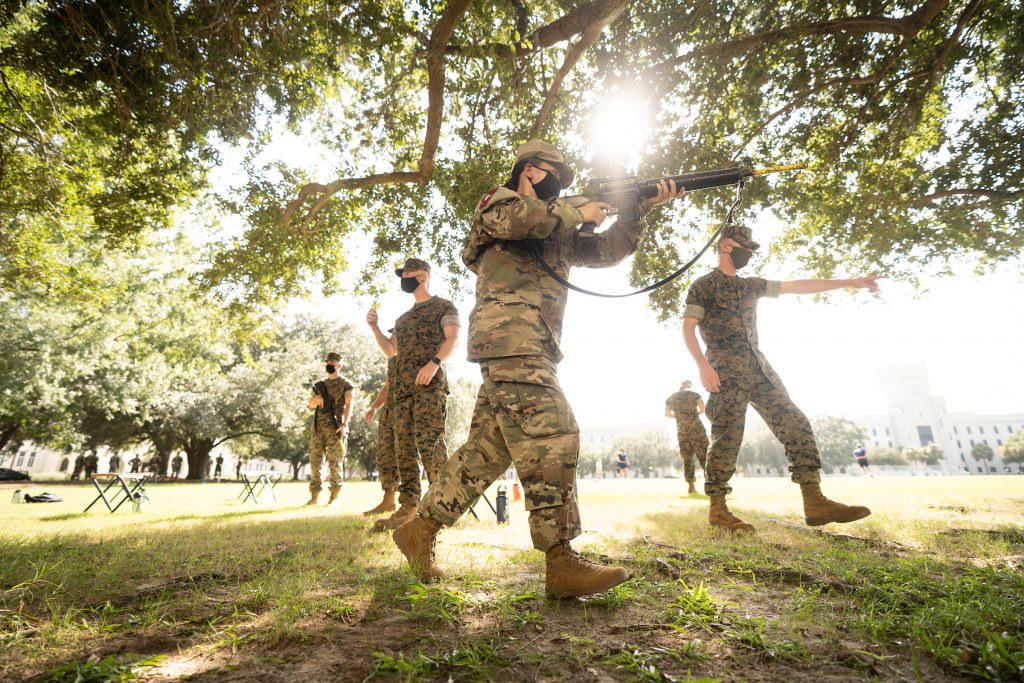 Photo above: Marine Corps ROTC lab takes place on Summerall Field at The Citadel in Charleston, South Carolina on Thursday, September 3, 2020.

Air Force Reserve Officer Training Corps Detachment 765
The AFROTC Detachment at The Citadel is one of the largest in the nation with more than 500 cadets. The department supports The Citadel's mission of educating and developing principled leaders, providing select cadets with the opportunity to earn a commission in the U.S. Air Force upon graduation.
Col. Matthew Morand, Commander, USAF, '95
Morand is the commander of Air Force ROTC Detachment 765 at The Citadel. He is responsible for leading the detachment and also serves as a professor of Aerospace Studies. In addition, Morand is an alumnus who graduated from The Citadel in 1995 as a Distinguished Air Force Graduate.
Morand and his staff of officers and non-commissioned officers administer a training program that includes formal classroom instruction, leadership laboratory training, physical fitness and officer candidate mentoring.
Prior to his assignment at his ama mater, Morand was deputy director, Mission Operations Directorate, National Reconnaissance Office (NRO) in Chantilly, Virginia. There he helped lead 4,000 people at multiple, geographically dispersed locations, and executed the Director NRO's responsibility for space-based intelligence supporting the Department of Defense and U.S. intelligence agencies.
Capt. Julie Dewey, USAF
Dewey is an assistant professor of Aerospace Studies and education officer assigned to The Citadel. She is responsible for ensuring the completion of all instruction-related activities.

This is Dewey's fifth USAF assignment. Some of her duties included serving as resource advisor at Schriever Air Force Base, sexual assault response coordinator and military personnel flight commander for Joint Base Elmendorf-Richardson, Alaska.

Dewey holds an M.A. in Education from Trident University. She earned a Bachelor's degree in Business Management from University of South Florida in Tampa, commissioning as an officer upon graduating.
Capt. Rachel Loomis, USAF
Loomis is an assistant professor of Military Science at The Citadel. She holds a Bachelor's degree in Political Science from Auburn University.
Capt. David Melton, USAF, '14
Melton was born in South Carolina and graduated from The Citadel with a B.A. in Criminal Justice in 2014. He earned a commission through the detachment he now serves.
Melton is an assistant professor of Aerospace Studies and assistant operations flight commander at The Citadel. He teaches the AS400 level Air Force curriculum and is responsible for the Air Force Leadership Laboratory portion of the AFROTC program.
Prior to his current position, Melton served two and a half years at Buckley Air Force Base. He was the operations officer for the 460th Security Forces Squadron. He served as the uniformed officer responsible for executing security operations, security forces training, Counter Unmanned Ariel Systems and Military Working Dog operations for 460th Space Wing and 93 other tenant units attached to the installation, to include detachments of the Aerospace Data Facility Colorado, and various foreign coalition forces.
Melton directed more than 160 active duty, civilian, and reserve personnel serving the 460th Space Wing at Buckley AFB.
Capt. Jessica Specht
Specht serves as an assistant professor of Aerospace Studies and assistant operations officer at The Citadel.
Specht earned her commission in 2011 after obtaining a B.S. degree in Biology from the USAF Academy. Since that time she's been deployed twice to Southwest Asia. She earned an MBA from American Military University.
Prior to her current assignment, Specht was deputy director of the Ninth Air Force Commander's Action Group at Shaw Air Force Base. There she supported Joint Task Force Headquarters along with eight subordinate wings and three direct reporting units, ensuring the readiness of more than 400 aircraft and 29,000 active duty and civilian members.
At the Space and Missile Systems Center, Specht was responsible for the acquisition planning, negotiation, procurement and sustainment of space superiority capabilities and managed a $1.52 billion portfolio of advanced space systems requirements for cutting-edge technology.
Army Reserve Officer Training Corps, Palmetto Battalion
Palmetto Battalion is the second largest Army ROTC program of 275 across the US Army Cadet Command.
As a Senior Military College program, Palmetto Battalion is comprised of cadets from The Citadel, College of Charleston, Charleston Southern University and the Medical University of South Carolina.
Palmetto Battalion is commanded by Col. John Cyrulik, USA.
Capt. Laura Alvarez, USA
Alvarez is an assistant professor of military science at The Citadel.
Prior to joining the AROTC detachment, Alvarez was the operations officer/AS3 at Fort Eustis in Virginia.
Alvarez was born in New York and raised in Puerto Rico. She attended the Commonwealth University of Puerto Rico at Mayaguez and Rio Piedras Campus where she enrolled as an Army ROTC cadet. Alvarez earned a commission in 2014 in Quartermaster branch after graduating with a Bachelor's degree in Social Work.
Ltc. William 'Hunter' Bowers, USA, '01
Bowers serves as the Army ROTC Department executive officer at The Citadel.
Bowers graduated from The Citadel in 2001 and earned a Master of Arts in Military Studies from Marine Corps University in 2013.

Prior to joining Palmetto Battery, Bowers was assigned as the squadron commander for the 5th Squadron, 4th Calvary Regiment in the 1st Infantry Division and the Division deputy chief of staff.
Capt. Paul Najarian, USA
Najarian is an assistant professor of Military Science at The Citadel.
Njarian attended Norwich University, the Military College of Vermont, as an ROTC cadet and was commissioned in 2009 after graduating with a degree in Criminal Justice. Najarian later earned a Masters degree in Geological Engineering from the University of Missouri in 2013.
Najarian has served as a company commander and in a variety of staff positions, and deployed four times; twice to Afghanistan, once to Iraq, and once to Jordan. Most recently, he commanded HHC, 326 BEB in 1st Brigade, 101st Airborne Division at Fort Campbell, from June 2016 to February 2018.
Capt. Zach Pittard, USA
Pittard is an assistant professor of Military Science at The Citadel. He is a native of South Carolina.
Pittard entered the Army in 2011, earning a commission as a second lieutenant through AROTC as a quartermaster officer. His most recent assignment prior to The Citadel was command of Bravo Company, 325th Brigade Support Battalion, 3 Infantry Brigade Combat Team.
Pittard's deployments include Operation Enduring Freedom from December 2013 – May 2014 and Operation United Assistance from November 2014 – January 2015.
Pittard's military education includes Quartermaster Officer Basic Course and Combined Logistics Captain's Career Course. He graduated from the Virginia Military Institute with a degree in History.
Navy Reserve Officer Training Corps, Navy Battalion, and U.S. Marine Corps Detachment
More than 100 midshipmen and officer candidates comprise the Navy Battalion at The Citadel.
In addition to classroom and field training instruction, Navy ROTC cadets experience first-hand Naval operations and participate in the physical fitness training and challenges.
The unit is also responsible for commissioning cadets and active duty enlisted Marines into the Marine Corps.
Col. Giles Boyce, USMC
Boyce is a professor of Military Science and the head of the NROTC detachment at The Citadel. He has been an officer in the USMC since 1993, when he graduated from the University of South Carolina with a B.S. in Criminal Justice and was commissioned as a second lieutenant.
Some of Boyce's assignments included deployments with Third Battalion, Fourth Marines Okinawa Japan in 2001, Operation Iraqi Freedom in 2003, and 2004. He later served as battalion executive officer during a third deployment for Operation Iraqi Freedom from 2008-2009.
As a lieutenant colonel in 2014, Boyce reported to Special Operations Command at Ft. Bragg, where he served as an operational planner until June 2017. While in the J5 he deployed as liaison officer to Combined Joint Task Force Operation Inherent Resolve and was promoted to colonel in 2016.