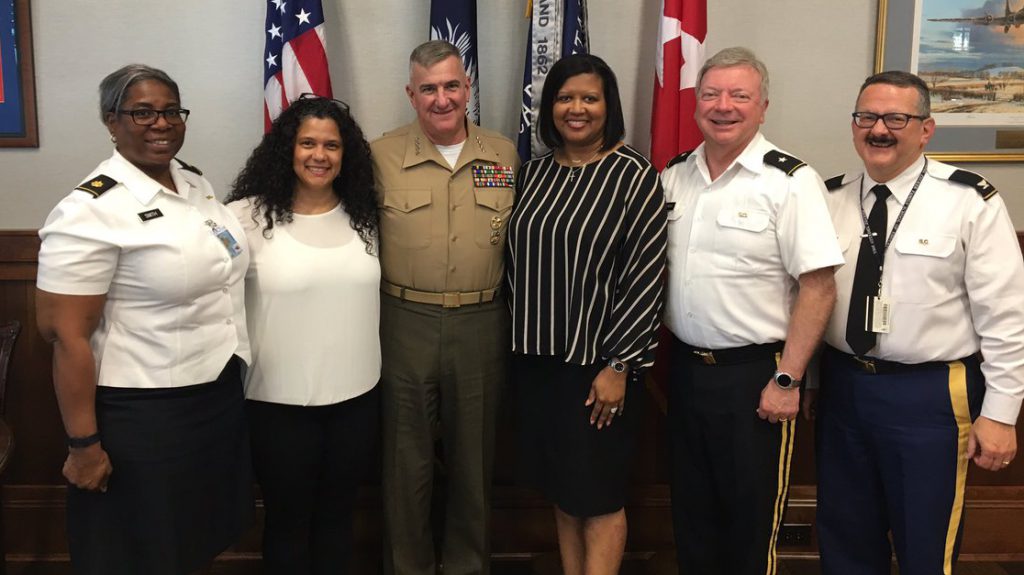 Photo: AAC&U's Tia Brown McNair (third from right) conducted a site visit at the TRHT Campus Center at The Citadel, the Military College of South Carolina
AAC&U President Lynn Pasquerella, in her capacity as president of the Phi Beta Kappa Society, presided over installations of new chapters at Mississippi State University on April 2, Loyola Marymount University on April 4, Chapman University on April 18, and Florida State University on April 22. In addition, she spoke at an event on "Higher Education in the Headlines" with Phi Beta Kappa Secretary Frederick Lawrence at the William and Mary Washington Center in Washington, DC, on April 30. Pasquerella moderated an AAC&U webinar, "Connecting the Branches: Insights from the National Academies' Report on Integrative Learning," on April 9 and participated in an EdWeek Virtual Summit on "Workplace Literacy" on April 16. She presented at the Inside Higher Ed Conference, "Why General Education is More Important Than Ever," at the  Gallup Center in Washington, DC, on April 17 and at the inaugurations of Nancy Cable at the University of North Carolina at Asheville on April 25 and Leocadia Zak at Agnes Scott College on April 26. On May 2, Pasquerella received an honorary doctorate degree during the commencement ceremony of the University of South Florida in Tampa, Florida. On May 3, President Pasquerella delivered a keynote address at Brown University for their celebration of "Opening the Curriculum."
Ashley Finley, senior advisor to the president and vice president of strategic planning and partnerships,gave a talk at Saint Louis University on April 5 titled, "Invisible Learning: The Shared Imperative of Student Wellness for College Success." Finley also joined the National Center for Inquiry and Improvement for a workshop in Phoenix, Arizona, with representatives from each of the Maricopa Community College District's community colleges. Finley gave a talk at the event titled "Powerful Pathways: Equitable Outcomes, Practices, and Assessment" and cofacilitated a breakout session with participants. From May 1 to 2, Finley joined Tia Brown McNair for the "Ensuring Students Are Learning" project's planning meeting in Austin, Texas. Finally, from May 6 to 7, she cofacilitated a series of workshops at the University of Alabama–Birmingham with Kate McConnell regarding general education reform efforts.
Tia Brown McNair, vice president for diversity, equity, and student success and executive director for the TRHT Campus Centers, participated in two site visits to the Truth, Racial Healing & Transformation (TRHT) Campus Centers at Spelman College and Millsaps College on April 4 and 5, respectively. On April 9, McNair facilitated a workshop titled "Intentionality by Design: Equity, Inclusive Excellence, and Quality" at Trinity University in San Antonio. On April 10, McNair delivered the opening keynote, "Equity and Assessment: Inextricably Linked for Student Success and for Social Justice," at the Assessment Network of New York's 7th Annual Conference in Saratoga Springs, New York. On April 24, McNair participated in a site visit to the TRHT Campus Center at The Citadel, the Military College of South Carolina in Charleston, South Carolina. On April 25, McNair delivered a keynote and a virtual module titled "Advancing Equity Goals through Accountability" at the University of Southern California's "Engaging Equity LIVE!" event in Los Angeles. On April 26, McNair attended the investiture of President Kirk A. Nooks at Gordon State College in Barnesville, Georgia. On May 2, McNair and Ashley Finley attended the "Ensuring Students Are Learning" project meeting for AAC&U's Strengthening Guided Pathways and Career Success by Ensuring Students Are Learning grant in Austin, Texas. On May 3, McNair participated in a site visit to the TRHT Campus Center at Austin Community College in Austin, Texas. On May 6, McNair, along with senior fellow Patricia Lowrie, facilitated discussions with campus stakeholders to assess progress on diversity, equity, and inclusion goals at the College of William & Mary in Williamsburg, Virginia.
From April 4 to 5, Dawn Michele Whitehead, vice president in the Office of Global Citizenship for Campus, Community, and Careers, participated in the Harvard Summit on Excellence in Higher Education in Cambridge, Massachusetts. From April 22 to 23, Whitehead met with faculty and staff at the University of Florida and delivered the luncheon keynote, "High-Impact Learning Beyond the Classroom," at the 2019 Interface: Learning Beyond 4 Walls event in Gainesville, Florida. On April 26, Whitehead presented a session, "Developing Globally Competent Students: Separating Misconceptions and Truths," at the Maryland International Education Consortium's Conference on Developing Globally Competent Students at Montgomery College in Germantown, Maryland. On May 8, Whitehead delivered a workshop, "Integrating Global Perspectives in Coursework and Programs" for faculty, associates, instructors, and academic staff in the School of Education at the University of Wisconsin–Madison.
On April 9, C. Edward Watson, CIO and associate vice president for quality, pedagogy, and LEAP initiatives, traveled to Oxford College at Emory University in Oxford, Georgia, to meet with faculty, staff, and leadership to develop strategies supporting a college-wide rollout of ePortfolios. On April 11, he was in Murfreesboro, Tennessee, to meet with Middle Tennessee State University's general education redesign team. He also provided a campus address titled "Fostering Integrative Learning Across the Curriculum." On April 17, he attended the Future of General Education Conference in Washington, DC. On May 2, he traveled to Molloy College in Rockville Centre, New York, to deliver a keynote titled "Interdisciplinarity in Teaching: The Scholarship of Teaching and Learning" as part of their inaugural faculty development forum.
On April 7, David Scobey, director of Bringing Theory to Practice (BTtoP), took part in the Leadership Forum cosponsored by Arizona State University and the Chronicle of Higher Education. Held in San Diego, this daylong convening brought together higher education leaders and innovators to discuss current challenges and creative innovations in equity, student success, educational design, and institutional change.
On April 10, Caryn McTighe Musil, senior director of civic learning and democracy initiatives, made a site visit to the New School in New York, where she is serving as a consultant with Gwendolyn Jordan Dungy for an institutional climate study on diversity, equity, and student success. On April 25, Musil spoke on the panel, "The Role of Universities in Cultivating Spheres of Engagement," for the Second Annual Public Service Symposium: Building Capacity for Inclusive Civic Engagement at Suffolk University in Boston.