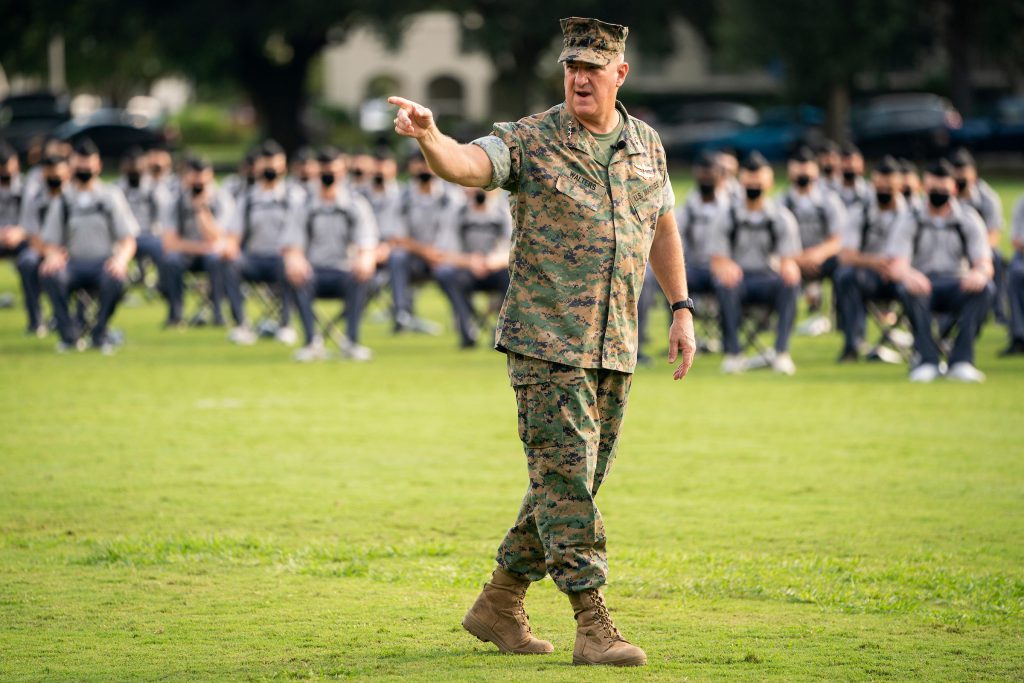 Greetings to our campus community as we progress further into the academic year and prepare for the Class of 2021 to receive the rings they've earned through so much hard work and determination.
I am writing today to provide an update on our progress, and I'm heartened that the model that our faculty and staff developed over months is working.
At the same time, every member of our campus community should recognize that we are just getting started. Our ability to continue the in-person model is fragile, and our level of success will align directly with the level of effort that every member of our campus community puts into following the measures we have in place to protect everyone's health and safety. Indeed, the COVID-19 environment is not just a test of our grit, it's a test of our endurance too. I am cautiously optimistic from the results I've seen so far that we can complete the academic year in-person.
To that end, The Citadel is a learning organization, and I've charged our dedicated faculty and staff to continue expanding our capacity and developing ways to continue our momentum. We've also implemented ideas suggested by our cadets, students and alumni—this effort requires the attention of our entire team.
I'd like to explain a few improvements we are making as we continue to take advantage of new expertise or scientific advancements that can help us continue our progress:
We have partnered with Roper Hospital to help us maintain the best, most up-to-date COVID-19 protocols. Roper will have an ongoing working relationship with The Citadel's physician, Dr. Carey Capell, and The Citadel's leadership team. Roper will continue to help us with contact tracing and provide us useful information so we can provide more transparency on our COVID-19 page.
We have also signed a partnership with Palmetto Primary Care Physicians to provide clinical laboratory services for our ongoing random testing program or for testing cadets who are symptomatic. As we continue into the academic year, this testing will help us monitor the health of the Corps.
Having successfully begun the academic year, we are going to transition our Operation Fall Return 2020 website back to the COVID-19 page. The Operation Fall Return page was a valuable resource for answering the 275 questions we received, and there were 41,000 page views on the site since it launched in late June. As part of the transition, we will relocate the frequently asked questions page and will also migrate the popular Ask a Question page to the COVID-19 page.
We will continue to be flexible, make adjustments and incorporate best practices as they are developed and discovered. In the meantime, I hope that all of our campus community will encourage our cadets and students as they progress through an unprecedented situation on our campus. They are the reason that our campus community has worked so hard to develop and execute our plans to return to campus, and it is inspiring to see them everyday.
Gen. Glenn M. Walters, USMC (Ret.)
President