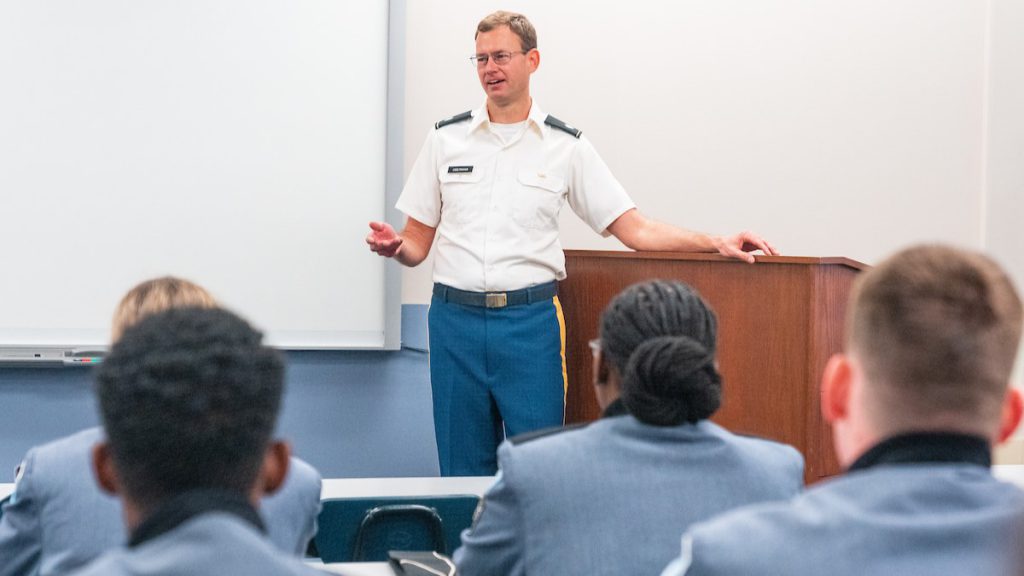 The Zucker Family School of Education will be identifying up to 15 cadets and students for a new initiative called the Counselor Education Maestros Program (CEMP). This program — created through the Counselor Education Division — will be open to cadets and veteran students during their junior and senior year at The Citadel.
The goal of CEMP is to help increase the number and diversity of counselors in P-12 schools by setting up cadets and students to further develop their peer counseling skills, mentoring abilities and communication skills. Through engaging in activities like lunch and learns, field trips, simulations and apprenticeships, cadets and students will learn what it is like to be a school counselor.
These cadets and students will be prepared to enter into the necessary master's degree after completing their undergraduate program. Students considered for CEMP will be those who have demonstrated leadership, peer counseling and peer mentorship at The Citadel.
To learn more about the requirements of the program and how to apply, click here.
Scholarships will be awarded to those selected for CEMP. By reducing the financial burden, the scholarships will support the program's goals of providing mentorship and peer-leadership skills, while also encouraging the students to participate in youth mentoring activities themselves.
Prior to being paired with a school in the area, they will be connected with a professional mentor. Through the ZFSOE's mentorship program, and with help from The Citadel African American Alumni Association, each cadet and student selected for the program will have a mentor to guide and assist them as they pursue a school counseling career.
"This new program is a new and exciting way for us to continue our work of developing principled leaders to serve in schools across the region, state and country," said Evan Ortlieb, Ph.D., dean for the Zucker Family School of Education. "The mentorship aspect is especially important, as it will give Citadel students someone to connect with and learn from as they go through this program."
CEMP was created to address the need for mentorship and support for P-12 students and to expand the gender and ethnicity representation of school counselors throughout the Lowcountry.
Applications are open now, and selections will be made in March. Cadets and students interested in applying to the program can learn more here.
"My hope for our program is that we continue to not only produce high quality school counselors, but that we can ensure they are trained to meet the changing academic, career and social needs of a diverse student population," said Aaron Oberman, Ph.D., program coordinator for the Division of Counselor Education.
The Zucker Family School of Education was recently awarded the 2022 Frank Murray Leadership Recognition for Continuous Improvement. ZFSOE is ranked as one of the best master's and bachelor's programs for education in South Carolina.