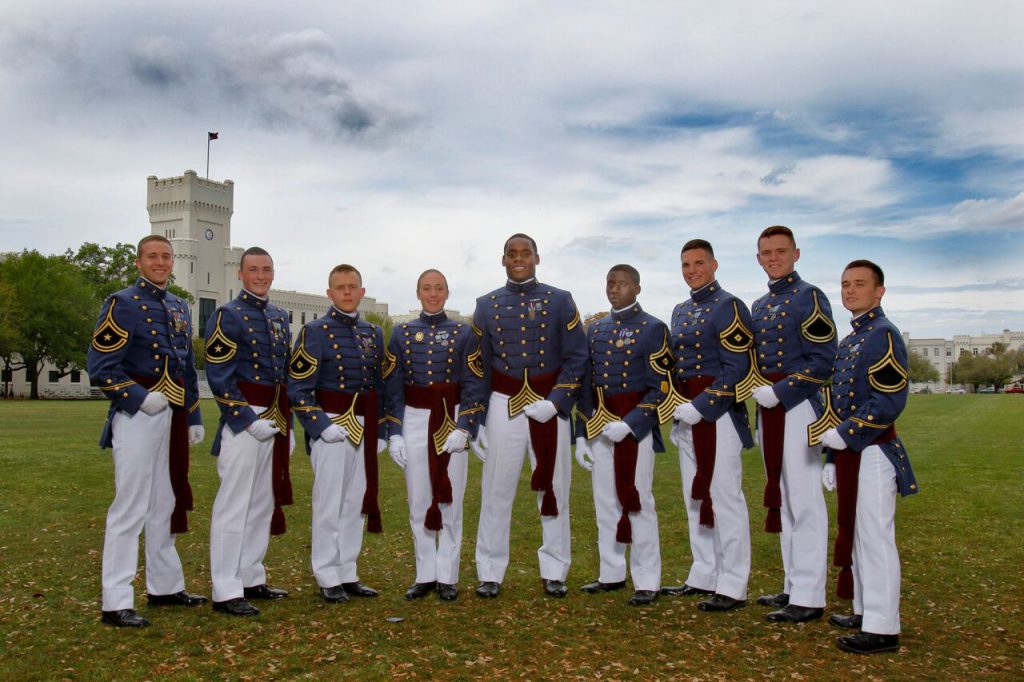 Cadet leaders announced for 2018-19 academic year
Cadet Sarah J. Zorn will be first woman to lead the South Carolina Corps of Cadets as regimental commander in the history of the 175-year-old military college. Regimental commander is the highest-ranking cadet officer in command of the entire 2,350 student Corps. The Office of the Commandant named the rising leadership in for the 2018-19 academic year on March 20, on the actual 175th Anniversary of The Citadel. A formal installation ceremony will be held at a later date.
"Cadet Zorn has fully embraced the cadet experience, excelling in academics, character, military and fitness," said Lt. Gen. John W. Rosa, the 19th president of The Citadel. "The regimental commander and the cadet leadership team set the tone for the South Carolina Corps of Cadets, and Cadet Zorn has shown she's the perfect choice for this leadership opportunity. All the cadets who have been selected for leadership opportunities within the Corps have impressive records of achievement, and I congratulate and thank them for what they've done."
Zorn is a junior from Warrenville, South Carolina, majoring in Business Administration and attending The Citadel on an Army scholarship. She is currently a member of the regimental staff, serving as regimental sergeant major.
Zorn was notified of her selection by current regimental commander Dillon Graham.
"Sarah Zorn has earned the respect of the Corps with her outstanding performance as a cadet," said George "Dillon" Graham, regimental commander, Class of 2018. "Her loyalty to The Citadel and her dedication to serving others and the nation is commendable and will continue to make her an example to follow in the position of regimental commander."
Zorn acknowledged her selection.
"My attention will be fully committed to leading the South Carolina Corps of Cadets according to our core values of honor, duty, and respect," Zorn said. "It is my goal to empower our officers to become the best servant-leaders they can be."
The other eight cadets comprising the top nine of the Corps include (pictured below, left to right):
David J. Days – Regimental Executive Officer
Michael A. Sementilli – 1st Battalion Commander
Richard B. Dekold – 2nd Battalion Commander
Cedric T. Barnes – 3rd Battalion Commander
Andrew N. Snoke – 4th Battalion Commander
Mitchell J. Felt – 5th Battalion Commander
Alexander Davis – Honor Committee Chairman
Matthew Lanetti – Regimental Academic Officer
These top student officers will lead approximately 80 cadet officers in the command of the Corps' five battalions and 21 companies next year, with positions ranging from battalion sergeant majors to company first sergeants. The Citadel's mission to educate and develop students into principled leaders is the driving force behind the integral military system at the college, which is in operation at all times when school is in session, 24 hours a day, seven days a week. The Office of the Commandant selects them after a series of interviews and reviews of their performance during the years leading up to becoming a first class (senior) cadet. Following this selection process, the remaining staff and leadership positions will be filled by cadets whose performance within the Corps qualifies them for leadership roles.
The battalion commanders, company commanders, battalion sergeants majors and company first sergeants are:
1st Battalion
Michael A. Sementilli – Battalion Commander
Chase B. Kinsey – Battalion Sergeant Major
Kylie J. Flynn – A Company Commander
Adam J. Neihoff – A Company First Sergeant
Tai S. Lum – B Company Commander
Austin L. Nations – B Company First Sergeant
Hamilton G. Reinhart – C Company Commander
Hannah R. Jalbert – C Company First Sergeant
David D. Mitchell – D Company Commander
Benjamin C. Klassen – D Company First Sergeant
 2nd Battalion
Richard B. Dekold – Battalion Commander
Brennen A. Zeigler – Battalion Sergeant Major
Logan R. Barber – E Company Commander
Raymond A. Sullivan – E Company First Sergeant
 Christensen, Andrew P. – F Company Commander
Daniel J. Barberena – F Company First Sergeant
Devan T. Wilson – G Company Commander
Ethan V. Eich – G Company First Sergeant
Jamme J. Butler – H Company Commander
Jennifer E. Pozzani – H Company First Sergeant
Grayson S. Cooper – BD Company Commander
James R. Quimby – BD Company First Sergeant
3rd Battalion
Cedric T. Barnes – Battalion Commander
Henry T. Brown – Battalion SGM
Blayne P. Hayes – I Company Commander
Evan C. Kurtz – I Company First Sergeant
Samuel N. Dalenburg – K Company Commander
Trevon D. Elliott-Ford – K Company First Sergeant
Nicholas P. Cucinotta – L Company Commander
Samuel L. Santiago – L Company First Sergeant
Za'von J. Whitaker – M Company Commander
Gus M. Karres – M Company First Sergeant
4th Battalion
Andrew N. Snoke – Battalion Commander
Richard B. Snyder – Battalion Sergeant Major
Matthew B. Wilder – N Company Commander
Andrew B. Diegel – N Company First Sergeant
Robert H. Bowles – Company Commander
Gabriel A. Gonzalez – Company First Sergeant
Katherine M. Keller – R Company Commander
William S. Massey – R Company First Sergeant
Ryan A. Irby – T Company Commander
Jeremy C. Green – T Company First Sergeant
5th Battalion
Mitchell J. Felt – Battalion Commander
Mitchell D. Dobin – Battalion Sergeant Major
Samuel J. Abernathy – P Company Commander
Brady J. Lucas – P Company First Sergeant
Nathan P. MacEwen – Palmetto Battery Commander
James P. Updike-Mundy – Palmetto Battery First Sergeant
Ryan C. Palmer – S Company Commander
Sierra M. Morris – S Company First Sergeant
Brandon T. Hickey – V Company Commander
Preston M. Dawes – V Company First Sergeant
About The Citadel
The Citadel with its iconic campus located in Charleston, South Carolina, offers a classic military college education for young men and women profoundly focused on leadership excellence and academic distinction. The 2,300 members of the South Carolina Corps of Cadets are not required to serve in the military but about one-third of each class earn commissions to become officers in every branch of U.S. military service. Graduates of The Citadel have served the nation, their states and their communities as principled leaders since the college was founded in 1842. The Citadel Graduate College offers 26 graduate degree programs with 42 concentration options, 23 graduate certificate programs, and eight evening undergraduate programs, through an all-evening schedule with many courses now available online. The Citadel was named Best Public College in the South by U.S. News & World Report for seven consecutive years, and No. 1 Best Public College for Veterans in the South as well as Best Value out of all South Carolina colleges and universities by Forbes.